6 Tips for Following Up with Adopters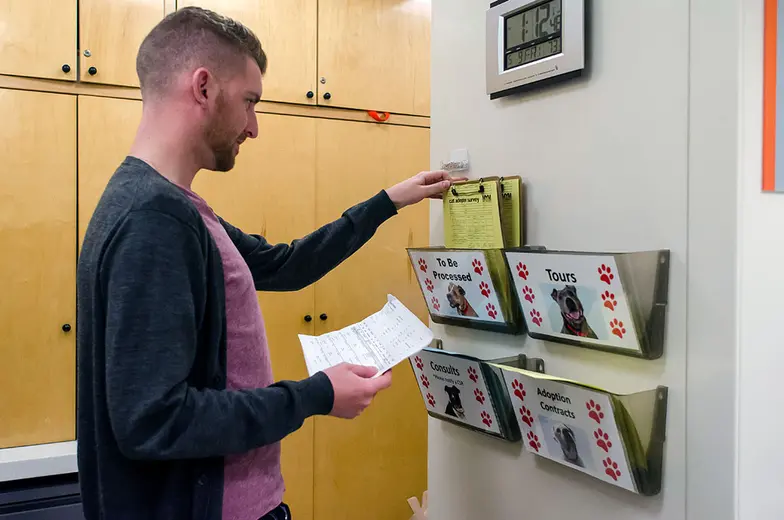 Whether you're conducting adoptions in-person or virtually, there are bound to be some bumps in the road after an adopter brings a new animal home. To help support your adopters, use these six tips from the ASPCA's Client Services team:
Stick to a Timeline
We know that most returns occur within two months post-adoption, and the majority of those happen within the first two weeks. Therefore, we recommend following up with adopters 2 days, 10 days and 1½ months after they bring their new animal home. If your adopter doesn't answer your call, leave a message and try again the following day.
Keep It Short and Conversational
You don't want your adopters to feel like they're being read questions from a survey, so keep your follow-up conversations short, sweet, and friendly—while still asking the important questions. For example, some conversational-style questions that will get you the answers you need are:
How is your new pet doing?
Are you having any challenges with your new pet?
Were you aware of this challenge when you adopted him/her?
What do you enjoy most about your new pet?
Be Prepared to Address Common Issues
Every animal has their own personality and quirks, but it's good to be prepared with tips and resources for concerns that come up frequently.
Examples of behavior issues to have responses ready for include:
Inappropriate elimination
Nipping or mouthing
Leash pulling
Mounting
Stereotypic repetitive behavior
After providing your adopter with tips, offer to text them a link to further online resources that can help, like those on the ASPCA's Pet Care page.
For medical concerns, have a list of local veterinary clinics on hand that you can share with the adopter.
Have a Plan to Escalate
Whether it's a staff member or volunteer doing your follow-ups, it's important they know what to do if an adopter has a concern that needs further addressing. First, decide on the criteria for when a concern should be escalated. This may include relinquishment considerations or aggression, but think about what makes sense for your organization. Then, identify your subject matter experts, like veterinarians or behaviorists, who may be able to support the adopter.
It's also important to have a plan in place if the adopter presents you with an emergency concern that needs to be addressed immediately. Make sure you have phone numbers for the subject matter experts who would need to be contacted in these cases so that you can reach them quickly.
Keep Track of Everything
Whether an adopter has concerns about their new animal or just wants to share how much they love them, it's helpful to keep notes so that you can refer back to the conversation later. You can write a note in the animal's profile in your shelter software or use a survey form that has pre-built fields for criteria like behavior concerns, medical concerns, and recommendations made.
To make sure you're sticking to your timeline, it's also helpful to have a separate spreadsheet detailing when you attempted to contact adopters and whether it was successful.
Share Good News
It's easy to focus on the adopters and animals who are having issues, but "happy tails" can be a great morale booster. If you have a particularly happy or interesting conversation, be sure to share any non-confidential details with staff and volunteers to help keep them engaged in and excited about your organization's work.
We have lots more on this subject:
Explore ASPCApro Tools & Tips by Topic: