ASPCA Veterinary Forensic Science Center (AVFSC)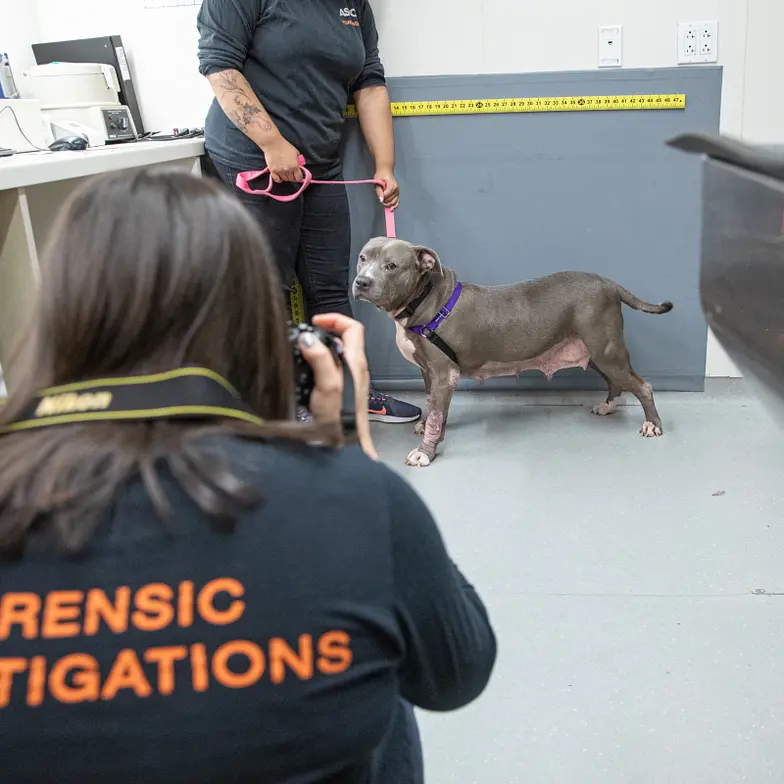 The ASPCA Veterinary Forensic Science Center (AVFSC) is the first multidisciplinary forensic laboratory in the United States dedicated to animal cruelty casework involving companion and other domesticated animals. AVFSC accepts requests for forensic assistance from law enforcement—and will consider consultations with veterinarians on a case-by-case basis.
Iowa C.A.R.E.S. Cruelty Investigation Workshop
This free, two-day hands-on workshop is open to law enforcement, prosecutors, veterinarians, and rescue and sheltering organizations.
About AVFSC
Located in Gainesville, Florida, AVFSC houses four forensic veterinarians, a forensic veterinary technician, and two certified crime scene analysts in its 3,000-square-foot facility. These uniquely qualified professionals have assisted law enforcement and animal control agencies across the US with hundreds of animal cruelty and neglect cases and provided expert witness testimony in local, state, and federal courts.
Services Offered
AVFSC provides the following services:
Necropsy 
Skeletal analysis
Live animal forensic examination
Animal crime scene response
Excavation
Non-animal evidence
In addition to its cutting-edge laboratory, AVFSC is a dedicated teaching facility that includes a student office and a conference area.
"We are thrilled to expand our work in veterinary forensic sciences through the opening of this facility to further elevate the status of animals in the eyes of the law and help tackle and prevent violence against animals."
Partner with AVFSC
Law enforcement, veterinarians, and veterinary students are invited to contact us to learn more about the partnership opportunities outlined below.
Law Enforcement
To help us determine if a case is a good fit for AVFSC, here are some of the things we ask potential partners:
Summary of animal abuse allegation

Legal status of affected animal(s)

Legal status of the case
Veterinarians
Veterinarians may request a consultation on animal cruelty cases.
Veterinarians may inquire about shadowing with AVFSC.
Veterinarians and others may also request presentations for veterinary schools and conferences.
Veterinary Students
Third- and fourth-year veterinary students may inquire about an externship with AVFSC. Learn more and apply.
Inquire Today
More About AVFSC  
Learn more about AVFSC in the Journal of the American Veterinary Association. 
Read about best practices for criminal veterinary exams.