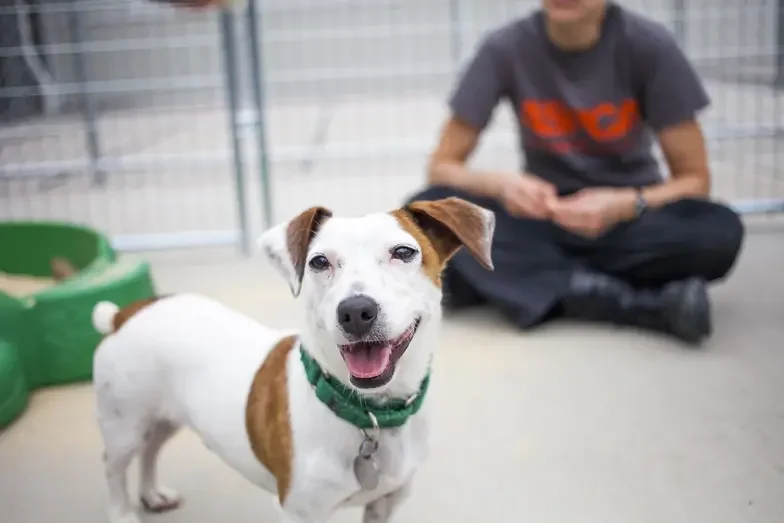 The Learning Lab's mission is to elevate behavioral healthcare for dogs and cats in animal shelters. We deliver free interactive resources and training focused on a core idea: Everyone Is on the Behavior Team. 
What Does "Everyone Is on the Behavior Team" Mean? 
Animals' behavioral health is as critical as physical health to adoption success. But does everyone in your shelter know just how much they can impact the behavioral well-being of the animals in your care? Staff and volunteers from every aspect of your shelter services can infuse behavior support into their work. From daily care staff to medical personnel to volunteers, every person in your building has the power to improve the lives of shelter animals.   
The ASPCA sees benefit to animals when Everyone Is on the Behavior Team, and we think it's the future of behavior programs in shelters. 
How to Incorporate "Everyone Is on the Behavior Team" into Your Program   
The Learning Lab collaborates with sheltering, medical, and behavior colleagues working at the ASPCA and in sheltering organizations around the country to develop and maintain training materials available to all. 
Here are three ways to connect with the ASPCA and other like-minded animal welfare organizations to improve behavioral healthcare services: 
Enroll in our "Everyone Is on the Behavior Team" online courses. These short lessons focus on reading animal body language, describing animal behavior, and interacting with dogs and cats.  
Review a virtual Shelter Behavior Roundtable recording and do a deep dive into topics like adopting out animals with special behavior needs, supporting shy and fearful cats in the shelter, and supporting foster caregivers. 
Sign up for the ASPCApro newsletter, and we'll inform you when new Learning Lab courses, Shelter Roundtables, and other events become available. 
Discover more behavioral resources for sheltering professionals.