10 Tips for Shooting Great Video of Your Shelter Animals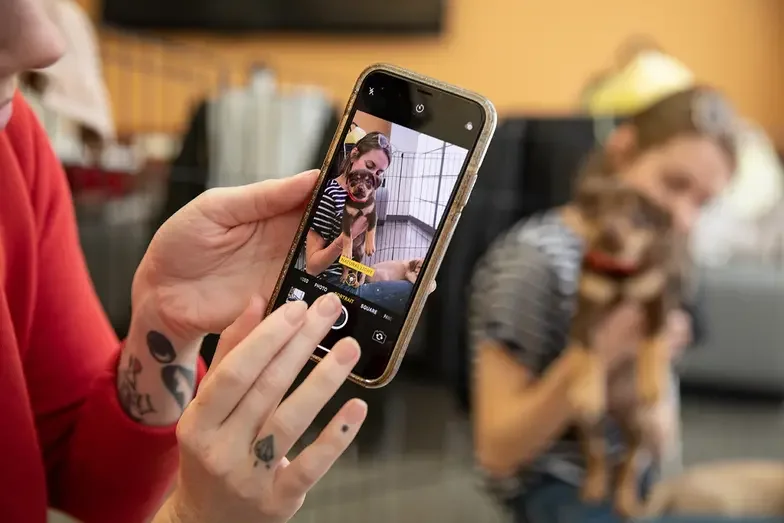 Looking for some quick tricks on producing clear, effective videos to promote your services and available animals? We've got you covered, from point of view to pastry.
Hold steady! If you don't have a tripod, just sit the camera or device at the right distance and height using a stool, table or—if you're outside—even the roof of a car.
Light, light, light. If you have bad light, you have bad video. If you're shooting inside, get near a window. If you're outdoors, take care things don't get too bright—watch for hard shadows and squinting subjects, or better yet, move to the shade. Keep an eye out for backlighting unless you want a silhouette effect.
Sound. Try to be near the microphone on your device, and be sure to speak up. If the device is at a distance, an earphone can act as a mic. Avoid places with much echo, wind, or background noise.
Brevity. Anything that's to be shared on social media should top out at two minutes, max.
Editing. iMovie for the Mac and Movie Maker for PC can do most everything you might need. You'll also find built-in editing tools on YouTube and video clip apps available for most devices.
Going online. In addition to YouTube, Vimeo is a video hosting option with fewer ads and the ability to pay for a premium account. Keep in mind that uploading video directly to Facebook (rather than linking to it from YouTube or elsewhere) can greatly increase your reach. Don't miss TikTok as a potential channel.
Point of View. Frame your action well. If you're interviewing one person, the viewer doesn't need to see the entire building they're standing in unless it's relevant to the topic. When it's time to show the environment, do it in a separate shot.
Google! Never be afraid to ask Google for tips and advice. There are plenty of how-to guides that cover video equipment, from which smartphones shoot best to info on HD digital cameras like the Canon Rebel, mics, editing software, techniques and best practices.
Script it. Storyboard (as simple as a sketch on a napkin) what you plan for the video. Name scenes, settings, locations, props, people and equipment. This way, when you begin the shoot you have a path to follow (or decide to stray from!) as you go.
Coffee & Donuts. Are the cast and crew of your video your staff and volunteers? Treat your talent to something sweet if you're on a budget that won't allow for pay.  Everyone can spring for pastry.
We have lots more on this subject:
Explore ASPCApro Tools & Tips by Topic: