How to Throw a Shelter Kitten Shower
We don't have to tell you that kitten season is one of the busiest times of the year for shelters, but the good news is there's a way to make it a bit easier—and have fun in the process.
A kitten shower has the potential to recruit more foster families and become an annual event that your community will eagerly anticipate. With a couple of kitten showers under their belt, the staff at Florida's Jacksonville Humane Society (JHS) shared their process for throwing a fantastic family event at your shelter.
What You'll Need
Wish list
Promotional Materials
Party supplies and decorations which can be reused next time also
Food and beverages
Staff Time & Resources
JHS stresses delegation so one person isn't run into the ground. They have a small team of three staffers organizing the event, and that team assembles a punch list of what needs to be done:
Marketing/graphics
Social media
Website landing page
Donation bins
Email blast
Press release
Instructions
Promote & Publicize
What's in a name? Everything! Pitter Patter of Little Paws Baby Shower was the name of one JHS event, and it was a big hit with the community and the media.
Social media is king. Enlist volunteers to help you promote your flyer and event info on Facebook and Twitter. When in doubt, post lots of baby kitten photos—according to JHS, you can't have too many.
Work the media. "We did a press release three weeks and three days before the event," says Danya Parks-Freel, JHS hospital practice manager. "All the major media stations and the newspaper responded to the news release and covered the event the week leading up to the shower and the week after."
Put it out there. The whole point of a shower is to get stuff you need, right? Your wish list is the equivalent of a baby registry, so make sure you include it wherever you publicize your event—flyers, posters, on the Web, etc. JHS has it right in their flyer for their Purrs and Paws Kitten Shower.
Partner with local businesses. A month prior to the event, ask volunteers to set up donation drives in places that carry the products you need, such as pet supply stores and vet clinics. "See if they will hand out your wish list or let you set up a table to ask shoppers to purchase while they are shopping," suggests Dianne Wiles, JHS director of operations.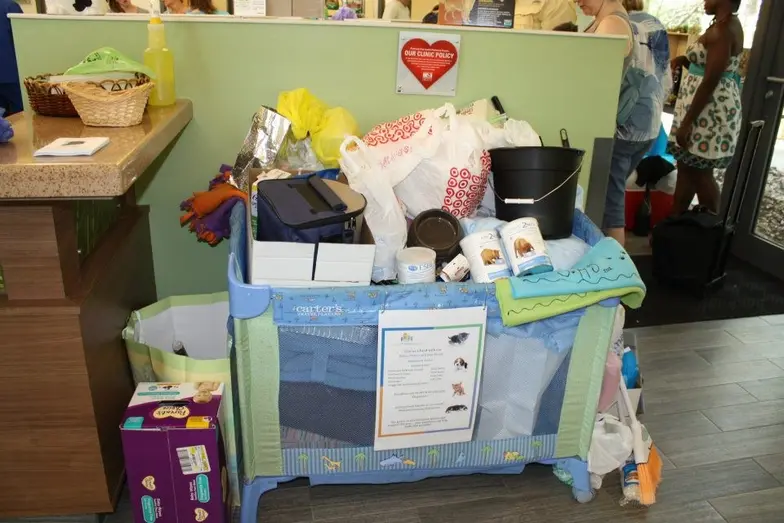 2.  Collect Donations
Once your wish list is out there, people will be bringing lots of stuff. JHS uses a playpen from a local thrift shop as an adorable way to collect gifts from guests.
Some people prefer to give money, so make it simple for them—and let them know what their cash gets—by setting up an online option for donating.
3.  Work Around Your Budget
Thanks to some thrifty thinking and generous volunteers, a baby shower at JHS doesn't break the bank.
Enlist staff and volunteers with culinary talents. "Shower-type people food and mimosas were a big hit at JHS' event, and all done by staff and family," says Parks-Freel. A local wine distributor donated their time and talent for the mimosas.
Ask for food from local restaurants. Ask a few different restaurants to supply an appetizer, and have volunteers pick them up on the big day. "It is easier to get them to donate one item rather than catering the entire event," says Wiles.
Get the most bang for your buck. Purchase decorations from a local dollar store, which sells plenty of items for a typical baby shower. Doing this, JHS spends under $100 on supplies.
4.   Don't Forget to Educate and Recruit
For a great recruitment tool, JHS suggests having foster babies on hand and ready to go that day—they bring about 10 kittens to their event.
Set up a foster info table where staff can share the importance of fostering, what to do if stray kittens or cats are found, and how to care for underage puppies, kittens and nursing mothers. And invite current foster parents to talk about what to expect.
We have lots more on this subject:
Explore ASPCApro Tools & Tips by Topic: