They Did It: Broodmare Adoption Programs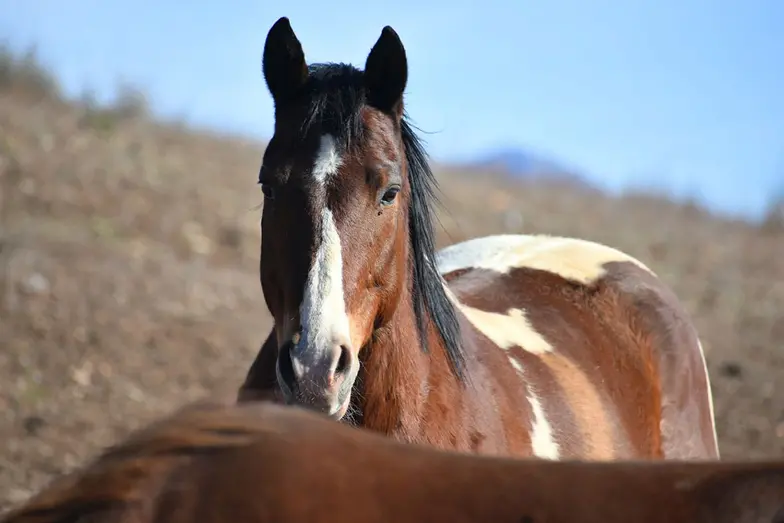 Second Stride in Crestwood, KY, and New Vocations Racehorse Adoption Program in Laura, OH, took a chance on expanding their programs to help broodmares, and the lifesaving has been inspiring. 
Kim Smith, Founder and Executive Director at Second Stride, and Dot Morgan, Founder and Executive Director at New Vocations, shared how a little creativity (and a lot of love) were game changers for helping these special mares.   
A Broodmare Program: Need Meets Inspiration
For years, the racing industry has collaborated to develop effective, widespread, and impactful programs to transition young, retiring racehorses to new careers. However, there's another key population needing support: mares who moved from racing into breeding programs (or directly from breeding), and years down the road are looking for a third career. These special horses are still healthy and just require a different approach from adoption organizations.
"We've worked hard to help broodmares needing a transition path to a happy new home," Smith says. "We saw they'd been well cared for but were in transition because they were no longer producing foals, their owners had passed away, or their owners were leaving the breeding industry." Second Stride has transitioned many broodmares of various ages and capabilities. Most have been 10 to 20 years old and are still great candidates for careers as riding horses or companions.
Opening up broodmare transition programs gives owners who want to avoid dealers or auctions a safe, humane option. "We knew that if these broodmares were simply given the chance to be schooled and marketed more creatively to appeal to backyard riders, therapy programs, agility enthusiasts, and companion homes, they would be adopted," says Morgan.
Getting a Broodmare Program Started
Previously, Second Stride could only help 2 to 3 broodmares per year since they required more training and typically had a longer length of stays than their younger, recently retired counterparts. The broodmares were showing great potential and finding fantastic adoptive homes but were diverting resources. It became clear that a specialized branch devoted to broodmares and bloodstock was needed to serve each population. They received an ASPCA Right Horse Reimagining Racers grant and launched their Broodmare and Bloodstock program.
New Vocations, which specializes in transitioning retired Standardbred racehorses as well as Thoroughbreds, identified a similar need but required an experienced Standardbred trainer who was creative at marketing and had the patience to work with older mares. They chose Ohio because there are more Standardbreds registered there than any other state. "We were extremely lucky to find our trainer, Amanda Munson. She is a premier adopter of 19 years, during which time she successfully trained and demoed several Standardbreds," says Morgan. "Amanda had demonstrated exceptional creativity and truly understands how to capture compelling images and videos of horses. We were fortunate to obtain stalls at the farm where Amanda boards a personal horse." Amanda's role is to evaluate mares who enter the program, create a training plan, and match them to adopters based on their individual talents and potential. 
These horses now have rich life experiences, creating the personal bond that they lacked for 10+ years. It's inspiring to watch them bloom and rise to your expectations.
Industry Outreach & Finding Horses in Need 
To connect their broodmare programs to owners in need of options, these organizations use a variety of tactics:
Issued industry-wide press releases
Posted on social media
Ran advertisements in industry publications
Sent direct mail to local farms and breeder association members 
Emailed any Standardbred affiliates in their databases
The promotions explained the criteria for eligible horses, how they could get involved, and the progress of mares in the program, including socialization and ridden training.     
The Training Process 
Once a mare has settled into her new routine, the riding work can begin. In Second Strides' program, a professional exercise rider comes several days each week to ease the mares back into ridden work. Once the mares are riding well, the trainers will take them on hacks around the farm and on trail rides. The activity level for each broodmare is determined by a veterinarian's exam in combination with a professional rider's assessment.
At New Vocations, the trainer works with the mares in the arena and on the trail. The broodmares sometimes require more training rides than the younger retiring racehorses fresh off of work. "It can be challenging for the broodmares, but Amanda is patient and consistent," says Morgan. "Within 6 to 10 rides, she's figured out their favorite bit and how to help them relax in their new role."
Adoption Marketing Tips
Traditional marketing avenues have worked well for the broodmares. Both organizations post the horses on their websites, My Right Horse, and social media. New Vocations also posts their available broodmares in niche Standardbred groups on Facebook to directly connect with potential adopters.  Smith suggests posting videos of both trail rides and arena work, as well as detailed descriptions of each horse's temperament, athletic ability, and physical wellbeing. Morgan notes that humorous, colorful photos and photos that show the mare interacting with a child helps attract adopters. The best videos show the mares responding to the aids and navigating simple obstacles.
Adoption Options & Success Stories
The best part about finding homes for these broodmares has been seeing the joy on the adopters' faces. They've found adoption options from light riding homes, competition homes, or as a non-riding companion. Many horses are being ridden bareback around farms; others enjoy trail riding and adventures. Second Stride even helped one feisty broodmare, Malaysia, find her own teenage girl. Now, the pair enjoys flying over 2-foot jumps and spending time together.
"These horses now have rich life experiences, creating the personal bond they lacked for 10+ years," Morgan says.  "It's inspiring to watch them bloom and rise to your expectations. We've seen that there is hope in finding a home and new life for a horse who was in danger of being discarded."
Creativity, individualized approaches, and an eye on the ultimate goal of matching the right horse with the right person has helped adoption organizations rise to the challenge and ensure safe placement for this special population of horses.
 
We have lots more on this subject:
Explore ASPCApro Tools & Tips by Topic: