Equine Fostering Q&A with Hickory Hill Farm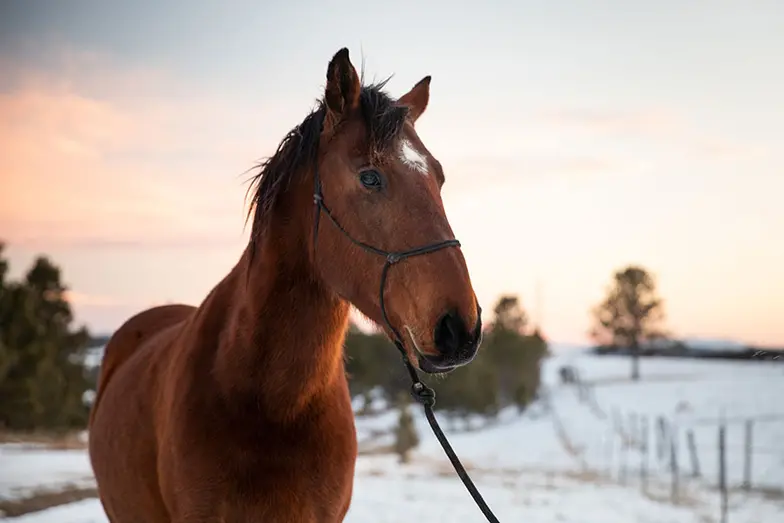 A willingness to work with committed community members regardless of skill level is a big part of what makes the foster program at Hickory Hill Farm in Lebanon, TN, so successful. According to Shea Hutsenpillar, past vice president, the foster program not only increases their capacity, but many horses also find their homes through their foster families' networks.
Read on to learn how Hickory Hill relies almost exclusively on foster homes to help horses in need and get ideas to implement your own foster program.
Q: Please tell us about your equine foster program.
A: Our foster program began when our organization was formed, starting with three foster farms in January 2016. Except for a short period recently, when we leased a main facility, any equine who comes into our organization goes directly to foster. We take all kinds of equines: perfectly healthy, sick, feral, rideable, companion-only, unhandled, pregnant behavioral challenges, metabolic issues, and more.  
Q: What do you look for in a foster family?
A: We work with folks to either discover what type of horse they are comfortable with fostering or they will tell us. It's very important they have a horse that's a good fit. We have fosters who thoroughly enjoy the rehab process and can quarantine, so they often take our new intakes. We have fosters who are very beginner and just learning about horses, so they have some of our companion-only or seniors. We have a family who loves our mission but has no horse experience. They allow us to utilize part of their farm for horses who need quarantine. If there is a willingness on the part of the foster to do what it takes to help, there is always a fit in our program! 
Q: Are there any deal breakers or must-haves for your foster homes?
Everything depends on the situation. Obvious deal breakers would be inadequate fencing or lack of shelter, etc. Sometimes we have the resources to make the situation work. For example, for a very willing person without proper resources such as a shelter, we can provide a portable shelter. We are hesitant to place fosters over three or four hours away from us if the foster is completely new to our organization (i.e., not a referral from our team). This is only because it can strain us if we place a horse in foster and then need to turn around and retrieve the horse. We try to communicate openly with potential fosters and screen them to minimize a negative experience for either party. The biggest must-haves, other than an appropriate facility, are a willingness to truly help and good communication. 
Q: Do foster families help place the horses?
A: Yes, a fair percentage of our adoptions originate through the foster. Many of our fosters enjoy sharing photos and info about their foster horse, and this definitely helps in getting them adopted. We encourage them to do so. Some fosters are approved riders with our organization, and we encourage them to take their horse riding.
Even if your organization has a facility, think of how your capacity can increase by implementing a foster program—even if it were to be a small one!
Q: What does the adoption process look like?
Adoptions do happen directly from the foster home, but they are handled through our adoption team and coordinator. While it is required that our fosters be willing to show the horse to potential adopters, we do not ask them to ride them, as only approved people may do so. If it is a riding horse being adopted, they will have an assigned person who will help showcase the horse to the adopters. Our adoption coordinator connects approved adopters with the foster home, so they can set up a mutually convenient time to see the horse. That is the foster's only responsibility as far as adoptions. We handle the contract, fee exchange, and the adopted horse's record transfers.
Q: Who runs your foster program?
A: The foster program is the responsibility of our Rescue Director. We also have a Foster Operations Manager who helps the RD with this. Both positions are currently volunteer positions.
Q: What are the duties of each of these positions?
The Foster Operations Manager (FOM) acts kind of as a liaison to relieve the Rescue Director (RD). The FOM sends emails twice monthly to all foster families. Included in the email is a chart listing important information for each foster animal (last vet appt, next scheduled vet appt, last dental appt, last farrier visit, next scheduled farrier visit, last deworming, next scheduled deworming and what to use, last pictures received, etc.). The FOM manages reimbursement requests as well. She can reimburse any routine request under $100. If it's over $100, the RD must approve first. The FOM is also responsible for collecting updated images from each foster and helps keep communication consistent with our fosters and relays any issues to the RD.
The RD works on placing appropriate horses with each foster, getting trainers out to work with horses if needed, monitoring the health and vetting needs of the horses, setting each horse's diet, working with the trainers to set up the horse's adoption profiles, etc. Obviously, the more horses and foster homes that are utilized, the more time consuming the foster program is to manage.  
Q: What has been the biggest challenge in implementing and/or managing your foster program?
A: The biggest challenge is managing the people--and, I do not mean that negatively at all. I mean you must invest the proper time in the people for the program to flourish. You must be very cognizant of each foster family's needs and how they want to communicate. For example, some are perfectly fine with the monthly emails and communicate very well through those and that's it. Some prefer more communication, or they feel unheard or unappreciated. The last thing we ever want a foster to feel is unappreciated, so we try to be very in tune to that. It is important to reimburse quickly. And if a foster comes to you with an observation about a horse, do not brush that off. It can also be difficult when operating with only fosters to manage intakes. Because our priority is assisting law enforcement, we oftentimes have no idea what horses are coming when we get a call. So, having experienced fosters who can deal with an array of potential health and/or behavior issues is vital to our program. 
Q: What advice would you give to an organization looking to start a foster program?
A: DO IT! It can feel like a lot to manage and some days it is, but I know that the only way our program has existed and served is because of the amazing work of foster families. Even if your organization has a facility, think of how capacity can increase by implementing a foster program—even if it were to be a small one! Find folks willing to foster, find out what they enjoy or where their expertise is, and save even more lives together! I consider our foster program to be on the smaller end, and we still make a huge impact in our state. 
Read the Equine Fostering Q&A with Bluebonnet Equine Humane Society. 
We have lots more on this subject:
Explore ASPCApro Tools & Tips by Topic: