3 Reasons to Support Veterinary Telemedicine
Veterinarians practice telemedicine when they diagnose a condition or recommend a treatment based on a phone or video consult rather than a physical examination of a dog or cat.
During the COVID-19 pandemic, telemedicine was essential to minimizing the spread of illness while ensuring access to healthcare. The use of veterinary telehealth during the pandemic showed its potential to significantly improve animal welfare across the geographic and economic spectrum.
Sign the Petition in Support of Telemedicine
Read on to learn about the ways telemedicine can support pets and their people, then sign the petition calling for public policy to enable licensed veterinarians to determine when to use telemedicine technology.
Expands Access to Veterinary Care
Many pets don't see a veterinarian regularly, often because their owners confront significant barriers to obtaining veterinary care, including the cost of care. These obstacles can result in pet owners skipping or postponing treatment or relinquishing their pet.
In 2020, the chief economist for the AVMA estimated that over 50 million pets, approximately one-third, do not see a veterinarian at least once a year.
A national study showed that 40 percent of low-income owners who rehomed their pets reported that access to affordable vet care would have helped them keep their pet
Telemedicine may help address financial barriers if cost-effective virtual care services are available. Better access to telemedicine may enable pet owners to avoid expenses related to transportation, travel time, or missed work.
While finances may be a barrier to obtaining veterinary care, many people live in areas with few or no veterinary services or face other logistical obstacles. When combined, these factors can force families to skip basic veterinary preventive care, which can lead to more urgent medical conditions.
Telemedicine addresses geographic and logistical problems with bringing pets to the clinic that many pet owners may face, including pet-owning seniors, individuals with disabilities, those lacking transportation, and those who live in underserved urban or remote areas. Telemedicine can also be useful for addressing challenges associated with transporting large or difficult to handle animals.
The current shortage of veterinarians and other veterinary professionals in the work force may worsen problems with access to care. Expanded use of telemedicine can help bridge gaps in care caused by workforce shortages, increase access to the veterinary healthcare system, and help keep pets and people together.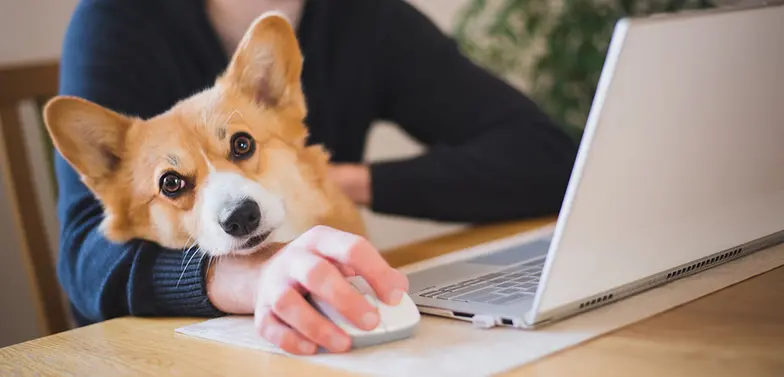 Reduces Patient Fear and Stress
Clinical veterinary examinations can be stressful for dogs and cats. In the clinic environment, dogs and cats are sometimes separated from their owners for medical exams, and, in many cases, the separation results in even greater stress.
Palliative, end-of-life, or hospice care provided through telemedicine also have the potential to reduce clinic visits, minimize stress, and lessen animal suffering for senior or terminal animal patients.
Supports Animal Shelters
Animals in the custody of shelter programs who need veterinary care—including potentially owned animals who are currently lost and/or animals in foster homes—stand to benefit from expanded access to telemedicine. Shelters with veterinarians on staff may face situations where their veterinarians can't be on the premises but can still provide care through telemedicine. For animal shelters without veterinarians on staff, third-party veterinarians may be able to provide valuable, lifesaving services through telemedicine.
Animal sheltering facilities that operate public-facing veterinary clinics may be able to use telemedicine to increase their community's access to veterinary care, thereby helping keep pets in loving homes, while preventing disease spread and conserving limited resources.   
Despite these benefits, some states directly forbid veterinarians from using telemedicine technologies with new patients, often going so far as to classify such activities as "unprofessional conduct" for which vets can be officially disciplined and may indirectly prevent veterinarians from using telemedicine in many cases by requiring the veterinarian to conduct an in-person physical examination of the animal patient before they can legally practice veterinary medicine or prescribe medication.
To learn more about your state's regulations, check out this telemedicine map from The Veterinary Virtual Care Association.
To join the ASPCA's effort to expand access to veterinary telemedicine, please email us.
We have lots more on this subject:
Explore ASPCApro Tools & Tips by Topic: