Make a Fake Cat, Get a Real One Adopted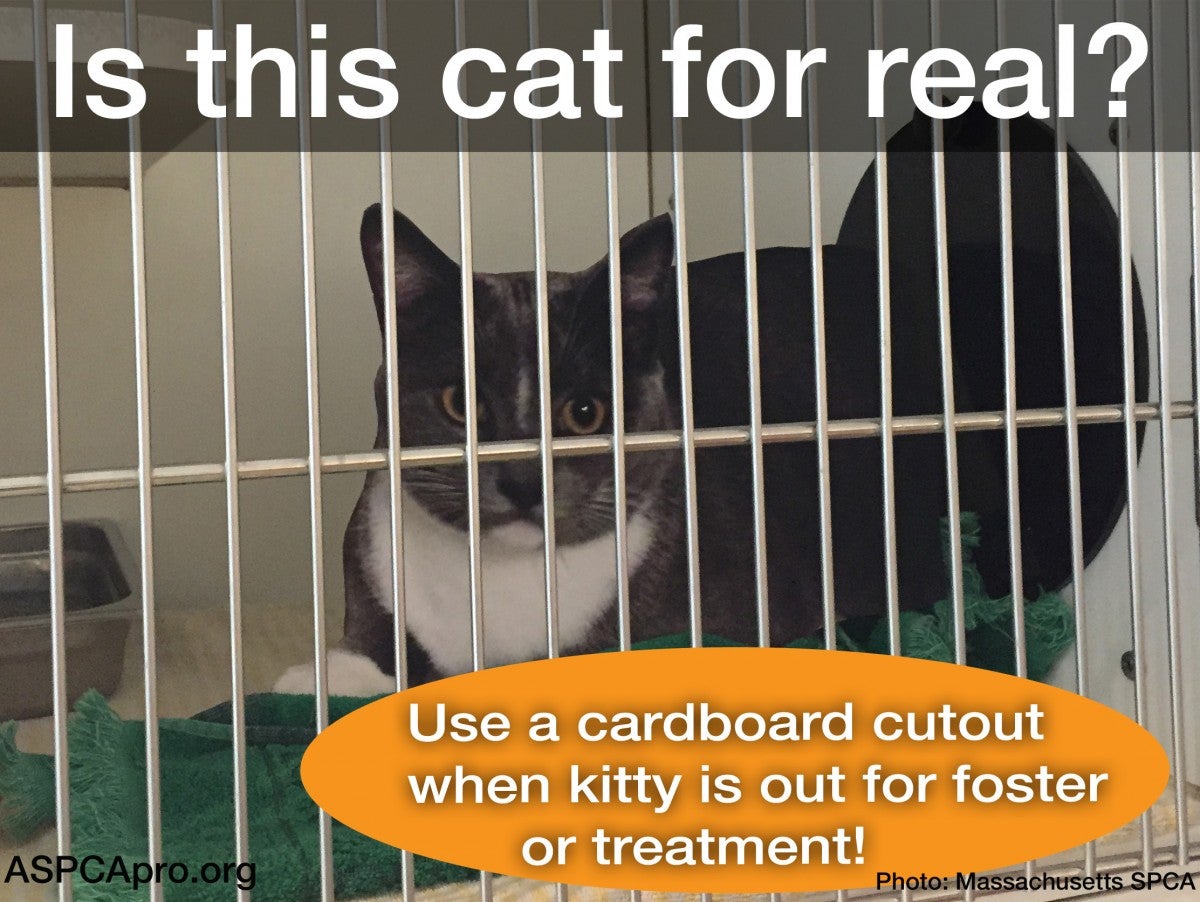 You don't want to miss any adoption opportunities for your cats, even when they're out of their cages for medical treatment or fostering.
MSPCA of Nevins Farm (MSPCA) came up with a solution to keep those out-of-sight, out-of-mind cats in sight and in mind.
"We put 'fake cats' in the cages so people could see them and read their 'hello' cards just like any cat," says director Mike Keiley. "The public loves it. It has led to a few startles and chuckles and, more importantly, has led to some adoptions."
Cut It Out
Follow these steps to make a fake cat with real appeal.
Take a high-quality photo of the cat (Keiley says a good cell phone image is fine) and print. MSPCA recommends a large-format printer capable of printing a 13x19 image (also useful for creating in-house posters!) MSPCA's printer was donated, so ask your supporters for help if you're short on funds.
Carefully cut around the image to remove background. MSPCA uses double-sided matte paper for printing – it's slightly thicker than normal paper, allowing the image to stand upright once cut out.
Attach cutout to a sturdy object. MSPCA tapes the image to a simple plastic brochure holder. "We've even used a cardboard box in a pinch. Just choose something that is vertical in orientation, and narrower than the image so that it remains hidden," advises Keiley.
Place in empty kennel along with the cage card you use for other cats. MSPCA keeps four to six cut-out cats around the shelter at any given time. "We try not to overdo it," Keiley notes.
Success Stories
More than just an engaging conversation starter, the cutouts have proven to bring plenty of attention to those out-of-kennel cats and result in successful adoptions.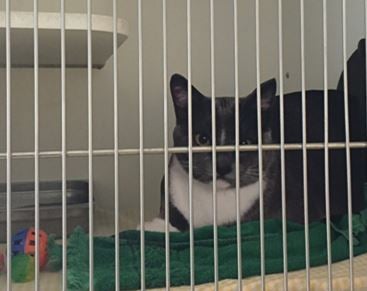 Lindsay, a shy 1-year-old cat, had been under quarantine for a wound of unknown origin. "As her quarantine end date approached, we realized that she may not be the type of cat who would do well coming back to the shelter in a cage," Keiley says. "It took her a few months to become comfortable in her foster home, and she clearly was the type of cat who, when scared, would panic and run."
Lindsay was the first cat to get a cardboard stand-in, and the very next week she was seen by a visitor who was looking for a good companion cat for her timid cat at home. Lindsay was adopted the next day.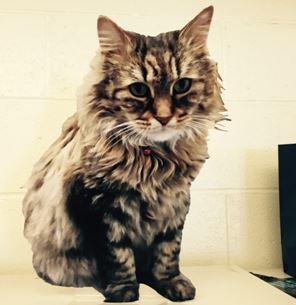 Mazzie, a 6-year-old Maine coon cat, was surrendered to MSPCA by a family who had taken her in as a stray. "She ended up being too feisty for the elderly owner and would play bite/scratch her," says Keiley. "We tried her a few times on the adoption floor but she kept getting into trouble, as she had a little bit of an edge and would use her teeth when she lost tolerance with petting/handling. After two bite quarantines, the agency decided she was not capable of going back on the adoption floor and moved her to an office, where she did very well."
As beautiful as she was, she spent a month in the office with little to no interest. When we put her cardboard cutout in a cat cage," says Keiley, "she got adopted in less than a week!"
Wall of Fame
Not only are the cutouts effective for the public, but they're rewarding for your team. MSPCA staff has fun hanging the cutouts on their walls once cats have been adopted.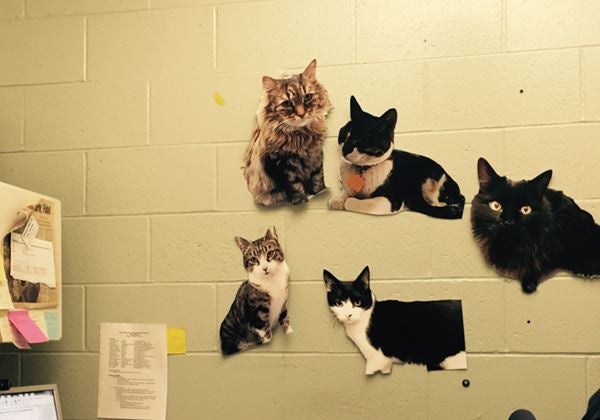 Make It Work For You
Don't have the luxury of empty kennel space? Find another way to showcase the cutouts. "Just having them in the room would be helpful," says Keiley, who suggests trying a free-standing easel in the cat room. He adds that if you have empty cages, but don't have a printer that can produce a good photo to cut out, you might have success simply putting a picture in the cage to draw interest.
The point is to work with what you've got, have fun and be creative!
Print this handy step-by-step poster to help you make your cutout kitties.

Photos courtesy of MSPCA of Nevins Farm