Animal Behavior for Shelter Veterinarians and Staff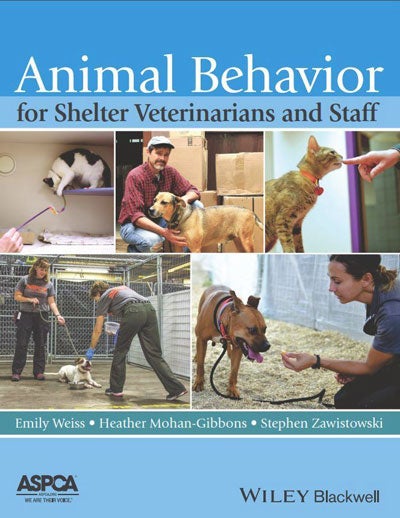 The first of its kind, this book is written and edited by leading experts in shelter medicine, applied animal behavior and shelter administration.
Animal Behavior for Shelter Veterinarians and Staff presents and evaluates available research and programs that address both animal and human behaviors associated with the intake, management and rehoming of dog and cats.
This 400-page book:
Helps shelter professionals better understand dog and cat behavior
Reviews behavioral reasons for the relinquishment of dogs and cats
Describes intake and assessment protocol, shelter design, training and enrichment programs that reduce stress and enhance behavioral well-being
Explains concepts to improve the adoption process and support the human-animal bond post-adoption
NEW  Read a sample chapter: Introduction to Dog Behavior
Purchase Animal Behavior for Shelter Veterinarians and Staff



"Success within a shelter environment involves a strong interface with the human animal, and our ability to understand that interface will provide our field with many more opportunities for live outcomes and decreased intake in the communities in which we work." — Emily Weiss, Ph.D. CAAB
Meet the Authors
Emily Weiss, PhD, CAAB, Vice President of Research and Development, ASPCA. Weiss has been involved in shelter behavior for over 25 years and has published numerous peer-reviewed manuscripts as well as book chapters. She serves on advisory boards and committees of national shelter programs.
Heather Mohan-Gibbons, MS, RVT, ACAAB, Director of Research and Applied Behavior, ASPCA. Her current work focuses on improving the lives of animals and reducing their risks in communities. For the past 20 years, she worked professionally with exotic and domestic animals in veterinary clinics, universities, federal and state governments, animal shelters and her own animal behavior business. She has lectured extensively on animal behavior and has published several peer-reviewed manuscripts and book chapters.
Stephen Zawistowski, PhD, CAAB, Science Advisor, ASPCA. Zawistowski is a certified applied animal behaviorist and chaired the Animal Behavior Society's Board of Professional Certification from 1998-2007. He co-edited Animal Shelter Medicine (with Lila Miller, 2004) and the second edition in 2013.
More Lifesaving Resources
Shelter Animal Behavior Webinars
These webinar recordings have been approved for CEUs by the Certification Council for Professional Dog Trainers (CCPDT).