Understanding and Treating Lead Toxicosis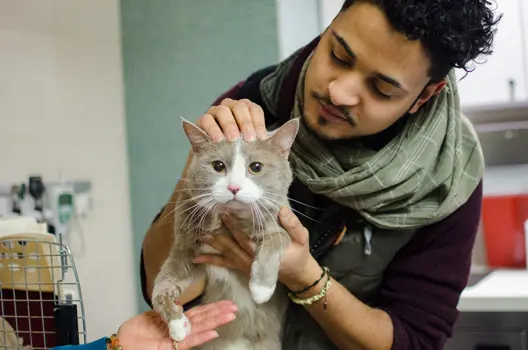 Lead intoxication can come from different sources such as paint, solder, sinkers, toys and lead projectiles. And while it's not a common issue in dogs and cats, cases of lead toxicity do happen, so the ASPCA Animal Poison Control Center offers this primer.
Absorption
Lead is primarily absorbed in the gastrointestinal tract.  For an adult, 5 to 15 percent of lead is absorbed depending on the form; juvenile animals' absorption may be a high as 50 percent.
Lead will be ionized in an acidic environment such as the stomach, and the ionized form of lead is absorbed more easily.
Clinical Signs
Acute signs include anorexia, vomiting, abdominal pain, behavior changes, ataxia, tremors, hyperexcitability and intermittent seizures.
Chronic signs tend to be more vague and may include abdominal discomfort, vomiting, diarrhea, anorexia, lethargy, weight loss, anemia, behavior changes, intermittent seizures and megaesophagus (rarely reported in cats).
Laboratory Findings
Hematologic changes:
Anemia which may be microcytic and hypochromic with acute toxicities but with chronic exposures it may be normochromic and normocytic.
Some lead salts may cause hemolysis. 
Basophillic stippling may be noted along with an increase in nucleated red blood cells. 
Leukocytosis is sometimes reported.
Liver and renal enzymes increases may be seen with an acute exposure. 
Radiographic:
Lead items are radio opaque, and with chronic exposure radio opaque lines appear in the metaphyseal region of bones.
Confirmatory tests:
Obtain lead levels via whole blood sample. Blood lead levels of 0.6 ppm (60 mcg/dL) are diagnostic for lead toxicosis. Note that blood lead levels change rapidly so levels may not correlate with severity of clinical signs. 
The primary organs for diagnosis on necropsy are liver and kidney.
Home improvement stores commonly carry test kits for testing paint for lead and can be useful in determining if there is a risk in the home. 
Decontamination
Any source of lead present in the gastrointestinal tract must be removed before chelation can be considered:
Removal from gastrointestinal tract via emesis, lavage, cathartics, enema, bulking or possible surgical removal may be considered.
Symptomatic care of signs include fluids, correcting electrolyte abnormalities and anti-emetics; tremors and seizures are typically controlled with benzodiazepines.
Lead is not bound well by activated charcoal.
Chelation
There are four chelators that may be considered for use with lead toxicity:
Calcium disodium ethylene diamine tetra-acetate (Ca-EDTA)
British-Anti-Lewisite (BAL)
d penicillamine (cuprimine)
Succimer (DMSA, Chemet)
All chelators have advantages and disadvantages. Currently Ca-EDTA and Succimer are considered the chelators of choice.      
For more information there is a very informative chapter about lead in Peterson and Talcott's Small Animal Toxicology, 3rd edition. 
We have lots more on this subject:
Explore ASPCApro Tools & Tips by Topic: