They Did It: Created a Team to Keep Pets and Families Together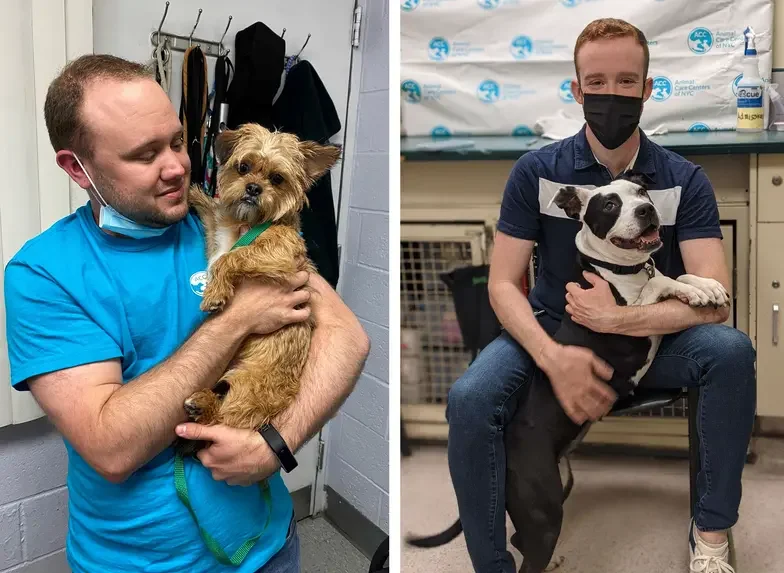 Who: Animal Care Centers of NYC (ACC), New York, NY  
Did What: In April 2022, ACC created a Special Case Advocate team that includes 2 full-time special case advocates (SCAs) with social work backgrounds who work to keep people and pets together by offering resources and support to families and pets who may be temporarily separated. The ASPCA provided grant funding for these roles. 
SCAs navigate complicated cases—often in collaboration with human service agencies—to find creative solutions that help people keep their pets despite challenges including hospitalization, incarceration, and housing instability. 
So far, the team has handled 180 animal welfare cases involving support for animal owners. 
In this interview, ACC's Jaime S. Kruse, Senior Manager, Community Resources, and John Cicolella, Director of Community Resources, describe the roles of the SCAs they oversee and the program's impact on ACC and the community. 
Jaime joined ACC in January 2022 after working for 4 years as a legal policy and procedure specialist for the City of New York. A lawyer by trade, he utilizes his knowledge to create more resources and policies to help keep pets and their families together.  
John worked in IT for 8 years—and volunteered in animal rescue—before joining ACC in February 2020 to focus on serving the vast and diverse NYC community. 
ASPCApro: Why did ACC create this role? 
Jaime: While many human services are available in our community, that's not the case for people with pets. We're trying to bridge that gap. Our SCAs integrate with various departments in our organization to determine how we can best assist pet owners in need. 
The SCA role is new to ACC and animal welfare organizations in general. Families who come to us with complex needs often require an added investment of time and resources to determine the best possible outcome for them and their pets.  
ASPCApro: Was it difficult getting administration buy-in that these positions were needed? 
John: We're fortunate to have a senior leadership team committed to serving every client who comes through our doors. Our admissions counselors are on the front lines dealing with dozens of clients and animals who arrive at our shelters daily. By hiring SCAs, we are able to provide an added layer of support as they take on the more complex situations that require communicating effectively with clients experiencing mental health crises and other challenging personal situations. Not every outcome means the family and pet can stay together, but even in sad circumstances, we've received consistent feedback that our clients are grateful to have the added care our SCAs provide. These roles position us as a valuable resource to the community. 
ASPCApro: How do you promote this service, or how do people gain access to a special case advocate? 
Jaime: Currently an internal process, clients gain access to SCAs based on the issues and needs they share with ACC staff when they call, email, or walk into one of our shelters. Our staff has a list of "buzz words" (like "domestic violence" and "eviction") and knows when to alert us. Clients fill out a form that the Special Case unit reviews. Then we contact clients directly, assessing each situation and developing a plan specific to that individual—whether providing a list of housing resources or placing a Department of Homeless Services (DHS) hold for an emotional support animal. We also share contact information for specialized shelters, coordinate the care of pets for people in the hospital, and connect them to attorneys as necessary. 
We are in the animal welfare business and must remember that behind every pet is a human who may be facing hardships that directly impact that pet. ~Jaime S. Kruse & John Cicolella, Animal Care Centers of NYC 
ASPCApro: What does a "typical" day look like for a special case advocate? 
Jaime: A typical day generally consists of reviewing case assignments and following up with new or ongoing clients. The SCA hears their stories and assembles contacts that may be helpful to the client based on these conversations. To build out our resource library, the SCA may spend time researching potential resources or making personal connections with other organizations to see how we may work together to help an individual. We also encourage our SCAs to brainstorm creative solutions to address our clients' issues. Maybe it's something we can do now, or perhaps it's a new service or program we can build for the future. Our SCAs work remotely and travel between our Brooklyn and Manhattan shelters and our Bronx Resource Center.  
ASPCApro: Can you share a favorite story of a family that could stay together because of an SCA's intervention? 
Jaime: One story is that of Kuro, a cat whose human family—a pregnant mother and her teenage son—came to us because they were evicted and had to enter a homeless shelter. Kuro means the world to the young son, and you could see in his eyes the pain he felt at the prospect of relinquishing Kuro. Our SCA worked with our foster team to place Kuro in foster care while the family awaited stable housing. We also helped secure an emotional support animal letter for the family to use that prevents them from being separated from Kuro again. When the family and Kuro were reunited, everyone cried tears of joy.  
ASPCApro: How do you decide which cases to take and which may be out of scope or budget? 
Jaime: There is no formula because a case can range from housing insecurity to hospitalization, domestic violence, and so on. We listen and gather as many details as possible. The more information we get and the more communicative the person is, the more likely we'll be able to assist in some way.  
Unfortunately, sometimes clients make up their minds to relinquish a pet, or there aren't the proper resources available to avoid that outcome, but they still need someone to listen and be supportive. And we do that too. 
ASPCApro: What qualities are essential for an SCA to be effective in their job? 
John: Empathy, patience, kindness, and critical and creative thinking are paramount. We specifically sought candidates with social work backgrounds, and this has been helpful when growing the team.  
ASPCApro: What advice would you give other organizations looking to add a similar role? 
Jaime, John: First, we are in the animal welfare business and must remember that behind every pet is a human who may be facing hardships that directly impact that pet. The more we can help pet owners, the more likely the pet will be supported. Second, understand the general needs of your community and be open to expanding what you can offer. Third, research other organizations in your city or town. Chances are there could be organizations or agencies better equipped to handle the human aspect of a case, leaving you to deal with the animal side. 
Review the job description for a special case advocate.
Check out this related content: They Did It: Hired a Social Worker at Their Animal Shelter.
We have lots more on this subject:
Explore ASPCApro Tools & Tips by Topic: