Do's and Don'ts for Extending and Replacing Disinfectants
Running low on disinfectant or can't find your go-to? Try these tips to extend or replace your regular disinfectants.
DO: Conserve and extend your disinfectant supply
1. Spot clean
In order to conserve supplies, reduce animal handling, and enhance operational efficiency, spot cleaning is recommended any time an enclosure is not visibly dirty or contaminated and the same animal will continue to be housed in the enclosure. 
Use these videos to learn proper techniques for spot cleaning 
2. Use commercial dish soap or another detergent for the cleaning step
Many shelter disinfectants have both cleaning (i.e., detergent) and disinfecting properties so that the same product can be used for both components of the sanitation process. If necessary, you can substitute commercial dish detergent in place of the disinfectant for the cleaning step of the process and save disinfectant for when you truly need to disinfect.
3. Strategically decrease the concentration of your disinfectant
Disinfectants such as those containing accelerated hydrogen peroxide (e.g., Rescue®) and potassium peroxymonosulfate (e.g., Trifectant®) can be used at various concentrations and contact times depending on the desired effect.
For example, you may be able to use a higher concentration of disinfectant in populations that are at higher risk for exposure to and infection from non-enveloped viruses (e.g., parvovirus, panleukopenia, calicivirus), and a lower concentration for the rest of the shelter population. In some cases, you can use a lower concentration with a longer contact time to achieve the same activity against pathogens of concern. This can conserve your disinfectant supply but may increase the staff time needed to disinfect some areas of the shelter; consider your staffing capacity before making this switch.
High Risk Populations
(Use parvocidal concentrations of disinfectant.)

Low Risk Populations
(Use non-parvocidal concentrations of disinfectant.)

Puppies and kittens <20 weeks of age

Healthy dogs and cats ≥ 20 weeks of age

Animals diagnosed or with known exposure to canine parvovirus, feline panleukopenia, or feline calicivirus

Animals vaccinated against canine parvovirus or feline panleukopenia ≥7 days ago

Newly arrived animals (vaccinated <7 days prior)

Animals in the shelter for >14 days

Animals with conditions or treatments causing immunosuppression

 
High traffic and/or high touch areas, such as hallways, exam and treatment rooms, and training areas, may also be considered "high risk" and use of parvocidal concentrations of disinfectant should be considered in these areas.
4. Substitute your regular disinfectant
If your parvocidal disinfectant is unavailable, although not ideal, calcium hypochlorite (e.g., Wysiwash®) or a 1:32 bleach solution can serve as an alternative . However, neither of these options contain detergents and their use must be preceded by cleaning with detergent.
Note that bleach solutions must be made daily and protected from light. Learn more about diluting bleach for disinfection.
Many quaternary ammonium compounds are labeled for use against non-enveloped viruses.  Despite these claims, independent studies have found quaternary ammonium compounds to NOT be reliably effective against these viruses; efficacy should not be expected and other options should be used if these viruses are of particular concern.
For additional information, see the shelter disinfectant quick reference.
5. Use our sanitation decision tree to help decide your best course of action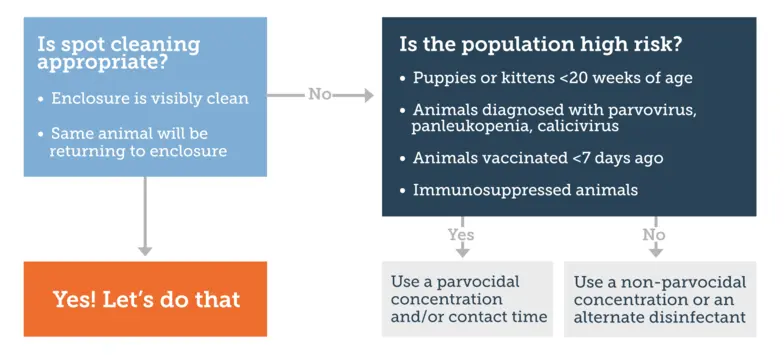 DON'T: Jeopardize Health and Safety with Risky Practices
Don't add extra water to your disinfectant solution. This will further dilute the product and is likely to reduce or eliminate its efficacy.
Don't mix disinfectants together. This will likely reduce or eliminate efficacy of the products and may result in the creation of flammable or otherwise hazardous solutions.
Don't use commercial aerosol sanitizers. This is an ineffective method of sanitizing animal housing areas and may cause respiratory irritation or toxicity if inhaled.
Don't use products containing phenols. These chemicals are toxic to animals, particularly cats.
We have lots more on this subject:
Explore ASPCApro Tools & Tips by Topic: