Increasing Capacity for Spay/Neuter Before Big Events
Recorded On:
Thursday, March 8, 2012
Presenter
Panel Presentation
About this Webinar
What is your agency's capacity for spay/neuter? This session provides information and case studies—including one from the Humane Society of Boulder Valley (2010 $100K Challenge Winner).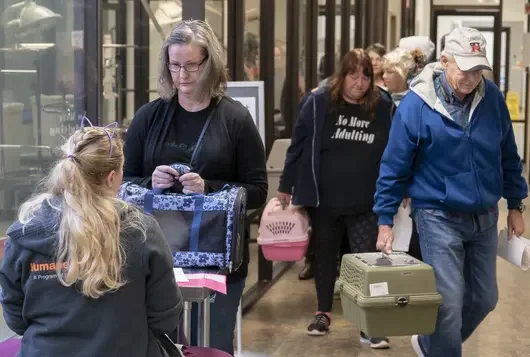 Takeaways
We also discuss:
How to determine a shelter's current capacity to provide S/N, plus strategies to increase the number of animals altered
How to design a daily S/N surgery schedule
How to speak with veterinarians regarding the benefits of pediatric S/N
The best use of volunteers in S/N programs
The importance of regular communication in achieving these goals
Webinar presented by:
- Kathleen Makolinski, DVM, Senior Director, Grants and Spay/Neuter Programs, ASPCA
- Lesli Groshong, DVM, Chief Shelter Veterinarian, Humane Society of Boulder Valley
- Carolyn Brown, DVM, Director of Surgery, Spay/Neuter Operations, ASPCA
Top Tips from this Webinar
Temporarily Transform Shelter Space
In order to increase spay/neuter capacity to prepare more animals for a big event, set up a MASH-style clinic within your shelter in addition to the surgical suite you may already have. You can use a large room, such as a meeting space. Take into account the cost and storage of equipment, as well as extra medical staffing, and adhere to state veterinary practice laws and other regulations regarding a supplemental surgical suite.
Enlist Volunteers for Non-Surgical Tasks
Volunteers can lighten the load of your medical staff. "We implemented a morning volunteer position that would bring the animals from the shelter to the clinic in the morning," says Dr. Lesli Groshong. "This frees up veterinary technicians to focus on preparation of animals for surgery."
Talkin' Tables: Two-to-One
For high-quality, high-volume Spay & Neuter, it's ideal for one veterinarian to work with two surgical tables—when she finishes one surgery, the next patient is ready for her to start again.
Communicate to Keep Plans Straight
"It's essential that administration, intake/adoption and medical staff are all up to date regarding the expectations for a big adoption event," says Dr. Kathleen Makolinski. All teams should share information to determine the number of spays/neuters needed before the event, and where the animals will be housed before and after surgery.
Pre-Surgical Examinations the Day Before
For animals who are slated for surgery the next day, get that first step out of the way. To save time the next morning, record their weight, perform pre-surgical examinations and make appropriate entries in medical records as well as on surgical/anesthetic drug logs.
Suited For
Medical staff and shelter administrators who aim to spay/neuter all animals prior to their adoption, especially in advance of a large adoption event, will benefit from this webinar.
Be notified about our upcoming webinars.
Join the ASPCApro email list for updates about webinars, resources, and more.
Explore ASPCApro Tools & Tips by Topic: