Camp programs can have a big impact on both your staff and facility, so here are four things to ponder if you're considering adding camps.
Costs & Revenue
Summer camps can be real moneymakers for shelters. In fact, the San Diego Humane Society brought in $94,730 from its 2014 "Animal Adventures" summer camp program. And during 2014, the San Francisco SPCA's 11-week summer camp brought in enough revenue to fund its four-person humane education department for the entire year!
One thing to keep in mind, though, is that you will most likely incur some camp expenses prior to receiving all your camp tuition payments (advertising, supplies and possibly staff salaries).
A great way to offset any pre-tuition expenses is to get corporate camp sponsors. Most camp programs provide camp t-shirts and nametags to campers, which make perfect places to put corporate logos.
Some communities, counties and states provide grants to local camp programs. For example, the Humane Society for Tacoma and Pierce County received a water quality grant from the City of Tacoma for incorporating pollution education activities into its camp programming. Check your local government and state agencies' websites for possible sources of income.
When setting your tuition rates, Zeitlin suggests checking out what other area camps are charging so that your prices are competitive.
Space
You'll need to designate some space inside the shelter for housing campers and camp materials. Keep in mind that other staff members won't be able to use that space during camp hours – and possibly a week or so before camp begins while you conduct staff training.
If the space is communal, you will need to return it to an acceptable state before leaving for the day. Make sure you communicate with other departments so they know when and how you will be using shelter spaces – and ask them how you can make it easier on them during busy camp times.
Availability of indoor space is one of the most important factors in determining how many campers you can accept in your program. Even with access to outdoor areas, during inclement weather you will need to be able to safely accommodate all campers indoors. 
If indoor space is a challenge at your own facility, consider holding your camp off-site. For example, some agencies collaborate with their local Boys and Girls Club or recreation center for use of space.
When deciding how many campers your program can accommodate, you'll also need to consider how many staff members are available, how long your camp will be and any state or local regulations. Stacey Zeitlin, senior director of communications and community engagement at San Diego Humane Society, says you may need to turn campers away if you reach capacity, but you can create a waitlist. "Add them to your mailing list so they receive camp materials earlier the next year," she suggests, "and to keep them engaged, send them information about the education programs you offer year-round."
Staff & Volunteers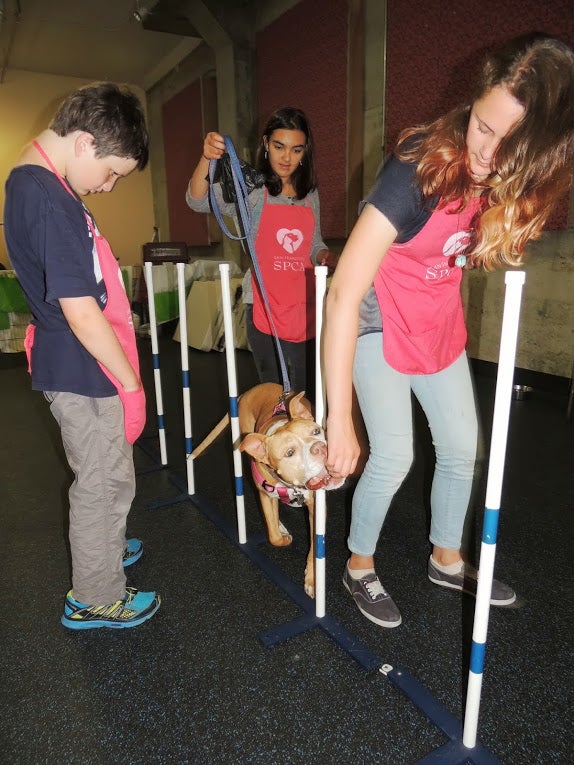 The majority of shelters conducting camp programs add temporary staff and/or volunteers during camp season in order to ensure a proper staff to camper ratio. While the ratio varies from camp to camp, most camps have at least one staff or volunteer for every five children.
Heather Disher, education manager at Helen Woodward Animal Center, recommends the following when recruiting camp staff and volunteers:
Start recruiting camp early – no later than March – to make sure you have enough quality candidates for consideration.
Seek out staff and volunteers with a background in education so they come in knowing how to work with large groups of kids. Retired teachers and teachers in training make great candidates.
Create an accurate job description so you attract the type of candidates you are looking for – and be sure to include all required training and camp dates in the description. Download a sample job description.
Post job openings all over the Internet, including your website and Facebook page, Craigslist, colleges with teacher training programs, etc.
Be sure to check with your state regarding staff requirements for working with children. You will most likely have to do some kind of background check on any staff or volunteers.
Consider using high school students as junior camp counselors to save money and bring energy and enthusiasm to your program.
Maggie Amiano, humane education manager at San Francisco SPCA (SF SPCA), suggests using the following interview techniques:
Do a 10-minute phone screen to see if you want to proceed with an in-person interview.
Conduct a "speed-dating" type of interview with the people who pass the phone screen. At SF SPCA, four staff people take turns interviewing four candidates for 10 minutes while the fifth candidate works at a station preparing a camp-related activity on the fly. At the end of the interview, each of the candidates presents his or her idea to the group. Amiano says this process allows them to get to know candidates in a short period of time and see how they think on their feet – an important consideration when working with kids.
Parking, Pick-up & Drop-off
What may seem like a minor detail can become a major headache if you don't take the time to carefully plan how and when campers will be dropped off and picked up. Take into account your shelter's operations: You don't want to disrupt the daily flow of your organization, so plan drop-off and pick-up accordingly.
Zeitlin suggests using a side entrance for your camp if at all possible in order to prevent congestion at the public entrance. The San Diego SPCA also does a curbside drop-off and pick-up, which parents appreciate for its convenience – and which also keeps parking spaces open for other shelter visitors. However, curbside service can complicate keeping track of who is picking up each child, making it more challenging to implement safety procedures.
You may want to stagger camp start times for different age groups so there is less congestion in the parking lot at any given time.
Photo courtesy of San Francisco SPCA
More in This Section
Return to Camp Landing Page
Read about Camp Marketing
Find Camp Activities
More Lifesaving Resources
The Association of Professional Humane Educators has an active member listserv where shelter staff from across the country share ideas for creating successful camps.