The X Maps Spot GIS Program
Geographic Information Systems (GIS) is an exciting tool for mapping locations of animals. GIS technology lets you look at many different sets of data in a way that provides a clearer picture of your community's animals and their needs – and that helps you use resources more efficiently. GIS also offers relationship-building opportunities through information sharing, since organizations can work together to save more lives.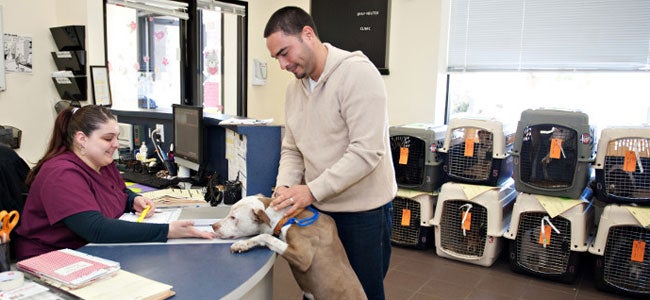 The ASPCA's Work With GIS
The ASPCA's X Maps Spot team worked with a handful of communities across the country utilizing GIS to target animals most at risk and reduce shelter intake. We used this firsthand experience to produce tools that help other organizations and communities use GIS to save more lives.
In Portland, OR, an alliance of local organizations discovered an area of high intake through GIS mapping. Through a comprehensive outreach program, including free services to clients in the targeted area, intake was reduced.
In Cleveland, OH, the X Maps Spot team worked with two local organizations to identify an area of high intake, then launched an intervention to saturate the area with free services and keep animals in their homes.
The Florida counties of Broward, Miami-Dade and Palm Beach identified high intake areas in their communities through the use of GIS, and are now targeting their efforts more effectively.
Sacramento, CA, also identified an area of high intake and completed a one-year intervention project focused on reducing shelter intake of cats and dogs.
How It Works

To see the big picture, you will examine data for animals who are handled through shelters and rescues in your community. This is critical in order to accurately show hot spots in your area. You also must be able to:
Enter data in a consistent and accurate (or clean) manner
Map at least 85% of the community's intake
Test intake data to see if 80% or more is clean
Continue refining until your data is at least 80% clean for the data subset you want to examine
Ready to Get Started?
GIS Readiness Quiz
Think you may be ready to use GIS? Check out this readiness quiz
► The X Maps Spot Tools page will walk you through the process and the GIS Glossary will help you understand commonly used terms.
 
The ASPCA X Maps Spot project was funded by PetSmart Charities©
Explore ASPCApro Tools & Tips by Topic: