Mackenzie's Animal Sanctuary Enrichment Program
Mackenzie's Animal Sanctuary, a dog sanctuary on a large rural property in Lake Odessa, Michigan, has a mission statement that includes both:
Finding "loving homes for abused, abandoned, and neglected dogs," and
Maintaining "the highest standards of care for the animals, including veterinary care, housing, love, tenderness and compassion."
Particularly because many of their dogs may live at the shelter for months, years, or permanently, Mackenzie's staff pays close attention to the quality of life for the dogs in their care.
Canine Enrichment Goals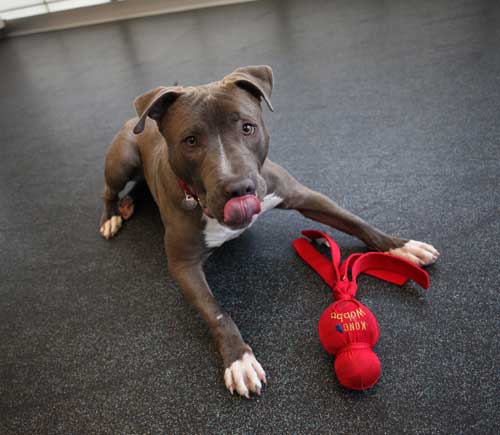 Rick Wiersum, Behavior Modification/Training Attendant at Mackenzie's, put together the sanctuary's canine enrichment program, focusing on the following goals:
Improving the quality of life for the dogs

Helping the dogs present themselves better when potential adopters visit the kennels

Making efficient use of the sanctuary's small staff, volunteer pool, and tight budget
With input from the Shannon Gramann, ASPCA Senior Administrator, Meet Your Match™ Resources and Research, Rick built a well-rounded enrichment program that includes a varied schedule of social, mental, and sensory stimulation and physical activity.
Actually implementing the program was a team effort at Mackenzie's. Rick says, "None of this could have been accomplished without our incredible team of staff and volunteers. It was and is a total team effort." He is particularly appreciative of the staff's willingness to take on the work "when time is something we never really have more of. This team always puts our canine friends first and sacrifices so much of themselves for our animals."
Soon after starting the program, he and the other staff began to notice improvements in the dogs. Dogs are calmer in their kennels. And, while problem behaviors haven't disappeared, the intensity of some behaviors, such as food guarding, has diminished.
Sharing the Wealth
Mackenzie's shared the details of their enrichment program, as well as a sample of their in-kennel enrichment schedule. We've added some other resources and ideas to help you create or enhance your shelter's canine enrichment program.
The Daily Change-up
Simple activities and other sources of enrichment help make every day a little different from the one before.
Food, Glorious Food
Mackenzie's reveals the many exciting ways to serve kibble. Who knew?
Go Dogs, Go!
The dogs go out and stretch their paws.
Hanging with the Humans
Mackenzie's dogs have opportunities for both high-energy and low-key activities with staff and volunteers.
In-Kennel Enrichment Schedule (.doc)
Rick Wiersum created schedules to map out a week's worth of in-kennel enrichment for every dog in the sanctuary's two kennel wings.
Enrichment Activity Spreadsheet (.xls)
Use this spreadsheet of canine enrichment activities to start building your own program.
Explore ASPCApro Tools & Tips by Topic: