MYM Mesmerizes Media at Jacksonville Humane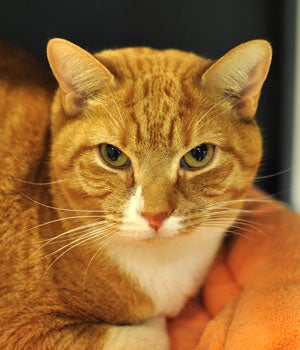 The Jacksonville Humane Society was abuzz with media attention before, during and after its June 2 launch of ASPCA's Meet Your Match (MYM) Adoption Programs.
The shelter employed a two-pronged approach to attract news coverage:
Pre-launch alert to entice media and VIPs to attend "the experience"
Press release the day of the launch to draw last-minute media attention
"The Experience"
A week before the launch, an alert went to television, radio and print media inviting them to the "MYM Experience". Other lucky recipients of the alert were high-level donors, board members and leadership from other area shelters.
The shelter was closed on launch day to allow staff to concentrate on the program and lend an air of exclusivity to the attendants.
Media Moxie
Executive Director Leona Sheddan and Director of Operations Danya Parks-Freel kicked the event off with an overview of the program. Journalists were invited to take the Adopter Survey (all but one did!) and go through a simulation of the adoption process.
Once the reporters learned their color, they were paired with staff and volunteers, who were trained in advance to field journalists' questions.
According to Parks-Freel, the media alert was the key to luring reporters. However, the press release sent the day of the launch also generated coverage—even resulting in MYM stories days after.
Stop the Presses!
Media attention rained down on the shelter—before, during and after the launch. Coverage included:
National Public Radio's local Morning Edition
Morning shows, evening news and more on local ABC, CBS, Fox and NBC affiliates
Front page Life section feature in Florida Times-Union
Video clip on Florida Times-Union website
Stories in Jacksonville and Jacksonville Luxury Living magazines
Savvy Suggestions
Parks-Freel recommends these tips for a MYM launch irresistible to media:
Implement MYM at least a month before official launch so staff and volunteers know the program well enough to sell it to the media.
Start planning the launch at least a month before the big day. To keep organized, create a timeline for all the tasks leading up to launch.
Put together a press packet that you give to reporters when they arrive.
Be flexible with reporters. If they want to do early interviews, accommodate them. If they show up the day after the event, make yourself available.
Use the ASPCA's MYM materials, and then personalize them for your agency.
Avoid "re-inventing the wheel." Don't be afraid to borrow from other MYM shelters? launch activities.
Publicity with Pizzazz
Jacksonville Humane Society generously shared their planning and publicity materials for the MYM launch. You can download and adapt these materials for your launch.
You'll also want to check out our Promoting MYM pages, where we offer additional promotional tools you can use to work with your local media and resources to include on your website—including movies.
Explore ASPCApro Tools & Tips by Topic: