Spotlight on Safety Net Programs: Kentucky Humane's Re-Homing Service
We are here for you. That's the kind of nonjudgmental tone ASPCA Partnership agency Kentucky Humane Society(KHS) uses to promote their Courtesy Re-homing Service, a program that empowers pet owners who wish to find a new home for their animal to connect with potential adopters. The concept is simple: KHS lists the pet on their website for free, and those who are interested contact the owner directly.
The re-homing service helps keep animals out of shelters, which, according to PR & marketing director Andrea Blair, is particularly important during high-volume months. "We often have a waiting list for animals needing to come in. This program gives owners another resource," she explains. Customer service like this shows the Louisville community that KHS trusts pet owners to advocate for their animals—and help is available if they want it.
In the year that followed the program's January 2014 launch, 69 pets were listed on the re-homing website (that's 69 kennels opened for other animals!). Of those, 14 dogs and cats found new homes through the service.
How It Works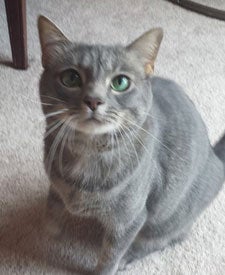 Pet owners wishing to re-home their pet must submit an application in order for their animal to be listed online, which asks for specific information like:
2-3 high-quality photos showing the animal's face, body and relative size
Proof of up-to-date vaccinations and spay/neuter
Pet bio
The agency provides support via a re-homing packet on their website, offering pet owners the tools they need to successfully find a home for their animal, including:
Tips on writing a compelling bio
How to choose winning photos
What to look for in a home
The packet also offers options to help keep pets in their homes, listing solutions and resources for common difficulties that folks relinquishing their pets face (e.g. behavior issues, financial troubles). For those who would like more personal assistance than they can get online, KHS lists the contact info for their pet helpline.
If an application is incomplete, a pet helpline specialist contacts the owner for details. Once she has all the required information, she lists the animal on the cat page or dog page of the website's re-homing section. Though this service is free, KHS is sure to mention that they welcome donations.
Each animal listed gets a photo or two and bio: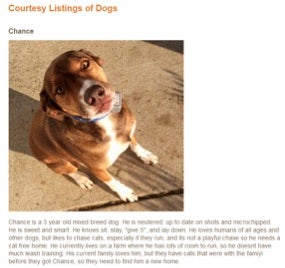 The Pet Is Listed...What Happens Next?
KHS uses a spreadsheet to keep track of all of their re-homing submissions, recording information like owner contact info, last date of contact, pet description and outcome. The pet helpline specialist follows up with the owner every two or three weeks and updates the spreadsheet—a task that typically takes a few hours a week.
While it is the pet owner's responsibility to share the listing of their animal, KHS regularly promotes the re-homing pages via social media and their monthly e-newsletter—and if an animal has been listed for months, KHS does try to give him a nudge with some PR help.
What to Look Out For
Blair has noticed that it takes much longer for animals to be adopted from their homes than at the shelter. "We think this is because people might assume an animal in a shelter is more at risk than an animal in a home," she says, adding that purebred and young animals tend to get adopted more quickly.
Still, she thinks other organizations should give a program like this a try—ultimately, it sends a message to the public that the shelter respects pets and their people. Says Blair, "Our community loves this service."
Above: Agatha and Tesla were all placed in new homes through the Courtesy Re-homing Service.
More Lifesaving Resources
Adoption Follow-Up Program
Marketing Strategies for Cat Adoptions
10 Media & Marketing Strategies for Shelters
Explore ASPCApro Tools & Tips by Topic: