Mother's Day, Your Way
Foster moms, spayed moms, farm-animal moms—in the animal welfare field there's no shortage of celebrations for moms of all kinds when Mother's Day comes around. You post adoption discounts, photo contests and share graphics galore. Here's a collection of the clever and sweet ways the field has engaged the community as inspiration for planning your next Mother's Day promotion.

As part of their clever messaging, Outer Banks SPCA reminded folks that all their animals are altered—so when females are adopted, they get to be the baby and not the mama.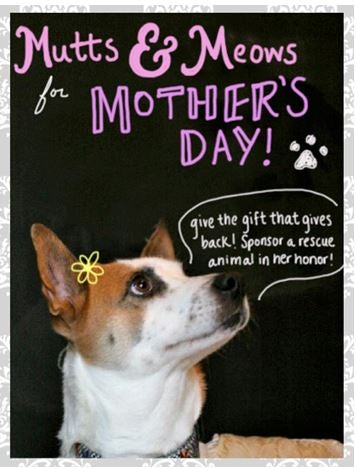 Ashtabula County Animal Protective League invited their community to sponsor a pet for a month for $25 in the name of a mom. A smart way to honor moms while encouraging more sponsors, they highlighted donors both on Facebook and in the shelter.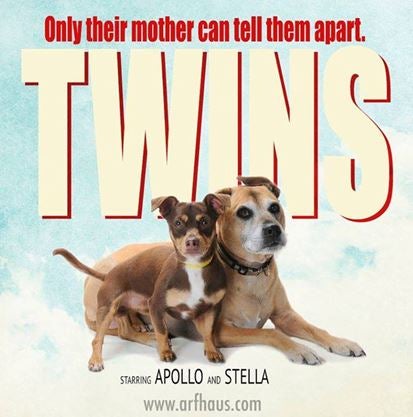 Here's a pic and tagline from Burbank Animal Shelter that made us look twice. What a fun way to promote a bonded pair!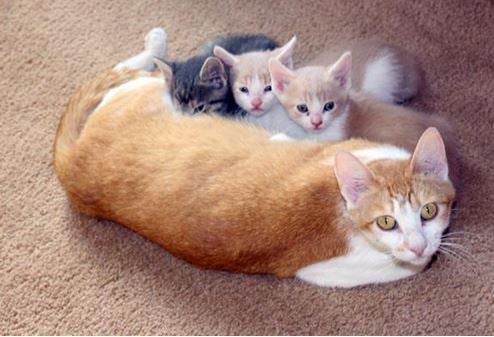 Three (million) cheers for foster moms! Santa Fe Animal Shelter & Humane Society sent a shout-out to foster mom Jane, thanking her for keeping this cat and her kittens safe and healthy.
Santa Fe Animal Shelter & Humane Society wove the Mother's Day theme into this shareable graphic featuring a pet available for adoption at the NM agency.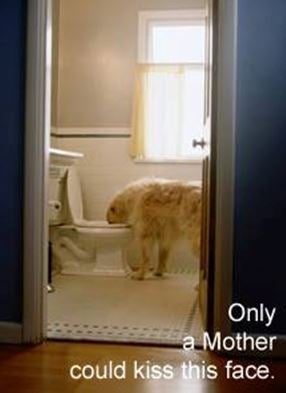 Do you do eCards at your agency? This is one of many sweet and hilarious ones available on The Louisiana SPCA site.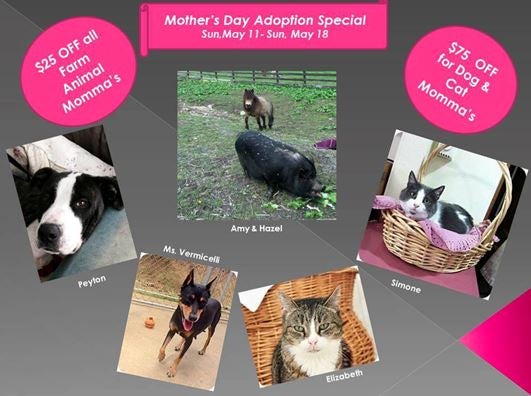 Who says Mother's Day is just 24 hours? Not Pets Alive… they extended their adoption discount promotion throughout the week—that included discounts for farm animals as well as cats and dogs.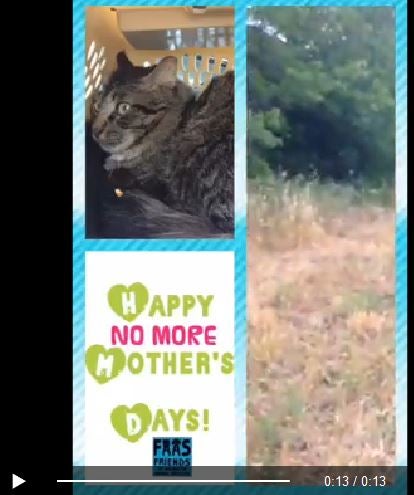 To promote the importance of TNR, Friends of Arlington Animal Services combined cool video skills with attention-grabbing messaging: "Happy NO MORE Mother's Days for Brandy. We released her this morning after her spay and vaccinations. No more mating and babies for her! Just living her life, chasing mice and being a cat with no worries."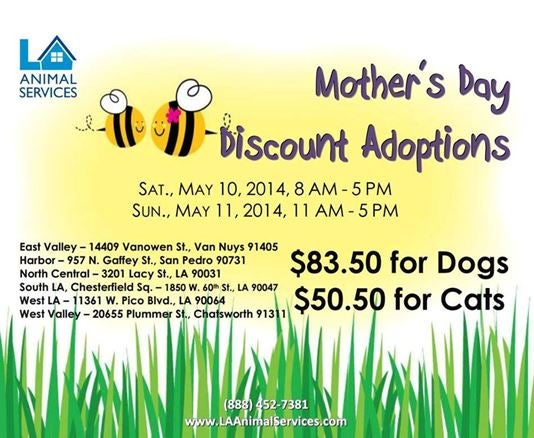 Doing a special Mother's Day promotion? You'll bee glad you did.  LA Animal Services put together this colorful graphic to announce adoption discounts in various locations.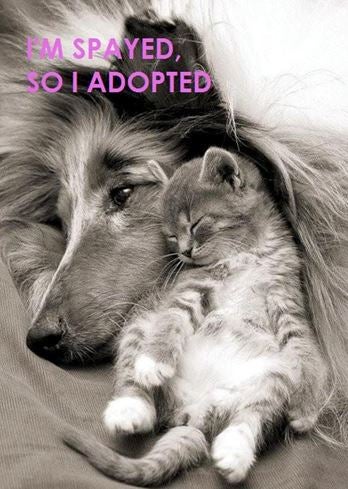 What's not to love about this clever graphic from ASPCA Spay/Neuter Alliance, as well as this beautiful note they posted to Facebook: "Moms come in all shapes, sizes and species and may not always be related to us but still mean the world to us. Happy Mother's Day to all of the moms out there!"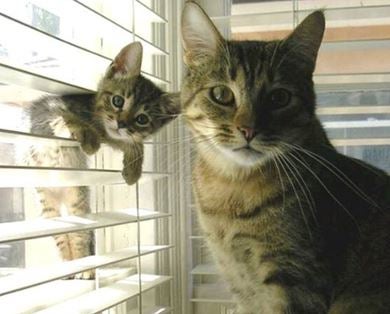 Cute pics are a must for Mother's Day, and even better when you combine them with a smart message, like The Cat Network,Inc did when they posted this pic and asked for $17.50 donations to sponsor a group of cats headed on a transport.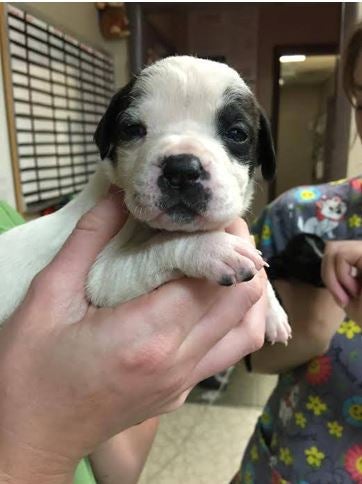 Mother's Day is a great time to put out a call for foster parents, as Brother Wolf Animal Rescue did when they posted this oh-so-adorable photo album.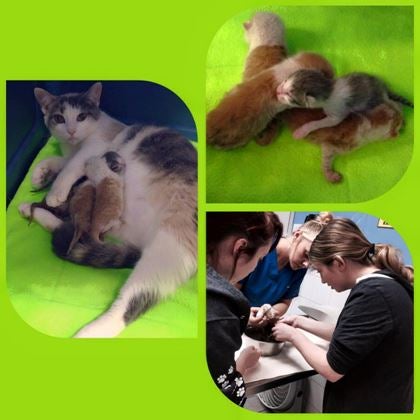 Powerful storytelling can score mega engagement. Angels For Animals posted about a Mother's Day miracle that occurred when a group of brand new kittens was brought into the shelter and a mama cat (who'd sadly lost her own kittens) nursed them as her own. The result on Facebook? Hundreds of likes and shares.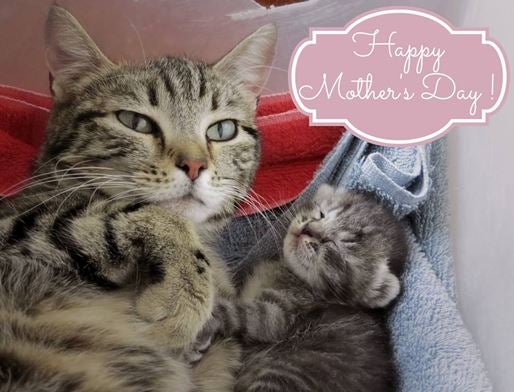 We loved Sacramento SPCA's plug for kitteh moms in their Facebook post: "While we all know that kittens get adopted quickly, please remember the mothers. They need homes, too!"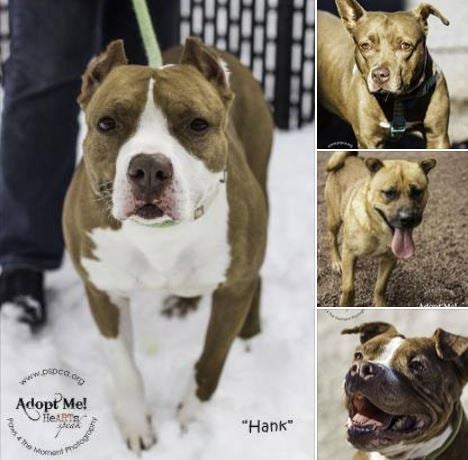 Along with these gorgeous photos, Pennsylvania SPCA held adoption discounts using this clever gimmick, valid for one day only: "For any animal adopted, you can choose a paw print off of our wall, and the percentage on the back of the paw is what you will save on the adoption fee, from 20-50%!"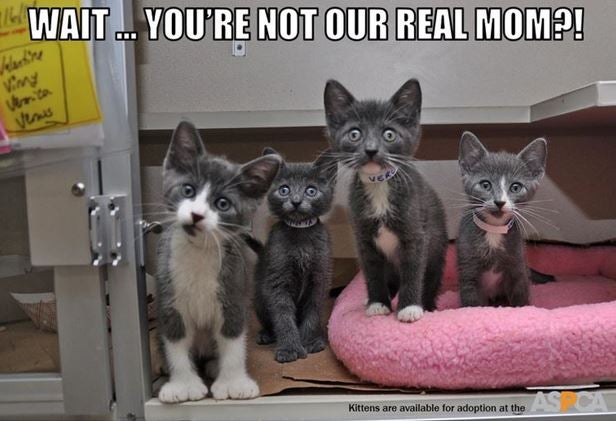 Want to plan ahead for next year? Take a tickle-the-funny-bone-tip from the ASPCA Adoption Center and put together a humorous Mother's Day eCard using an animal up for adoption.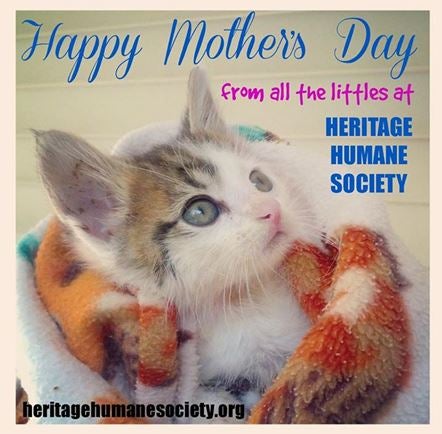 Which available animals star in your Facebook photos? Heritage Humane Society used Shrimp as their model… and we think he made a pretty big impression.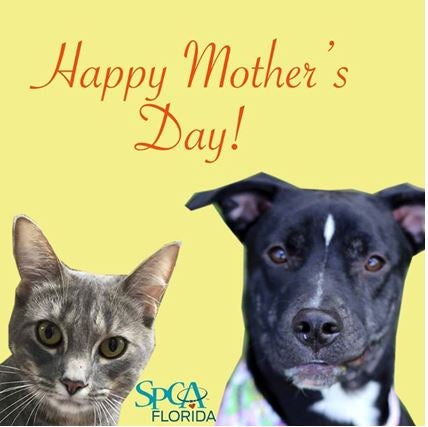 Have you tried asking fans to post photos in the comment section? SPCA Florida scored cute photos galore when they posted this graphic along with the status: "Got a favorite photo of you and your kids (with or without fur)? We'd love to see it in the comments below!"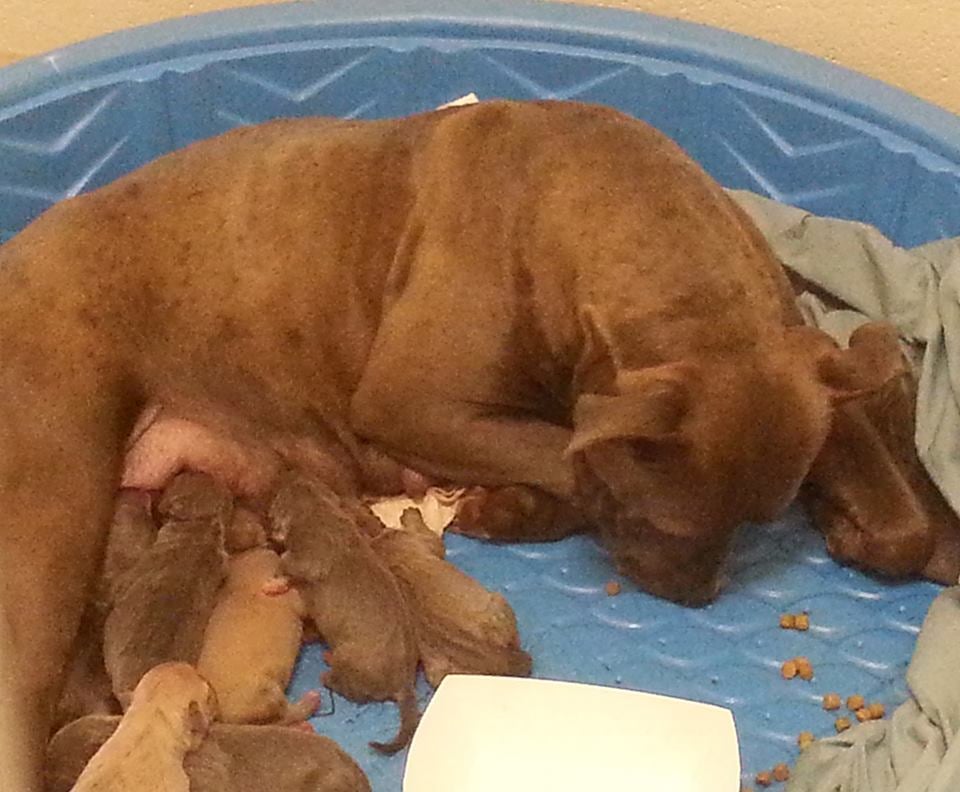 Whelp, looks like someone had a special delivery just in time for Mother's Day... Over at Portsmouth Humane Society, Faith cared for her litter of 9 in a baby pool until they were ready for foster. The VA agency reached out to their community for supplies by throwing Faith an impromptu puppy shower.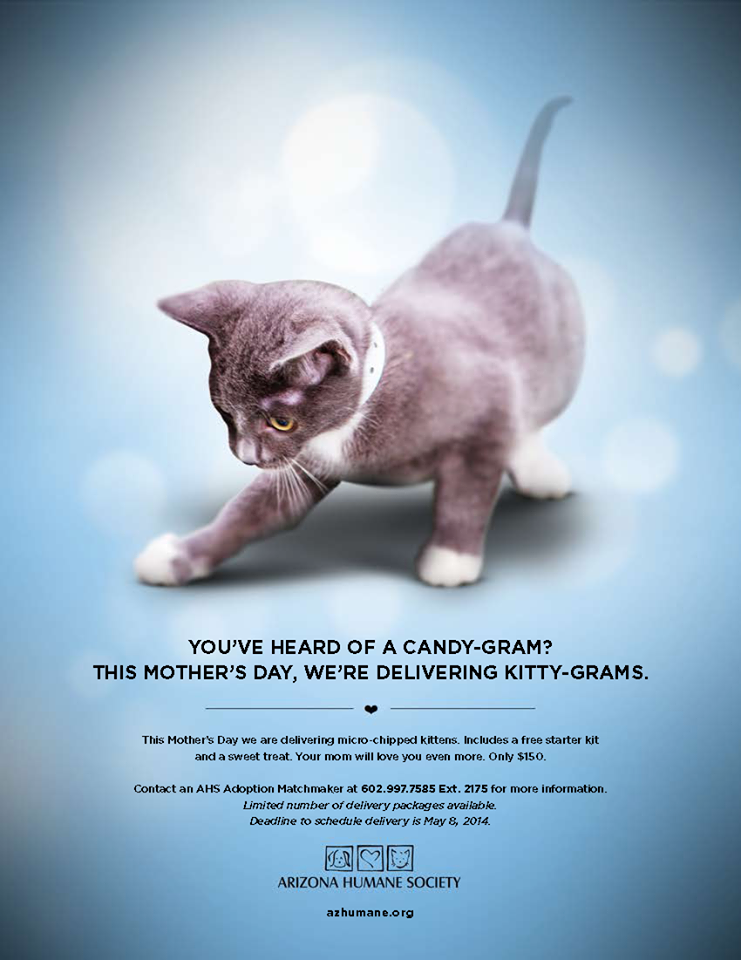 Here's a great lesson from Arizona Humane Society—if it works, do it again! Building upon the success of their Valentine's Day kitty-grams, they offered this service again for Mother's Day. Check out this spot-on messaging in their post: "If you know your mom is ready for a new addition, contact an AHS Adoption Matchmaker." Don't yet have a pets as gifts policy at your agency? Read the research here.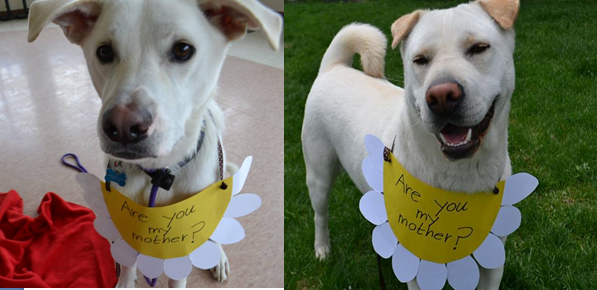 Series-ly smart: On Sunday, Dane County Humane Society posted a series of photos of dogs adorned with this adorable sign, looking for a new mom. Each photo included a fun first-person description of the animal.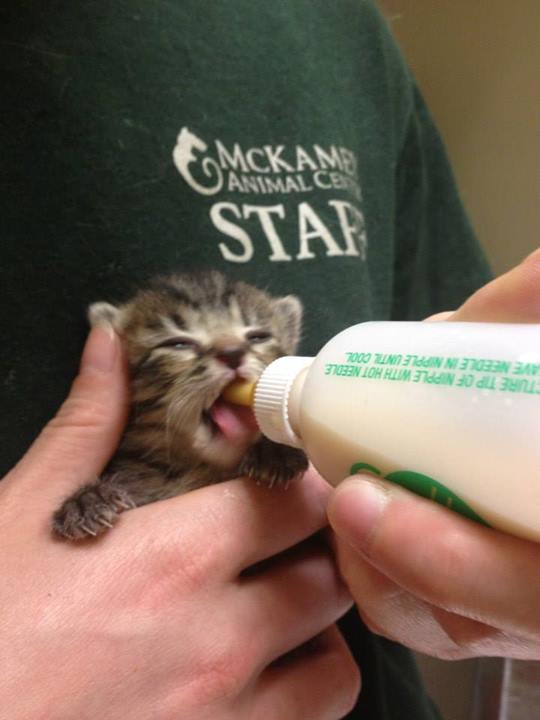 To acknowledge all the ways in which their volunteers and staff nurture animals, McKamey Animal Center posted an entire Mother's Day photo album dedicated to "the people who act as mamas to the animals at McKamey."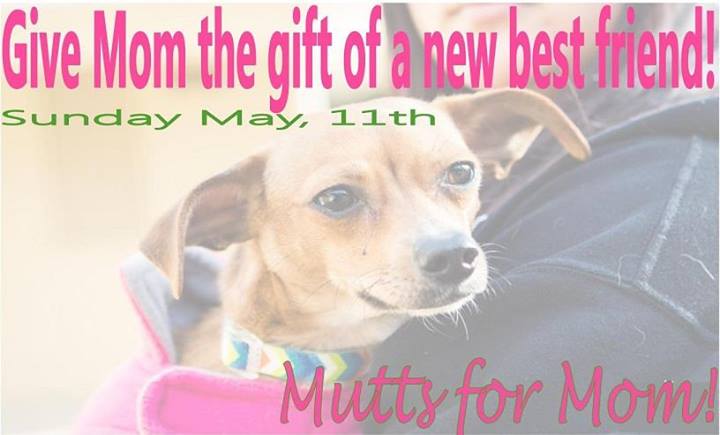 Talk about mutt-erly love... In honor of Mother's Day, Kitsap Humane Society sent all adopters of mixed breeds home with a special gift.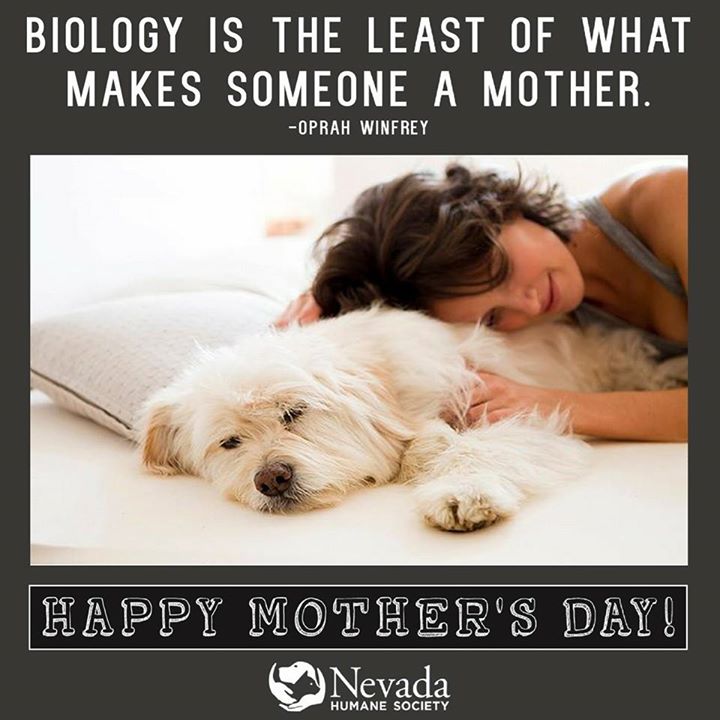 Because they recognized you can't go wrong with an Oprah quote and a gorgeous photo of a dog-human snuggle, Nevada Humane Society created a simple graphic out of the two and attached their agency's name to it with a Mother's Day message. Easy and effective for instant Facebook engagement!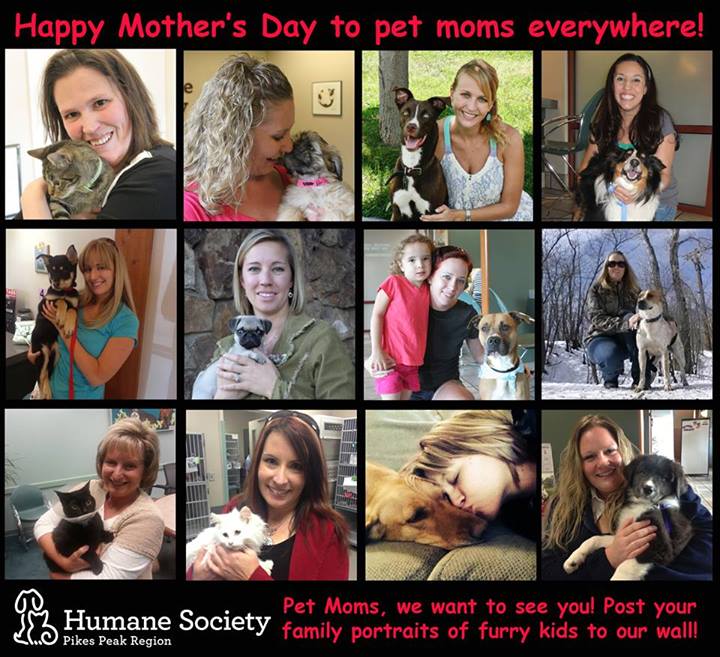 If you ask them, they will post... When Humane Society of Pikes Peak Region put out a call for their community to post family portraits with pets, boy, did they respond! The Facebook engagement lesson here is simple—people like a chance to show off their animals, so give it to them.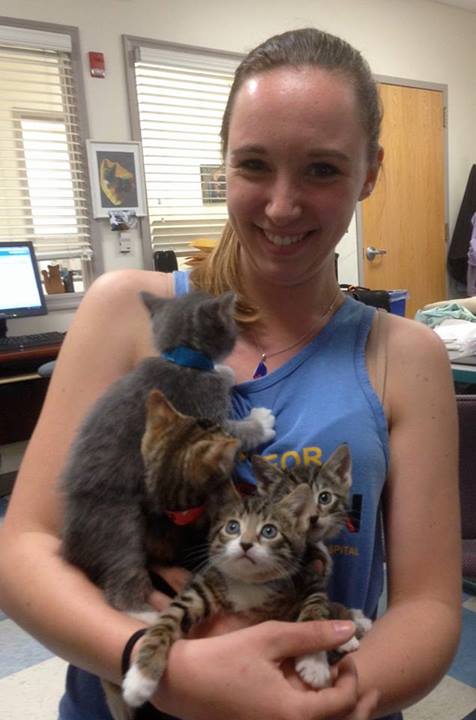 Philadelphia Animal Welfare Society took advantage of Mother's Day as a great time to express their appreciation for foster moms—and put out a call for more by linking supporters to the fostering page on their website.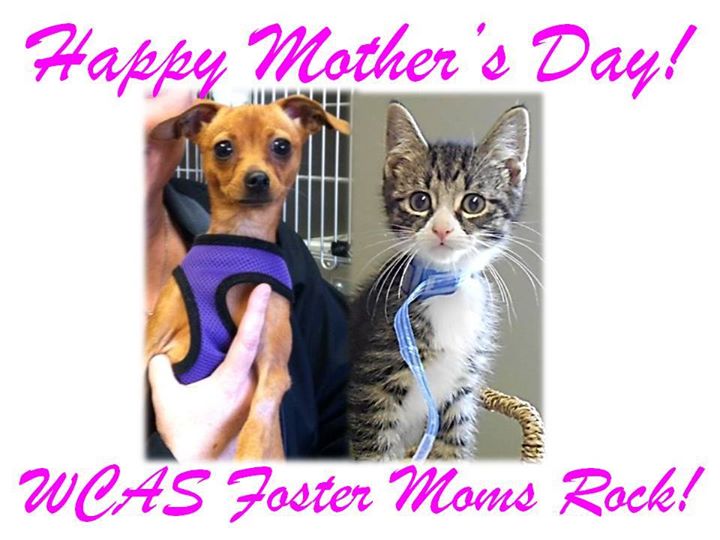 Here's another foster shout-out—from Winnebago County Animal Services, this one is loud and proud.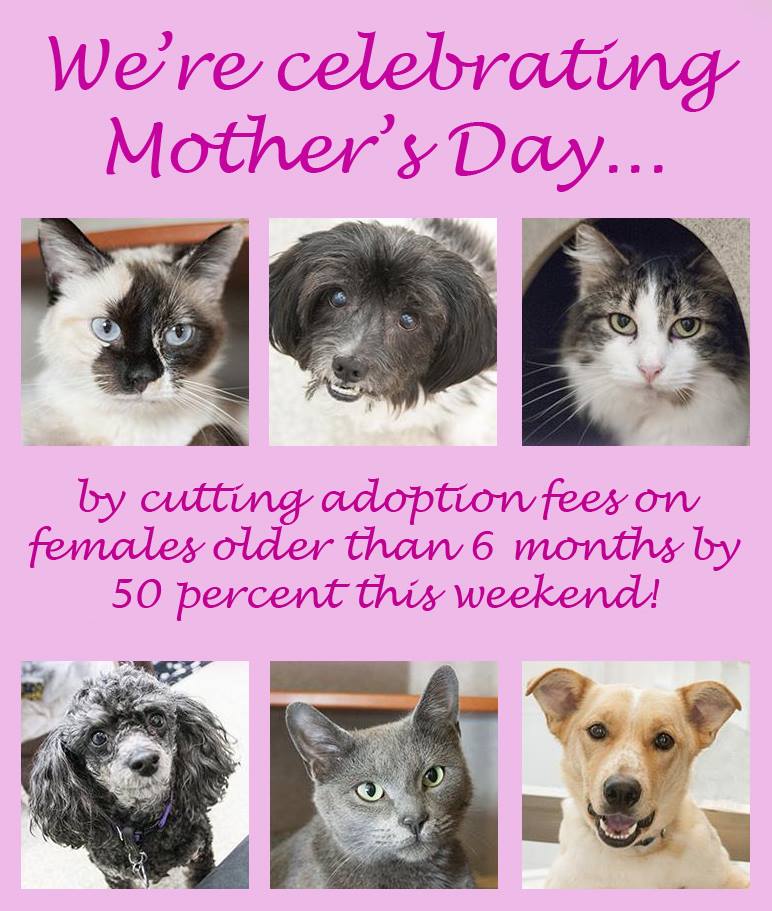 Mother's Day signage, pretty in pink edition: Humane Rescue Alliance held half-price adoptions on older pets all weekend.
St. Hubert's Animal Welfare Center recognized Mother's Day with this sweet pic celebrating their foster moms. "Whether opening their homes to give a mother cat a place away from the bustle of the shelter to raise her babies or taking on the extraordinary task of bottle feeding newborn orphans, we salute their lifesaving help," posted the NJ agency. (And P.S. they also included info for folks interested in joining their foster team – smart!)
We have lots more on this subject:
Explore ASPCApro Tools & Tips by Topic: