Combating Blood Sports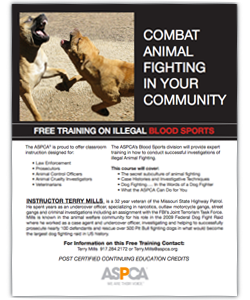 Terry Mills, the ASPCA FIR team's Blood Sports Director, provides training for agencies across the country in how to combat and prevent animal fighting.
Day-long workshops and other training can be arranged through FIR.
Subjects covered include:
The secret subculture of animal fighting
Case histories and investigative techniques
Dogfighting in the words of a dogfighter
Ways the ASPCA can help you
We invite you to enroll in the FIR Online Course series which includes a free, 90-minute webinar on animal fighting; the webinar is geared toward law enforcement, public health officials, animal control officers, animal welfare professionals, veterinarians, and prosecutors. You may be interested in our course Combating Dogfighting, created in parternship with the US Department of Justice.
To get a first-hand look at FIR's work battling dogfighting, view this video. Warning: The content is graphic.
Work in the Field
The ASPCA recently participated in a multi-state dog fighting raid, the largest federal crackdown on dog fighting in U.S. history, resulting in the rescue of more than 400 dogs and 26 arrests.
Notable anti-blood sports work by the ASPCA also includes:
In 2013, the ASPCA played a critical role in a three-state dog fighting raid that resulted in the rescue of nearly 100 animals.
The FIR team also rescued nearly 50 dogs from the windowless basement of a six-story apartment building in the Bronx that served as a makeshift dog fighting arena, and provided forensic evidence collection and on-scene documentation.
The ASPCA and several other agencies raided a drug, gun and dogfighting ring, rescuing 41 dogs. Many showed signs of severe neglect and were suffering from upper respiratory conditions and eye infections, among other medical issues.
Explore ASPCApro Tools & Tips by Topic: