Adoption Ambassadors Success Stories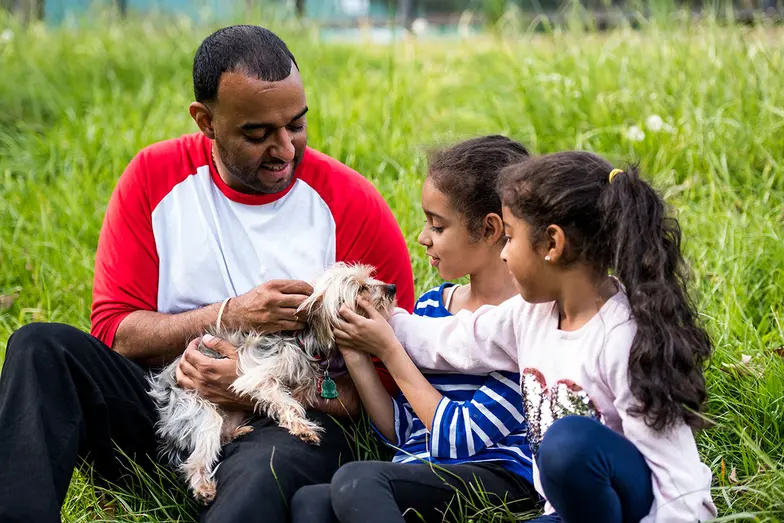 Each of these shelters has put its own spin on an Adoption Ambassadors program that empowers foster parents to market and adopt out the animals in their care. These three organizations have generously agreed to share their expertise and the lessons they've learned to help other shelters get a program up and running. Meanwhile, you can catch a bit of their wisdom during the free webinar, How to Implement Your Own Adoption Ambassadors Program.
Charleston Animal Society: Adoption Ambassadors
Charleston Animal Society (CAS) has placed 520 animals (469 dogs, 39 cats, 10 horses and two rabbits)– and has the data to prove that animals adopted through the program are less likely to be returned.
How it Works
Adoption Ambassadors assist CAS by caring for a dog or cat in their home and taking on the responsibility of marketing and adopting out that animal. Courtney Gumienny, adoption manager, says they have about 50 active Adoption Ambassadors placing animals for the shelter.
Although the program primarily focuses on dogs who are not doing well in the shelter, CAS has placed cats, equines and rabbits as well.
CAS provides Adoption Ambassadors with the following:
Food and bowls
Crates
Toys
Adopt Me vests
Tip sheets for writing bios, taking photos and filling out adoption paperwork
Results
CAS's Adoption Ambassadors program was the subject of an ASPCA study that showed only 7% of dogs who were adopted through the program were returned to the shelter, compared to 17% of dogs adopted directly from the shelter. And 24% of adopters considered information provided about their dog by the foster family when making a decision to adopt, whereas only 3% of regular shelter adopters factored information from shelter personnel in the decision.
Words of Wisdom
"The single most important thing you can do is establish good rapport with foster families," says Gumienny. She suggests going to adoption events to support them and starting them out with an easy dog who can be adopted quickly.
Lessons Learned
Although the Adoption Ambassadors program is not limited to hard-to-place dogs, the agency puts an emphasis on including them since it is a great way to get them adopted. According to Gumienny, "It has really been instrumental in getting dogs homes that may have not otherwise been adopted in the shelter—it's truly a lifesaving program!"
LA/SPCA: Fast Track 
While participating in the ASPCA $100K Challenge, the Louisiana SPCA (LA SPCA) created the Fast Track foster program to find homes for harder-to-place animals in the community. According to Allie Mayer, LA SPCA foster coordinator, the program is a great option for "dogs who are deteriorating on the adoption floor, including high-energy dogs and very scared dogs."
How it Works
Fast Track empowers foster parents to market and place their foster pets in a permanent home. Mayer conducts one-on-one training with each foster parent and provides necessary supplies, including:
Adopt Me vests
Adopt Me flyers
Business cards promoting the dog
List of dog-friendly locations
Calendar of upcoming adoption events
Tips on how to promote pets
Weekly email reminders of weekend adoption events
Results
Since the program began in 2010, more than 900 dogs and cats have found homes. The agency generally has 12-14 dogs out with volunteers at any given time. The program has also been used for a few cats chosen by staff or volunteers, and Mayer says it has been especially good for cats with chronic URI.
Words of Wisdom
One of the most important elements of the program's success is ongoing support for foster families. In addition to general support, LA/SPCA provides help for fosters who might be experiencing behavior issues with their dogs, which includes a weekly behavior class to help fosters deal with problems like destructive chewing or mild separation anxiety. By offering support and training classes to fosters, the organization goes the extra mile to ensure success in both the foster placement and the ultimate adoption.
Lessons Learned
Initially, staff wasn't sure if the program could work for cats. Happily, that concern was unfounded, as the agency has successfully placed a number of cats and kittens directly from foster homes. According to Mayer, Adoption Ambassadors are using Facebook, petfinder.com, college/university forums and Adopt Me flyers to find homes for foster felines. "This expansion has been lifesaving for a handful of owner-surrendered cats who became extremely stressed and even fractious in the shelter environment. Once they got into the comfort of a loving foster home, they blossomed and were able to make a smoother transition to a permanent home," says Mayer.
Miami-Dade: Foster Ambassadors
Miami-Dade Animal Services (MDAS) created a winning formula with its Foster Ambassadors program, placing more than 1,031 cats and dogs since 2013!
The large municipal shelter, which took in 29,936 animals in 2014, sees the program as "taking the animals to the community rather than waiting for the community to come to us."
How it Works
Foster Ambassadors are responsible for marketing and adopting out animals in their care. Since MDAS already had a thriving foster program, expanding was relatively smooth. The shelter's foster coordinator is critical to the success of the program and serves as the link between the shelter and the foster family.
MDAS began recruiting volunteers from the agency's regular foster pool, targeting volunteers who had been successful and perhaps had taken multiple foster pets. MDAS also provides training to Ambassadors, which includes tips on how to market the pets and screen potential adopters.
Results
With more than 1,000 animals finding homes in less than three years, MDAS considers the program an indispensable addition to its lifesaving efforts. The Foster Ambassadors program focuses mainly on harder-to-place pets, including older dogs, big dogs and animals with minor health issues. Without the program, staff say these animals "wouldn't have had a chance."
Words of Wisdom
MDAS advises agencies start small, with perhaps four to five Ambassadors, and let the program build over time. A smaller program at the beginning makes it easier to make changes on the fly and rectify situations that may arise as you figure out how to make the program work for your agency.
Lessons Learned
Lia Rodriguez has been coordinating the foster program at MDAS since October of 2015 and has these helpful hints to share:
Encourage foster parents to go out of their comfort zone. "Some families come in wanting only to foster small dogs under 15 pounds, but when you take them around the kennels and have them interact with different, larger dogs, they may just fall in love," says Rodriguez.
Pair fosters who have experience handling certain medical or behavioral issues with new fosters. Rodriguez says, "I introduced an experienced foster parent of heartworm positive dogs to a new foster parent who was considering taking a heartworm positive dog, and their interaction empowered the new foster to take a dog with heartworm."
Label the cages/carriers you provide to foster parents in order to keep track of them and ensure that you get them back.
Contact local schools and ask them to collect food, beds, collars, leashes and other supplies to benefit your foster program.