Modes of Disease Transmission for Animals in Foster Homes
Animals entering home-based foster programs are at high risk for developing infectious disease for a variety of reasons, and many animals who appear healthy may actually be incubating disease that can soon affect other animals and even people in the home.
Disease can be transmitted in five basic ways.
Direct Contact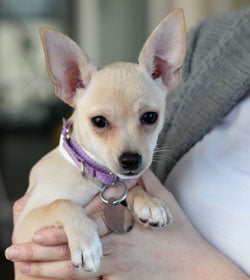 This involves direct body surface to body surface from one animal to another or from an animal to a human.
Indirect Contact or Fomite
This involves contact between a susceptible animal and a contaminated inanimate object (fomite) such as equipment, clothing or surfaces. This is often the result of poorly washed hands.
Droplet
This is when small infectious droplets do not remain suspended in the air but travel a short distance and deposit on a host's mucosal surfaces. Droplets can also land in the environment and lead to indirect contact transmission.
Airborne
Infectious residue from dried droplets or dust can remain suspended and travel distances through the air. This residue is infectious for long periods of time.
Vector
This type of disease transmission occurs when one living organism such as a flea, tick or mosquito transmits infectious disease between animals or between animals and humans.