The stories and photos here all feature animals rescued by responders with the ASPCA Field Investigations and Response Team.
These stories are why FIR staff and volunteers spend long days in intense conditions and spend weeks away from their own pets and families. Individual volunteers and shelter partners make these stories happen, so let's celebrate and enjoy!
Sarah
Sarah (formerly known as Wifey) was rescued in December from a dogfighting case in Michigan. This old lady with heartworms and several masses spent just over a month with us at the temporary shelter in Ohio before being snatched up by The Animal Support Project in NY. She quickly found the perfect home where she is receiving all the medical care she needs as well as some spoiling from her new siblings. Her new dad reports that both of their male dogs are smitten by Sarah, but the younger one (a Bull Mastiff), now even operates the dog door for her! She hasn't been able to master the concept of pushing her head into the dog door but she no longer needs to worry about that! He holds the door open with his big head and allows her to pass through before following her in and out. Sarah is now getting the royal treatment! And as a bonus, the new family who was wary of pit bulls, have now turned into pit bull lovers!
Gilligan
Gilligan was adopted at a large event stemming from FIR's North Carolina Haven case, but was later returned because he and the new family weren't a good fit. All wasn't lost, however. Vicki Watkins, one of FIR's wonderful responders, had deployed to the North Carolina event and, more recently, to help with FIR work in Ohio. Watkins decided to adopt Gilligan and even drove from Kansas to pick him up. The FIR team points out that Gilligan's story exemplifies their experience: Even though some dogs might be returned after large-scale events, they're placed with the right fit the second time around. "He is settling in and doing great!" reports a happy Watkins.
Carlee
Justin Berry, a certified veterinary technician at the ASPCA's Urbana, IL office, was one of a dedicated group of responders who worked with almost 700 animals at a huge rescue event in North Carolina. While there, Berry found that a two-year-old filly was becoming more and more attached to him, and since he hadn't expected to adopt a horse, he became a bit concerned. However, it didn't take long before he felt the same. Once he was home from deployment, he called to check on her and found she had not yet been adopted. That was all it took—he adopted Carlee and brought her home. Not surprisingly, both Berry and Carlee are delighted with the unexpected way life brought them together.
Mr. Ambassador
Mr. Ambassador, formerly known as Jericho, was one of 52 neglected horses rescued in the North Carolina operation. He caught the eye of an experienced horseperson with some room to spare on her beautiful farm on Martha's Vineyard. His adopter reports that she is taking it slow with him but that he is learning to trust people. He has started his training with an excellent, gentle horse trainer and is progressing well. He loves having his tail brushed so much that it lulls him to sleep. Mr. Ambassador is definitely living the good life.
Shimmer
Victoria and Cameron of Plenty of Pit Bulls visited a temporary FIR shelter in May to help with dogs rescued from a dogfighting situation. The two stayed for a week, cleaning kennels, feeding and watering and giving love to all the dogs at the shelter. Shimmer, a young black and white pitbull, charmed her way into their hearts and was added to their organization's placement program. Shimmer is now loving life with her new family!
Willow
Willow was rescued along with hundreds of other cats during a major rescue operation in North Carolina. She was not adopted at the event but was quickly placed with a cat-specific rescue called Safe Haven in North Carolina after the event. Her new family has this to say: "Willow came home with us that day and settled into her safe room… She was very nervous and skittish and given her background, we knew she needed a lot of patience and confidence-building…we spent a lot of time with her, gave her an abundance of treats, and talked about the day she would be an active member of the family. One day, it happened! Willow emerged from her safe room, never to head back to her little fortress… I am so happy to say that this shy, beautiful girl has now chosen to join us at night and sleeps with her family. It is so touching to know she trusts us and has arrived at a home in which she feels safe!"
---
This installment of Happy Tails features a heartwarming representation of some of the 524 cats and dogs adopted at a record-breaking ASPCA event in Sanford, NC in March, 2016.
Owen
Angel Kofoed adopted Owen, an elderly Lab mix who was also the last dog to find a home at the adoption event. Angel says that when she and her daughter first brought Owen home, "Our six-year-old cat introduced himself, and Owen just looked at him and walked on. I was so proud of him." Angel adds that now Owen greets them with tail wagging and "always wants to be by my side and wants all my attention."
Photos of Owen courtesy Angel Kofoed
Devito
Devito, a tan shepherd mix, was adopted by Sherrie McNeill and her son, Stephen, and has since become fast friends with their resident dog, Buddy, whom they adopted from a local shelter 12 years ago. The two are inseparable. "Wherever one is, the other is always beside him," says Sherrie. "They do everything together."
Photos of Devito courtesy Sherrie McNeill
Jasmine
Sherrie's daughter Michaela adopted a long-haired black cat named Jasmine at the same event. "We couldn't have asked for more special pets," Sherrie says. "I guarantee they are being treated like royalty."
Photo of Jasmine courtesy Sherrie McNeill
Scarlett
College student Reagan Hull adopted a cat she named Scarlett. "She hasn't had any problems adjusting at all," reports Reagan. "She loves to nap and cuddle but also loves to play." Scarlett especially likes to sit by the window and watch birds, and she recently posed for photos in an Easter basket. "She absolutely loves being queen of the castle," Reagan reports.
Photo of Scarlett courtesy Reagan Hull
Tammy Lynn
Christine Bruns and her son Michael adopted a black-and-white cat named Tammy Lynn. Christine reports that Tammy has adjusted very well and "has claimed various hiding spots as her own."
Photo of Michael Bruns and Tammy courtesy Christine Bruns
Boone
Shannon Gordon adopted a speckled mixed breed name Boone—"a wonderful dog" who, after his first night, had no accidents, eats well, and sits at the back door to go to the bathroom. "We were super blessed," says Shannon. "Rescuing a dog has made my heart so full and is one of the most rewarding experiences of my life."
Photo of Boone courtesy Shannon Gordon
Jake
Anna Hairston and her two children, Luke and Leah, adopted a hound mix named Jake, who is proving to be an awesome dog. Jake makes frequent trips to the local dog park where, shares Anna, "he greets other people on walks and they love him."
Photo of Jake with Luke and Leah Hairston: Anita K. Edson
Mackenzie
Stewart and Kim Kruger adopted the last remaining cat. The kitty has her own room for now, and her new family is giving her space and time to adjust. They've been talking to her in soft tones and tempting her with toys. "She'll come around eventually," says Kim. "It's just going to take a lot of time and patience." After just three days, Kim reported that Mackenzie came out from under the bed to eat and has been heard "exploring" at night. "We couldn't leave her there unadopted, knowing she had been picked over for two days," Kim added. "She deserves a loving home, too!"
Photo of Mackenzie's adoption: Stacey Axelrod
Ellie Mae, formerly known as ALA1083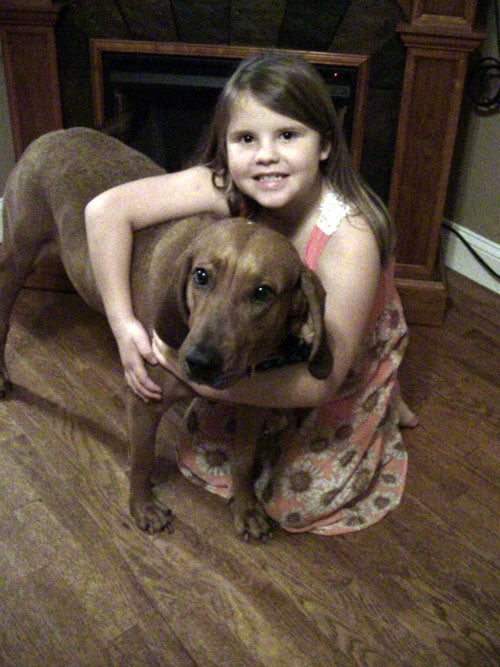 Ellie Mae, a young hound mix, had no idea what it was like to be in a home.
She was rescued from extremely poor conditions in an overcrowded shelter in Lawrence County, Alabama. Her hips were causing her great pain, and it was later discovered that she was full of bird shot. Her coat was a mess of patchy hair caused by pressure points from laying on hard surfaces her whole life. 
After about a month in ASPCA care, Ellie Mae and hundreds of other animals were put up for adoption at a special ASPCA event in Alabama. More than 200 lucky animals, including Ellie Mae, found homes at the event.
Her new family fell in love instantly. They are an active family with two children and two dogs, and knew Ellie Mae would fit right in.
Responder volunteers make it possible for dogs like Ellie Mae to go from being just one of hundreds at a temporary shelter to the status of cherished family member. When FIR received this heartwarming letter from Ellie's mom we just had to pass her thanks on to you:
"Ellie has such a loving, outgoing and friendly personality. She has made friends with everyone who comes to our home. Her tail typically starts wagging around 5 am every morning, and I don't think it stops until she starts snoring in the recliner around 9 pm.  She is faaaaaar from graceful, super messy when she eats and sounds like a horse running through the house—she still hasn't mastered the hardwood floors—but we love her just the same! 
THANKS TO Y'ALL, Ellie will never be shot again! THANKS TO Y'ALL, she is out of the nasty environment and her coat in shiny and full. THANKS TO Y'ALL, she has a $300 leather recliner for a bed inside her 1,700-square-foot "doghouse" (haha). And most importantly, THANKS TO Y'ALL, she has a loving family (human and canine) that adores her big, happy and clumsy personality!"
Mona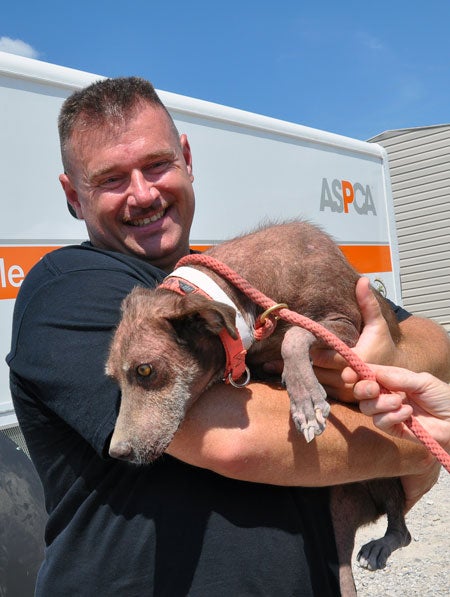 Like Ellie Mae, Mona was one of hundreds of dogs living in deplorable conditions at an overrun shelter in Alabama. Suffering from skin issues and fighting for each meal, Mona was close to giving up hope.
And then her luck changed. In early summer Mona was rescued by responders with the ASPCA Field Investigations & Response Team, and started receiving the care she deserved. As she grew healthier each day, she began to come out of her shell.
At the big adoption event to find homes for the animals rescued from this site, Mona was passed over time and time again until she finally found her new family! They didn't care about her patchy hair or her ongoing medical needs. They just knew she needed someone to love her.