Dr. Emily Weiss interprets behavior in a dog video gone viral—and encourages you to put your decoder ring on, too.
While cats clearly seem to rule the Internet, dogs are not far behind. And for those interested in behavior, there is no lack of opportunities for fantastic video to interpret. Recently a video was floating around showing a dog and his person on a bed. The young man is eating a cookie and the dog is next to him. The video is full of fantastic canine communication, and you can watch it here.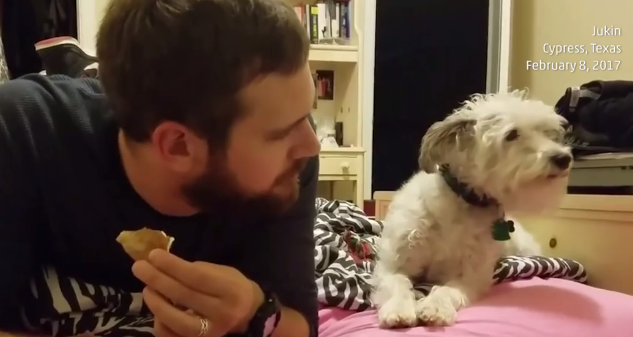 Yes, it is cute to see the pup's behavior interpreted through the anthropomorphic lens in this video, making it seem as though the dog is pretending he is not interested in the food each time the young man turns to look at him—but the real meaning behind the behavior is much more interesting. (And if the young man knew that, he might change his own behavior next time!)
In the domestic dog world, turning one's head to the side is a clear communication of "no fight" or acquiescence. Watch two dogs interact over a resource and you will either see one dog turn away, or some sort of confrontation until one does. You can also clearly see the pup in the video squint his eyes and pull his ears back. Essentially the pup is yelling from the rooftops, "Don't worry, I will not attempt to take that cookie… but I sure would love a piece if you are willing to share!" If you are an attentive observer, you will also see the pup lift his front leg a bit early in the video—another sign of no fight that we shared earlier this year.
Seeing these lovely behaviors so clearly (and repeatedly) is a great opportunity to add them to your canine vocabulary. There are tons of practical opportunities to use your knowledge. For example, when observing dogs interact, you will be able to more quickly know if dogs are likely to get along if you see soft, loose behavior and at least one dog turning to the side. When faced with a dog who is becoming stiff and uncomfortable, turn your head (or even better, your whole body) to the side and you will likely shift the dog's behavior to more relaxed and safe. Approaching new dogs who are a bit shy and uncomfortable by turning your head to the side and dropping your eyes can make the difference in helping a dog transition from fear to comfort.
Understanding behavior is a vital part of the work of sheltering and keeping pets home. Staying curious and spending time observing and learning about behavior can be an incredibly powerful way to improve welfare. This silly video I'm sharing today, along with the real interpretation of the behavior, would make a great learning tool for staff and volunteers at your organization. Not only is it fun to watch, the vocabulary additions may very well make all the difference to the dogs in your care. How about adding to that vocabulary in staff/volunteer meetings through one new "communication" a week? The canine communications webinar series and our glossary will provide fodder for many weeks to get you going. 
Oh, and one last thing. If you should encounter a dog who is throwing such lovely soft signs as the one in the video I highlighted here has done, please, for goodness' sake, throw him a bone and give him a taste! 
Related Links
Blog: "Raise Your Paw"
Blog: "This Dog Is…"
Canine Communications Webinar Series
Get ASPCApro delivered direct to you.
The latest news from experts and thought leaders right to your inbox.
Explore ASPCApro Tools & Tips by Topic: