Dr. Emily Weiss shares sage advice on how to interpret those unique behaviors in dogs. (Take note: These observational skills can help get him adopted!)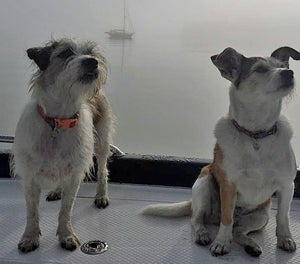 My boy Tide has some unique behaviors. We play this game (hold your judgment, it works for us!) wherein he makes a super duper growly face and opens his mouth a bit. I then bend my thumb and index fingers and he leans in to put his upper canines into the hooks made by my fingers. We then both growl and wail and pull and tug and then he usually collapses for a big hardy belly rub. 
My girl Sea has some unique behaviors, too. One of her favorites is to stretch in a downward dog and then stand with her back to me until I grab her back legs and slowly pull them back—she stretches herself into a dog almost twice as long as she normally is. 
We often find behaviors in dogs in shelters that we can't quite explain by looking at them just through the lens of general dog behavior. Instead, we may very well be seeing a learned behavior that was developed through interactions between that dog and his person. As domestic dogs have strong motivation for human interaction, there is a stronger likelihood to observe unique learned behaviors in dogs than in some other species. These behaviors greatly underscore the vast communication that occurs between a person and their dog. And for the dog, he may very well generalize that interaction to be one to occur with all of our species. I have had shelter professionals send me all sorts of videos of behaviors they have flagged because they are unsure if the dog is safe or an appropriate adoption candidate based on some unique behavior that occurs during interaction.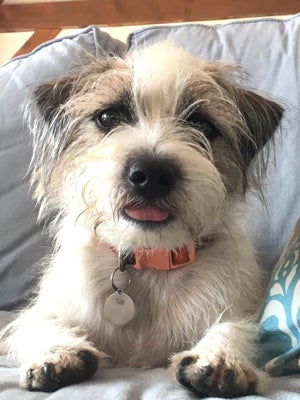 Take Tide's behavior. He offers it when he is in the context of play with a human. I can only imagine how the behavior might be interpreted if one is not thinking of history and learned interactions. Bared teeth and growling and reaching toward a human's hands… looked at without pulling back and reading the rest of the dog's behavior can lead to a path of caution when none is really needed. In Tide's case, a read of his soft body and clear huffs (the canine version of laughter) are the clues needed to understand that this is just Tide's thing.
Understanding the motivation and context of the vast array of learned behaviors can be tough in a shelter setting. There are some steps you can do to increase the likelihood of understanding—which means you can better support that dog's behavioral needs and get him home.
Steps to help understand motivation and context
To tease out the difference between what might be a dog's "thing" and a behavior that raises legitimate cause for concern, these steps can be super helpful. The first step is to take the time to talk to all owners who are relinquishing their pets about the unique behaviors their pet may have. This can be brought out by asking such questions as:
- "Do you and Fido have any special games you play?"
- "In thinking about ordinary dog behavior, are there behaviors Fido displays that might be considered unique or different?" 
And to help Fido better acclimate, you should also throw in, "Is there anything that helps Fido feel comfortable and relaxed?" While this question may not elicit new or novel behavior, it just may give you tools to help Fido settle in the shelter and in his new home.
Next, observe the dog's behavior in a variety of contexts, being sure to wear the hat of "What is this dog's thing?":
- How does he solicit interaction?
- How does he engage in play?
- How does he ask for food?
These may be clues to help understand him and help him go home. 
Finally, when you see something that is a bit outside of the box, or seems to come from nowhere, be sure to review the entire picture. What happened just prior to the interaction, what is his overall body language communicating?  Wear the glasses that allow you to ask—could this be this dog's thing? 
Related links
Blog: "So, Why Does My Dog Do That?"
Get ASPCApro delivered direct to you.
The latest news from experts and thought leaders right to your inbox.
Explore ASPCApro Tools & Tips by Topic: