Tip of the Week: Paper or Plastic?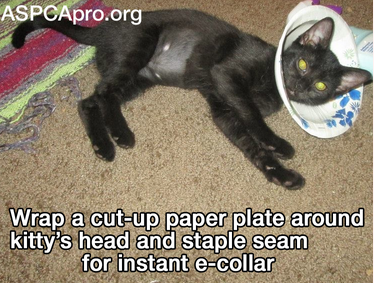 Got room on your plate for a side of good thinking?
The folks at Baltimore Animal Rescue and Care Shelter (BARCS) have cooked up the ultimate MacGyver moment. As an alternative to plastic E-collars for kittens who've just been spayed or neutered, BARCS makes their own out of paper plates.
Says BARCS' JoAnn Goldberger, "Using a pair of scissors, cut a straight line and circle in the center of a small paper plate. Wrap the plate around the kitten's head, staple it up the seams and voila, there you have it!"
Not only are these paper versions more flexible than E-collars, which can be so hard for little ones to move around in, they can save time and money. They're particularly great for use in foster homes, when volunteers might not always have access to E-collars, especially late at night. They can also be used in shelter clinics when a quick E-collar is called for.
And P.S., they can be removed quickly and easily. Just take care to be mindful of the little staples and use under supervision, as you would most E-collars.
Care to dish on this idea? Share your thoughts in the comment box.
Photo: BARCS
Related Links
Adoption Ambassadors Foster Program
 
Get ASPCApro delivered direct to you.
The latest news from experts and thought leaders right to your inbox.
Explore ASPCApro Tools & Tips by Topic: