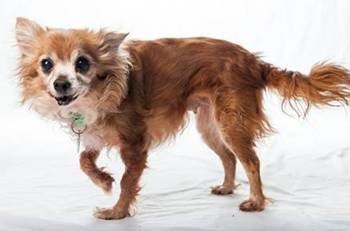 Get out your decoder glasses as Dr. Emily Weiss digs into the meaning of this common canine behavior—and shares how you can use this info to help the dogs in your care.
I am that science geek in the elevator who gazes at you instead of sticking to the convention of looking down or away. I am fascinated by nonverbal communication—how animals (including us) use their bodies to communicate approach or avoid, approval or disapproval, fight or no fight, among other things. In an elevator, humans display classic behavior indicating no fight—heads tilted slightly downward, eyes avoiding eye contact, body turned to avoid full frontal interaction, arms down on either side of the body. The best part is when the door opens to receive more humans and the jostling and movement ensues, as folks try to move their bodies without contacting others. While we only utter soft murmurs of verbal communication ("Excuse me," "Sorry" or the like), our bodies are in full-blown chatter mode!
Canines have a wide range of nonverbal communication, and an understanding of that communication can shift any interaction we have to something much more impactful. I have shared here previously the meaning of a variety of behaviors, including what it means when a dog touches you and the importance of the soft eye gaze. Engaging in an interaction with a dog while wearing your decoder glasses can be powerful. Without them, a dog jumping up to your face with soft body and long lip often ends with a dog whose stress level is increased because you simply are not hearing him scream his clear communication of "Greetings. I come in peace." With those decoder glasses on, the jumping ends quickly and the dog quickly dis-arouses simply because you 'heard' (i.e. saw) him.
Another great nonverbal canine communication to recognize is the front paw raise, in which you will see the leg lift and bend at the elbow and also at the carpus (wrist). This behavior is a sign of appeasement, and you will most often see it when dogs greet each other (or you), or when they are aiming to take part in something another has in their possession (your bowl of ice cream, for example).
Why is this behavior important (besides what my boy Tide thinks, which is that if you know I would like to share your ice cream, you are more likely to give me some…)?  While the behavior happens in several contexts, dogs who are unsure of an interaction and want to avoid conflict are quite likely to paw raise. The behavior can help you tell if you need to soften your interaction or response to his behavior. When I interact with a dog and I see a paw raise, I check my body and head position. I find that often I have approached full-frontal which, in canine communication, is bossy and bold.  You can also watch for the paw raise when doing dog-to-dog introductions—dual appeasement is ideal. 
See this interaction between my dog Tide and his buddy, a border collie named Bluefish. Fish is an appeasement master. Note his body soft and turned to the side in relation to Tide, his tail and head low—and his paw clearly raised.
Tide is a little less savvy, but you can see his reciprocal paw raise as well. In this slo-mo version, you can really see the chatter between the two of them.
The more we understand dogs' nonverbal communication, the more we can do to support their needs and help them shine. Do you have a staff or volunteer meeting coming up? How about asking them to bring their decoder glasses? Grab some video footage of human-canine and canine-canine interactions at your facility, and look for those cues together. The interactions are likely to improve, as is the behavioral health of the dogs in your care. And then there is the added bonus of elevator rides becoming one of the most fascinating times in your day!
Related Links
Blog: "Make 'Em Laugh"
Blog: "What's That Dog Trying to Tell You?"
Get ASPCApro delivered direct to you.
The latest news from experts and thought leaders right to your inbox.
Explore ASPCApro Tools & Tips by Topic: