Messaging Community Cats: 5 Creative Approaches
National Feral Cat Day was Sunday, October 16, but one day isn't enough—we'll be sharing community cat resources throughout the week. Here you've got great outreach materials that'll help you talk up TNR in your community.
If you care for a community cat colony, you've probably found yourself addressing concerns from people in the neighborhood. Welcome to the world of community outreach! This can be daunting, especially if you're shy, but it is a great opportunity to gain popular support for the colony and address concerns. The more your neighbors can learn and understand about the cats and responsible colony management—whether they like the cats or not—the better life will be for your colony. Who knows, you may even end up recruiting a co-caregiver or two!
So what do you say to folks? Luckily, there are plenty of TNR and community cat advocacy groups around the country who've heard all the same questions that you've been getting, and they've created handouts that any caregiver or grassroots TNR group can adapt or use as-is. (Shelters, take note—these are great to grab and pass on to caretakers looking to you for resources.) The outreach materials we've compiled offer great talking points and visuals to help you explain what you're doing and why.
There are other reasons why handouts are useful, even if they may seem old-fashioned in the digital age. They help get needed information in people's hands right away and remove the obstacles associated with sending them to a specific URL or a general web search. And sometimes, even if you and a neighbor want to communicate face-to-face, you may not be able to because of a language barrier. Handouts can be tremendously helpful here—there is some great downloadable literature available in many languages besides English.
Here are a few examples of the different types of handouts. Some are available for free from advocacy groups, while some are great examples of interesting outreach efforts to inspire yours:
Ear-tipping can be hard to explain, so it helps to have a photo or illustration. This flyer from Austin Humane Society introduces their community cat spay/neuter program by showing folks what an eartip is and what that means for cats.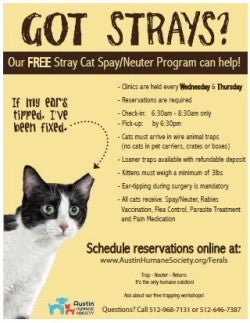 When there are a number of eartipped cats already in a community, sometimes outreach is best focused on what that means for the community. The Pride Rescue does a great job illustrating an eartip and explaining the cats' role in the community—and helps keep them out of shelters!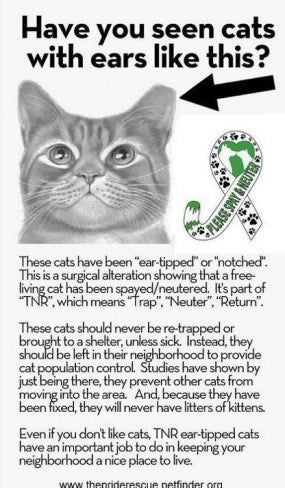 A comic strip approach can make a complex message easy and fun to read. This two-sided flyer can be downloaded from Mayor's Alliance for NYC's Animals website and is available in English and Spanish. The comics speak to why TNR is the answer, no matter how someone feels about free-roaming cats.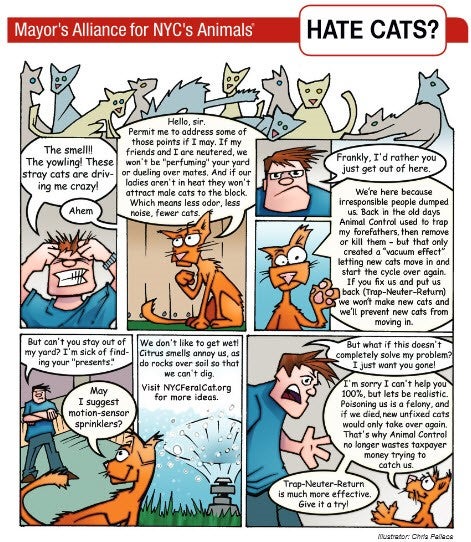 Did you know that it's actually against federal law to put flyers in someone's mailbox in the United States? If you want to get your message across and nobody's home, a door hanger provides a law-abiding and wind-resistant way to leave literature on the front door. The Mayor's Alliance for NYC's Animals offers door hangers to help engage those who feed cats to also do TNR—this one is in English and Spanish and available for download at their site.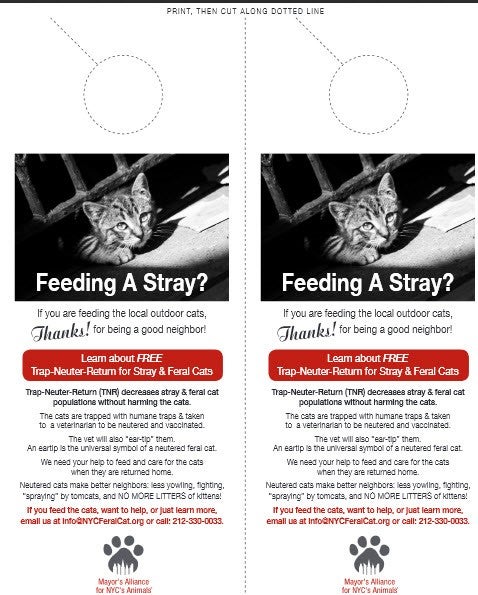 Keeping cats out of gardens is a hot topic in many neighborhoods. Fortunately, there are many possible solutions, but listing them all can really test your and your neighbor's memory. This detailed brochure from Alley Cat Allies is great as a leave-behind after you've discussed a neighbor's particular situation, or just as a source of ideas for cat deterrents. You can download it here.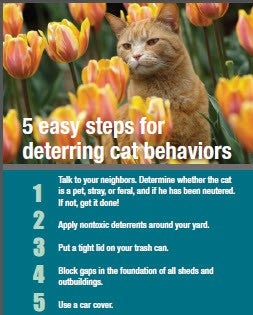 Does your organization have any creative community cat outreach materials? Please tell us about them in the Comments section or post images to the the ASPCApro Facebook page—we'll compile and share them all.
P.S. If you're reading this, we're betting you care a lot about community cats. We at the ASPCA do, too—and we look forward to sharing our new Position Statement on Community Cats and Community Cat Programs with you. Stay tuned to this space for news of the upcoming release. You can find out more on the ASPCA's policies and positions here.
Related Links
Feral & Community Cat Resources on ASPCApro
5 Winter Care Tips for Community Cats
Blog: "What Makes Conversations About Free-Roaming Cats So Difficult?"
Get our Blog content delivered direct to you.
The latest posts from ASPCApro experts and thought leaders delivered directly to your inbox.
Explore ASPCApro Tools & Tips by Topic: