6 Resources You Need For Feral Cat Day
Did you know that we have an entire section devoted to the management and care of community cats? To celebrate National Feral Cat Day on October 16—that's coming up this Sunday!—we're highlighting six of our favorite resources for you to peruse and share with your team.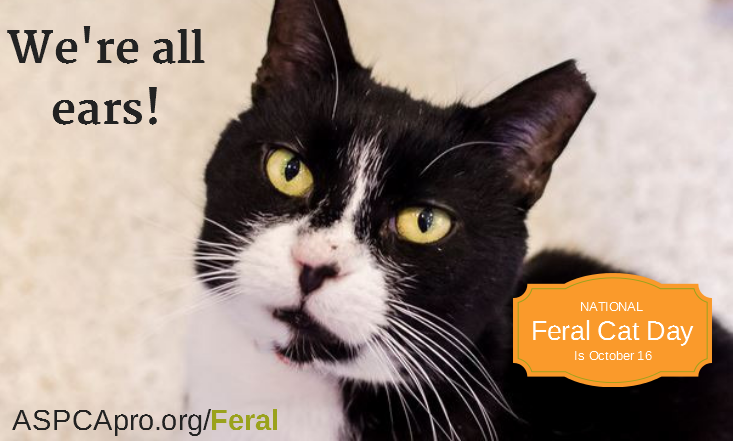 Share this graphic and help spread awareness for community cats!
Free Download: S/N Guide for Community Cats
Download this beautifully illustrated, full-color guide covering everything you need to know about spaying and neutering community cats. A must-read for shelters, rescue staff and volunteers, the free booklet includes info on trap handling, ear tipping, surgery & recovery, patient selection and physical exams.
Let There Be A Whole Lotta Light
Here's a bright idea for your TNR program's prep and recovery space.. Learn more here.
 
We've pinned spay/neuter tools and tips, forms and samples for you to grab and share. Get pinning here.
In this Facebook album, Handy Guide to Feral Cat Trapping Equipment, you'll find a breakdown of 6 types of equipment—see what will work for your colony.
Winter Shelter Bins for Community Cats
How much do they cost and where can I find them? What's the best bedding material? Get the answers to these common questions and more in this FAQ page.
Starting a TNR Program in Your Community
In this free webinar recording, you'll get a basic overview of trap/neuter/return, along with examples of different program models. You'll also learn the resources needed to start a TNR program and get helpful trapping tips. Watch the webinar.
P.S. If you're reading this, we're betting you care a lot about community cats. We at the ASPCA do, too—and we look forward to sharing our new Position Statement on Community Cats and Community Cat Programs with you. Stay tuned to this space for news of the upcoming release. You can find out more on the ASPCA's policies and positions here.
Related Links
Feral & Community Cats Resources on ASPCApro
Blog: "What Makes Conversations About Free-Roaming Cats So Difficult?"
Get ASPCApro delivered direct to you.
The latest news from experts and thought leaders right to your inbox.
Explore ASPCApro Tools & Tips by Topic: