Life Is Tough, But So Are You
The ASPCA's Julie Morris celebrates the beautiful, joyful life of a hero to the animals and people he served.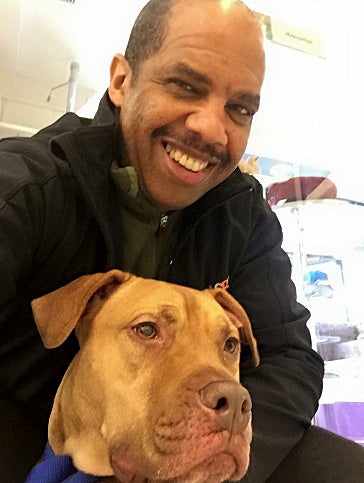 In Memoriam: Arthur Hazlewood, 1959-2016
Senior Director, ASPCA Adoption Center & Behavior Department, CPDT
 
I lost a good friend this past weekend. So did a lot of other people, and the ASPCA lost a hero, a friend to animals and a friend to so many of our staff and volunteers.  
Arthur Hazlewood has lost his valiant battle against pancreatic cancer. My heart is broken and, although I mourn our collective loss and grieve for my friend and colleague, here and now I'd like to celebrate the Arthur I knew and share his joyful life with you all.
In the last months of his life, Arthur had taken to posting motivational quotes that would grace his discussions and his Facebook page, and they are all very telling of the type of man he was.
One constant was: Life Is Tough, But So Are You! He was private and didn't want anyone feeling sorry for him, and to me this spoke of his resilience and his fighting spirit. 
Service to Others is the Rent You Pay for Your Room Here on Earth. A quote from the great Muhammad Ali. In short, pay it forward through your good deeds—clearly the credo on which Arthur based his life.
And my favorite: The World Is Changed by Your Example, Not Your Opinion. It comes from the Brazilian author Paulo Coelho. Anyone who knew Arthur for more than 15 minutes knew his spirit was pure Brazilian. He loved Brazil and traveled there any time he could. In Coelho's well-known book The Alchemist, a boy journeys in search of a treasure he has dreamed about, but the real story is in all of the life lessons he learns along the way. 
In the past few months I would think about these quotes: what they meant and how they provided inspiration and hope to Arthur. The message didn't escape me that they spoke more about doing good and leading by example than they did about his final journey.
Here are five (there are many, many more) things about Arthur that made me smile and brought a smile to everyone he knew. I will remember him as smiling. He always had a smile for everyone and a kind word to anyone in need: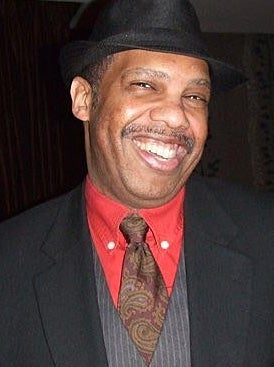 - His love of people. I don't think I know anyone else who cared as much about the people around him; that included his friends, his colleagues, ASPCA staff and volunteers and the public we serve. I can still see him walking down the hallway, stopping to say hello to everyone and check in with them about something personally important—a family member, their pet, an animal they were caring for at the shelter or the status of a current shelter favorite. 
- His competitive but fun spirit and his weekly Fitbit challenges. "Hey, who is up for a Fitbit challenge this weekend?" And then he'd always win, sometimes fooling everyone by slightly lagging behind but rallying at the end and bringing home the steps.
- His love of gadgets and hence his nickname, Inspector Gadget. He would always have the latest technology and know all the ins and outs of any gadget. I can't even remember how many times I would ask him how can I do this or that on my iPhone.
- Brazil, anything Brazil. The country, the people, the language, the food, his special Brazilian chocolate.
- Dogs! Dogs of all sizes, shapes, colors, and temperaments. Nice dogs and not-so-nice dogs, he loved them all, and had a special magic with them that defied reason. He was a dog whisperer, and always had a foster dog in his office, caring for them until they were ready for adoption.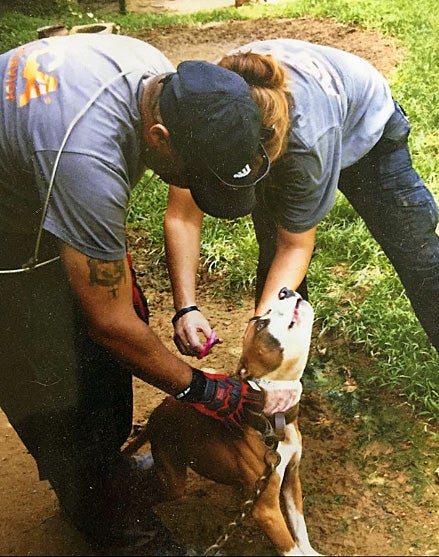 Arthur frequently volunteered with the ASPCA Field Investigations & Response team on deployments. In fact, it was Arthur who took Theodore, a 9-month-old pit bull known as "Dog #947," off his chain in Alabama during the second largest dog fighting bust in U.S. history. Theo spent 8 months in a temporary shelter before being adopted by Trish McMillan-Loehr, a former ASPCA trainer and behaviorist—who had actually hired Arthur in 2006. Now almost four, Theo graces his own Facebook page and lives near Asheville, NC, with Trish and her family. Arthur was thrilled to learn from Trish, during her visit to him in his final days, that he was Theo's liberator. (Photo: Mike Bizelli)
Once, after sitting in on one of his staff meetings, I told him he reminded me of Buddha, because Buddha knew all. Arthur knew what was in the hearts and minds of his staff and knew how to help them live a happy and peaceful life.  He could problem-solve with a nod of the head or a quick smile or laugh. I miss my special Buddha, but I celebrate this life and that he graced my life and the lives of so many others.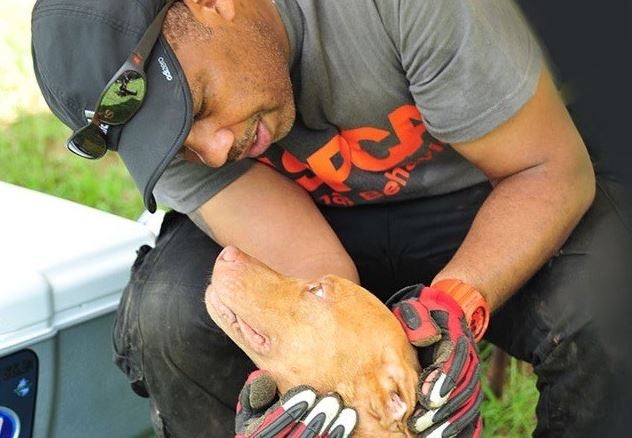 Julie invites those who knew or worked with Arthur to share their stories here.

 Julie Morris is the Senior Vice President for the Community Outreach (CO) Program Group for the ASPCA, where she is celebrating her 25th anniversary. CO's work focuses primarily on fewer dogs and cats at risk in communities. Before joining the ASPCA, positions held included Executive Director of the Humane Society of Huron Valley, Ann Arbor, MI, and Director of Operations at the Michigan Humane Society in Detroit.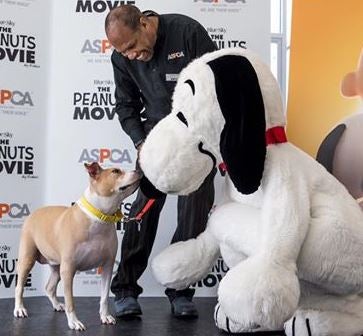 Arthur Hazlewood started his work with animals as a dog trainer under the tutelage of Pia Silvani at St. Hubert's Dog Training School, where he eventually taught hundreds of student himself. He began his career at the ASPCA in 2006 as a behavior counselor, and went on to serve as Senior Director of the Adoption Center and Behavior Department. He had just marked his 10th anniversary at the A with a celebration, surrounded by colleagues, friends and family.
Get ASPCApro delivered direct to you.
The latest news from experts and thought leaders right to your inbox.
Explore ASPCApro Tools & Tips by Topic: