Tip of the Week: Easy-Peasy Kitty Toy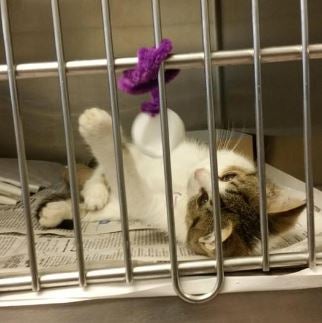 Ping pong for cats? Who knew?! Volley for purrs with this fun idea, courtesy of the Pennsylvania SPCA's humane education program.
The Philadelphia agency scores major points with the kitties in their care with this DIY project that's perfect for kids and volunteers. Here's the simple step-by-step:
Use an X-ACTO knife to make two cuts in a ping pong ball.
Insert a pipe cleaner through one cut and out the other, making a loop.
Attach the ball to the cage, securing the ends of the pipe cleaner.
Watch the fun ensue. "The cats bat at the toys for hours," shares Pennsylvania SPCA.
More fun with ping pong balls? Just add water! (We do recommend placing a towel to catch drips if you try that version of the game in a kennel.)
Related Links
Outfitting and Enriching Communal Cat Rooms
Tip of the Week: (Don't) Stop Toying With Me!
Get ASPCApro delivered direct to you.
The latest news from experts and thought leaders right to your inbox.
Explore ASPCApro Tools & Tips by Topic: