5 Winter Care Tips for Community Cats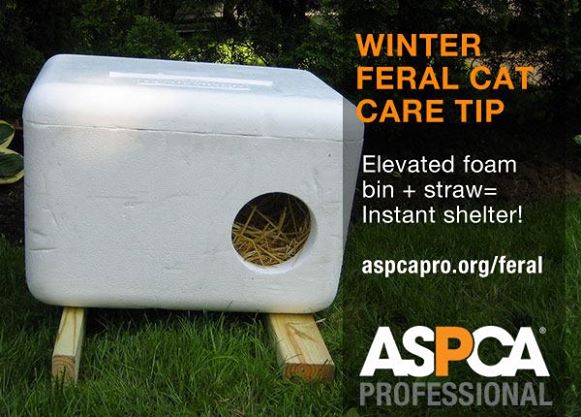 Winter can be trying for community cats—check out five ways you can help keep felines comfortable during cold weather.
Warming Trends
Straw is the top choice for insulation and bedding in community cat shelters because it resists moisture. Avoid blankets, which absorb moisture like a sponge.
"Wet" Their Appetite
Feed cats wet food, which takes less energy to digest. That way they'll have more energy for keeping warm. Just be sure to serve the wet food in insulated containers so it doesn't freeze.
Clean & Clear
To prevent cats from getting snowed in, remove snow from all entrances and exits to their shelters. Shovel regularly to stay ahead of the game.
Not Worth Their Salt
Don't use salt or chemicals designed to melt snow near cat colonies. They can be toxic when licked off paws or ingested from melting puddles, and can hurt a cat's paw pads.
For additional tips on caring for community cats in winter, read "Baby, It's Cold Outside!"
Related Links
Top 10 Tips: Caring for Ferals in Winter
Get our Blog content delivered direct to you.
The latest posts from ASPCApro experts and thought leaders delivered directly to your inbox.
Explore ASPCApro Tools & Tips by Topic: