We Can't Fix Poverty, But We Can Fix This…
Dr. Emily Weiss encourages you to toss away your judgment and check out more new research that digs into why people re-home their pets.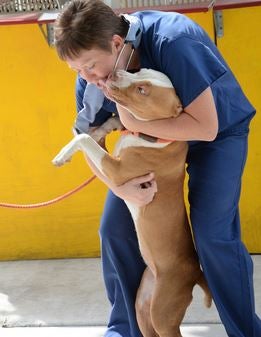 Last week I shared our recent study on re-homing of dogs and cats. The data revealed that while some reasons for re-homing are quite complex and would likely take substantial resources to resolve (if they were even resolvable), there is a significant portion of people who are re-homing and doing so for financial reasons. For example, they are re-homing because they cannot afford the medical care to treat a skin infection in their pet. Today.com did a fantastic job highlighting this issue. This article reminds me that while we all may hope it will never happen to us, it's important to toss away judgment and remember—crap happens, and we all may need a helping hand sometime.
This week another of our studies was published. This one focused on teasing out the differences between people of similar demographics—those who planned to relinquish pets and those who did not. At the ASPCA, our research tends to focus on discoveries that can lead to solutions. While we are a strong organization, we can't fix poverty—and while poverty can increase the risk for re-homing a pet due to cost-related issues, most people living in poverty keep their pets. So what might be the factors related to relinquishment that we may be able to impact? This is what the study aimed to answer on a small scale, right at the location where we did the study.
We conducted this work at a shelter in Los Angeles where we surveyed two groups of demographically similar people (similar regarding income, race, residence location,
etc.)—one group of people who were coming to relinquish their dogs, and the other coming to the spay/neuter clinic located on the shelter property. We asked questions about the dog's owner, about stress in the home and about the dog. For those relinquishing, we asked about the reasons for relinquishment.
One of the most powerful findings in this study was the majority of people were relinquishing their dogs due to cost-related issues—most commonly unable to pay for a medical issue or for a mandated spay/neuter. In this particular group of people, the shelter was often the first and only solution they sought for their pet, and more than 80% of those we surveyed were unaware that there might be support for them to retain their pet. When the relinquishment group was given the choice of proceeding to the shelter after completing the survey or pursuing information about services that could help them keep their dog, 88% of them chose to pursue services. 
Yes—88%.
When we compared the two groups—those who were relinquishing and those using the spay/neuter clinic—there were few meaningful differences between the groups. What we did find was a pattern of increased perceived stress in the relinquisher's home, as well as emotional attachment to the dog—but an inability to provide the necessary care due to financial reasons and a lack of awareness of potential available resources. In plain speak, relinquishers loved their pets and saw relinquishment as the only solution available to them.
We can't fix poverty, but we can sure fix this. What do you think?
Related links
Research: Risk Factors for Dog Relinquishment to a Los Angeles Municipal Animal Shelter
Blog: "Studying the Act of Re-Homing"
Blog: "Who Needs Shelter and Who Just Needs a Helping Hand?"
Comments
About the Author
Emily Weiss
ASPCA Vice President, Equine Welfare
Dr. Emily Weiss, PhD, CAAB, oversees strategic direction of the ASPCA Equine Welfare program, a part of the ASPCA's Anti-Cruelty Group. Weiss is a lifelong horse owner and trainer and has conducted research regarding adoption and rehoming of horses. Recently, she began leading the ASPCA's collaboration with The Right Horse Initiative, a collective of industry professionals and equine welfare advocates working to improve the lives of horses in transition by increasing training opportunities for horses and promoting adoption. Weiss leads efforts such as a pilot program with veterinarians and global animal health company Zoetis to provide access to vital veterinary care and increase the likelihood horses can remain in their homes. She also served as the ASPCA's VP of Research & Development, overseeing research related to the animal sheltering field and developing assessment tools for shelter animals, including the SAFER assessment and Meet Your Match Canine-ality, Puppy-ality and Feline-ality. Before that she created training programs to improve husbandry and decrease stress for many zoo animals. Weiss is co-editor of the Journal of Applied Animal Welfare Science and has published and lectured extensively in the field of applied animal behavior.
Get our Blog content delivered direct to you.
The latest posts from ASPCApro experts and thought leaders delivered directly to your inbox.
Explore ASPCApro Tools & Tips by Topic: