A Touch May Make All the Difference
Recent research shows the power of positive social interactions for shelter cats. Dr. Emily Weiss shares what this could mean for the cats in your care.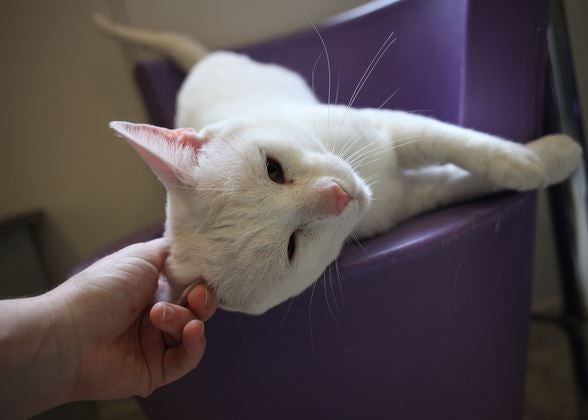 Last year an intriguing study published in the journal Preventive Veterinary Medicine focused on the impact of interacting with shelter cats through touch and voice on their health and behavior. The study has some real good practical applications.
Led by Nadine Gourkow, the authors focused on cats who were found to be anxious through the use of a standardized assessment. These anxious cats were placed into two groups – an experimental group called "gentled" and a control group. The experimental group was impacted four times a day with stroking and soft high-pitched talking by the same person each session. For cats who were too aggressive to touch with a hand, a stick with a round rubber tip was used. The control group had a person standing in front of their cage for the same time period – but with no touching or talking.  
Using a standardized tool to measure 'mood,' the authors found that the gentled group was rated as content sooner and more frequently than the cats in the control group. They also found physiological differences between the two groups, with the gentled cats producing more protective antibodies and lower incidence of disease.
Very interesting, eh?! Now, the interactions were not willy-nilly – they were quite controlled. The experimenter first stood in front of the cage and talked softly to the cat, then opened the cage and touched the cat (if too aggressive, the stick with the rubber tip was used) on his or her cheek, under the chin and between the ears for 1 minute, followed by one minute during which the experimenter closed the cage door and stood out of view. The experimenter went back again to stroke after the minute, and this was repeated for 10 minutes total. Also important to note that the same experimenter conducted the vast majority of sessions (which may be difficult to do in many shelters). 
The study is exciting in that it provides evidence for the power of a positive social interaction. It indicates that for cats who have had social experiences with humans in the past, predictable and controlled interaction may decrease stress and could increase the likelihood cats get home. You can read the full study here.
How could you put this research to work for the cats at your agency?
Related Links
Blog: "Who Are Those People Watching Those Cat Videos And Why You Should Care"
Get ASPCApro delivered direct to you.
The latest news from experts and thought leaders right to your inbox.
Explore ASPCApro Tools & Tips by Topic: