Animal Rescue Post-Katrina: Changes Made, Lives Saved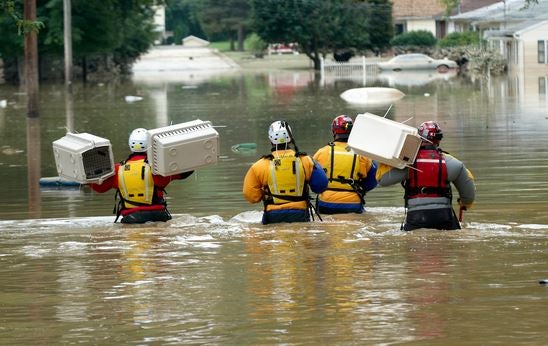 As we pause to look back on the 10th anniversary of Hurricane Katrina, it is only fitting that we wrap up our coverage with a Q&A with the ASPCA's Dr. Dick Green, Senior Director of Disaster Response. Dr. Green arrived on the scene quickly after the storm and spent 47 days helping with rescue and recovery efforts.
ASPCApro: Tell us a little about the role you played during Katrina.
Dr. Dick Green: I was with American Humane Association at the time and managed the disaster response program. We were originally requested to assist shelter operations in Hattiesburg, MS, and later requested to support sheltering and rescue missions in Louisiana. Our first assignment there was to manage the shelter in Lafayette. About 5 days later we were redirected to Lamar-Dixon temporary shelter to support water rescue operations. I was assigned the Operations Section Chief duties for the Lamar-Dixon operation, and our teams were deployed daily to do water and land rescue. When Hurricane Rita came through, we were redirected to Lake Charles to support the rescue and recovery efforts in Calcasieu Parish. I was there for a total of 47 days.
ASPCApro: What was the biggest challenge you faced, and how did you address it?
DG: We were literally overwhelmed with the incredible turnout of folks who drove from all over the country to assist. Most of them brought supplies that we were ill-prepared to take in, inventory and manage. There were a number of rogue groups that self-deployed that refused to work within the system and that created a good deal of problems. To be honest, we never really overcame these issues completely, and many great lessons were learned.
ASPCApro: What was your most rewarding rescue or memory?
DG: There were so many, but my fondest memory came about almost 10 days into the operation, when we discovered an entire inventory of Requests for Rescue that had somehow been overlooked. We moved our big truck along with vet support from federal and state groups and coordinated and led a large field rescue operation and were able to get into nearly 1,000 homes, rescuing scores of animals.
ASPCApro: Biggest lesson learned from Katrina?
DG: The need for collaboration, cooperation and communication, which was nearly non-existent between groups prior to Katrina.
ASPCApro: What has changed for the field of animal sheltering since then?
DG: You would not recognize the field of animal search-and-rescue today from Katrina days. So many fabulous changes have come forth, and so many more animals' lives have been saved because of the lessons learned from Katrina. There have been more positive changes in animal response in the last decade than in any other time in our history.
Want to hear more from Dr. Green? You're in luck! Sign up for his free webinar on October 10, "Animals in Disasters: A Community Preparedness Checklist."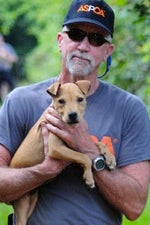 Dr. Dick Green is responsible for leading the efforts of the ASPCA Disaster Response department, which covers natural disasters. He oversees the ASPCA's internal disaster readiness program and develops partnerships with national and local agencies to enhance the organization's disaster response capabilities. He established and chaired the National Animal Rescue and Sheltering Coalition (NARSC) in early 2006, following Hurricane Katrina. NARSC is comprised of 13 animal welfare groups, including the ASPCA, and is the first coalition in the nation that is dedicated to working with all levels of government and non-government agencies on major human-animal emergency issues.
Related links
Upcoming webinar with Dr. Dick Green, October 10: "Animals in Disasters: A Community Preparedness Checklist"
Blog: "Animal Rescue and Hurricane Katrina: The New Normal?"
Blog: "A Monster Came Ashore"
Get ASPCApro delivered direct to you.
The latest news from experts and thought leaders right to your inbox.
Explore ASPCApro Tools & Tips by Topic: