Tip of the Week: Build a Racetrack Enrichment Pen
When you're working out of a temporary emergency shelter, you have to be creative in finding ways to provide enrichment for the dogs. The ASPCA's Field Investigations and Response (FIR) team uses this racetrack enrichment pen -- a simple but brilliant way to encourage dogs to run around and explore a secured area.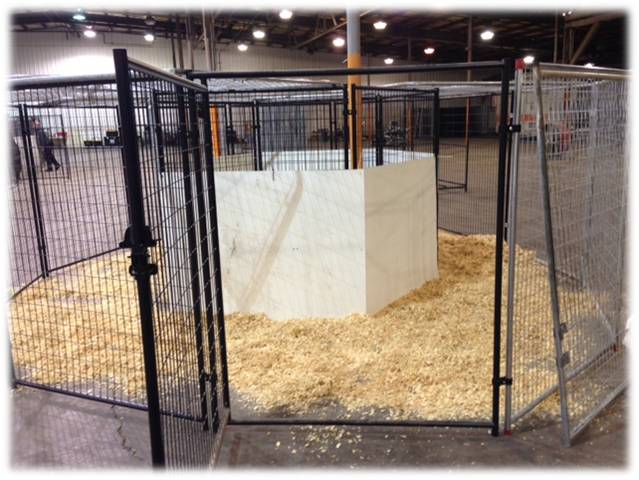 FIR staff set up a circular pen with a center visual barrier made of cardboard to enable continous movement. According to Jasmine Holsinger, FIR Team Shelter Manager, the dogs keep running around the perimeter of the cardboard because they are curious about what's inside. Staff can also soak newspapers in enticing scents and stuff them between the bars of the pen at different levels to keep dogs moving around the enclosure.
To create your own racetrack:
Use 5-foot-wide by 6-foot-tall fence panels
Using the brackets that come with the panels, connect 5 panels together in a circle for the inside of the track
Spacing an equal distance of 5 feet out from the inside track, connect 10 panels in a circle to create the outer perimeter (ensuring one of those panels is a gate to enter and exit)
Create visual barriers in the center using fiber-reinforced plastic (FRP) or cardboard
"This exercise pen can be customized depending on available types and sizes of panels and materials for visual barriers. It can also be increased or decreased in size as needed to fit operational needs," advises Holsinger.
What creative solutions have you found for dog enrichment?
Related Links:
Scent Games for Canine Enrichment
Get ASPCApro delivered direct to you.
The latest news from experts and thought leaders right to your inbox.
Explore ASPCApro Tools & Tips by Topic: