Tip of the Week: Make a T-Shirt Tent!
Today marks the first day of Adopt a Shelter Cat Month. Since cats love hiding out—and sleeping in—we're kicking June off with instructions for fun feline tents that will make attractive additions to your communal cat room or kennels. Studies show hiding spots mean happier cats who are more likely to approach the front of the cage.
The tents are constructed simply from two hangers and a T-shirt that can be removed for easy washing. Pass this project on to crafty volunteers. Visitors will be smitten watching your cats camping out!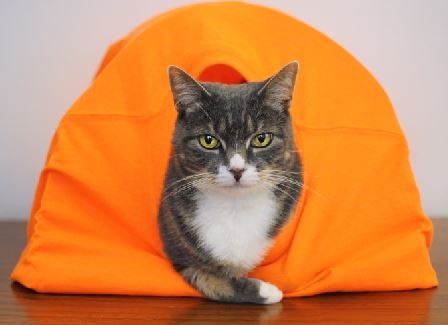 Lillian, an ASPCA office foster cat, hides from her inbox…
Materials:
One medium T-shirt
One 15- by 15-inch piece of cardboard
Two wire hangers
Tape
Safety pins
Wire cutters or pliers
Directions:
1. Cut the hooks off both hangers and shape the wires into two arcs
2. Poke a hole in each corner of your piece of cardboard
3. Tape the wire arcs together at their centers to form a tent-like frame
4. Poke the four ends of the hanger frame down through the four holes in your piece of cardboard. Bend the wire ends under and tape them down
5. Pull the shirt over the tent frame and position it so the neck hole is in the front middle—that will be kitty's door! 
6. Fold up the excess from the bottom of the shirt and tighten it up so the neck hole is taut, and pin the bottom in place. Then pull the sleeves tight and pin them in place.
For helpful step-by-step photos of this project, visit Instructables.com.
Did we catch your aTENTtion with this one? Give it a try, and post photos and links as a comment. How do you offer cats hideout spaces at your agency?
Related Links:
Blog: "Let the Cat Into the Bag"
How-To: Hiding Places Mean Happier, More Adoptable Cats
Blog: "Tip of the Week: Make a Kitty Hammock!"
Get our Blog content delivered direct to you.
The latest posts from ASPCApro experts and thought leaders delivered directly to your inbox.
Explore ASPCApro Tools & Tips by Topic: