Advice for Growing the Next Generation of Animal Welfare Professionals
The ASPCA's Claire Sterling, Director, Grant Strategies, talks about how she got started in animal welfare – and shares her ideas for attracting new talent to the field.
Although my work in philanthropy has greatly influenced who I am now both professionally and personally, I knew relatively little about it as a field before serendipitously finding my way to it when I joined the Foundation Center as a web designer in 1998. My first job at the Center was working with foundations throughout the country to establish their presence on the Internet. And yet, the technology it depended on barely existed during my childhood – if my 15-year-old self had told people I would be a web designer when I grew up, they would probably have accused me of harboring a Spider-Man obsession.
Toward the beginning of my philanthropy career, I was fortunate enough to have discovered and served on the board of Emerging Practitioners in Philanthropy (EPIP), an organization for young professionals working at a variety of giving institutions across the U.S. and striving to become effective leaders and stewards of philanthropic resources in the service of building a more just and equitable society. Through EPIP, I was able to learn more about the landscape, challenges and people shaping philanthropy at the time.
Earlier this month, I went back to my old high school's annual Career Day, when alumni chat with students about what they do for a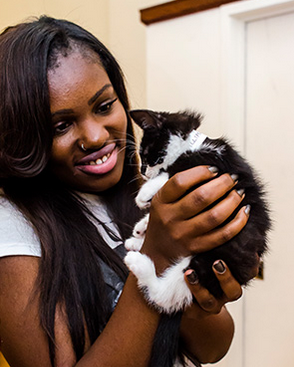 living, how they got there, and how students might prepare for careers that currently interest them. As with my prior lack of exposure to philanthropy, I recalled how little I knew at that age about what the field of animal welfare offered in terms of possible career avenues.
During our formative years, our career aspirations are heavily influenced by what and who we're exposed to. For those of us whose love of animals emerges very early on, veterinarians often serve as our first introduction to saving animals' lives on a daily basis – and so, not surprisingly, most of the students who signed up for my Career Day session were aspiring veterinarians. 
That path is an admirable choice, but it's not an ideal fit for everyone; it wasn't for me, and coming to terms with that at a young age made me fear that spending the better part of my days doing meaningful work for animals simply might not be in the cards. Over time, some of the would-be vets in my Career Day group may similarly find other types of work better suited to their native skills and temperaments. Regardless, I wanted these bright kids to walk away knowing that there are a variety of ways to make helping animals a full-time job.
That got me reflecting on how we, as animal welfare professionals, can attract new talent to our field. Here are some ways to help get the message out to animal lovers – whether new graduates or older adults reexamining their careers – that animal welfare offers an array of job opportunities:
 
Make volunteering at your organization attractive and rewarding. While some volunteers may be old hands, others may be receiving their first direct exposure to animal welfare from you. Providing them with a positive experience in the field can inspire them to more deeply explore animal welfare work (and to donate to your organization). ASPCApro offers many helpful resources on effective volunteer management.
Promote professional associations that your staff members belong to on your website. Professional associations are vital resources for information, networking and fresh ideas – especially for people exploring a new field. If any staff members at your shelter, rescue or sanctuary belong to an association such as the Society of Animal Welfare Administrators (SAWA), the National Animal Care & Control Association (NACA) or the Association of Shelter Veterinarians, consider placing a link to it on your website so that your audiences can learn more about the field as a whole and the context in which you operate.
Participate in conferences and training opportunities. Whether you're new to animal welfare or have been involved in the field for some time, conferences and trainings bring you at close range to people who could potentially be your co-workers of tomorrow. These events offer chances to both provide and receive valuable information that can have surprisingly far-reaching effects later down the line.
Host a career panel for the public at your facility. Consider holding an event for the public and/or a program for students from your local school(s) at which members of your staff are available to talk about their work, career history and advice for those pursuing similar paths. This serves the triple purpose of getting prospective adopters/volunteers/donors in the door, recognizing the contributions of individual employees and providing helpful insights to people who may be drawn to pursuing animal welfare work.
Recognize that animal protection can be a focal point for other occupations. Animal protection happens on many levels, in many forms, and from many vantage points, and the pathways to this work aren't always linear. As with any other type of social-change endeavor, advancing animal welfare collectively requires the participation of a great number of people with diverse skill sets and backgrounds. Crucial work in this area is routinely carried out beyond the front lines of animal care itself. Lawyers, marketers, artists, engineers, architects, researchers, writers, fundraisers, grantmakers, accountants and technology professionals, among many others, all have a part to play in establishing, sustaining and growing organizations that better the lives of animals.  
Ultimately, we do our best work when we draw upon our core strengths and interests and are given the right tools to build on them. And while the tools and job descriptions in any field naturally change over time, the passion that drives people there to begin with remains a constant worth nurturing.
Photo by: Stacey Axelrod

Guest blogger Claire Sterling is Director, Grant Strategies at the ASPCA. Having previously done foundation fundraising for six years at the Foundation Center, her personal blog, The Lion's Share, provides philanthropy-related resources for organizations that better the lives of animals.
Related Links:
Blog: "Assisting Animals in Disasters: One Grant Application, Multiple Funding Opportunities"
Get ASPCApro delivered direct to you.
The latest news from experts and thought leaders right to your inbox.
Explore ASPCApro Tools & Tips by Topic: