A Kiss Is Still a Kiss – Sort Of…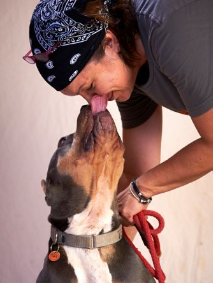 Dr. Emily Weiss is here for a serious smooching talk.
"Gimme a kiss"– one of the most common phrases between humans and their dogs, usually spoken with lips pulled or pursed, eyes soft and chin jutting forward and up (the human, not the canine – although the facial expression for the canine can be similar!). We ask for a kiss as a way to communicate companionship, positive emotion, greeting, bonding and as an expression of affection. But do our dogs respond in kind?
Most commonly when we say "Gimme a Kiss," we are asking for the dog to respond by extending his tongue and licking our face. This behavior can be observed in dogs interacting with each other, either puppies licking their mom's lips and mouth to elicit delivery of food (aka regurgitation) or during a greeting ritual. If I separate my dogs Que and Sea, the ritual when they are reunited includes chin extension, soft eyes and licking of each other's chins/lips. Is this a kiss?
The Merriam-Webster definition of a kiss is "to touch with the lips especially as a mark of affection or greeting." By said definition the portion of the ritualized greeting between my two dogs that involves the touching of lips, one may not be far off with the word kiss. It can come down to semantics and inference of meaning. Let's face it – how many times have you greeted a relative or acquaintance with an obligatory kiss on the cheek? Sometimes the kiss is just the ritualized greeting – not the mark of affection.
My dog Sea and I have a ritual. I pick her up and put my cheek out to her, she puts her cheek to mine, and I kiss that warm soft side of her face as she leans into me. It is one of our Gimme a Kiss routines. We learned this exchange over time, and as it continues there must be some level of reward in the mix for each of us. However, it would be incorrect for me to infer (although for my ego and heart, infer I will) that the reward for Sea is the act of the cheek press – as it could be that by pressing her cheek she can end the interaction, or it could be that pressing her cheek is often enough followed by me scratching her ears…
Observing the behavior of the dog during Gimme a Kiss exchanges between dogs and people, I would argue that a kiss it is. You can see the dog soften at the cue – eyes become soft and often even squint, tails move parallel to the spine and bodies wiggle as the tongue extends (or in some cases the lips simply reach toward our face).
Regardless of how we infer the behavior's true meaning, most important in our field is noting what the people walking in our door are asking for – if it is a kiss they want – well gosh, we sure should be increasing the likelihood that a kiss is what they are going to get! (I will note here for those who will send me notes about zoonosis that a dog need not touch his tongue to one's face should one be concerned re: disease issues.)
As volunteers and staff are interacting with the dogs in your care, it may be handy to note which dogs respond readily to Gimme a Kiss, and observe your potential adopters – who is jutting their chin toward the dogs? How about leaning to the cage with a full pucker on? While putting that adopter in front of that kissing pup may or may not result in an adoption, you can bet on it bringing a smile – and what a great place to start!
Update, Jan 22: A few comments express concern over having folks solicit the social interaction of 'kiss' with adopters and dogs in their care. I would hope we could encourage appropriate greeting interactions between humans and dogs – the ritualized greeting described in the post is one of those. The suggestion in the post was to observe dogs who respond appropriately and to encourage the interaction in those cases.  
Related Links:
Blog: "Pucker Up! (Not You… the Dogs!)"
Get ASPCApro delivered direct to you.
The latest news from experts and thought leaders right to your inbox.
Explore ASPCApro Tools & Tips by Topic: