What's New: "Is That Cat Feral?" Research Project
Dr. Margaret Slater is back to share the most recent update on this ongoing research project, which aims to determine how to separate cats who are frightened but socialized from cats who are unsocialized to humans when in a shelter setting.
It was always our intention to use this research to create a valid, practical and safe tool for shelters to be able to identify more and less socialized cats. Our team (Jesse Winters, Susan Britt, Kathy Makolinski, Emily Weiss, Natasha Drain, Laurie Garrison and Ed Mendez) has been working diligently to convert the research findings (see my last blog and the published papers) into a manual, training program and simple-to-use scoring system. And we are getting close!
Our scoring system is called the Feline Spectrum Assessmentsm—so you will now start to hear more about the FSA! Our goal this year is to evaluate the FSA in real shelters from different parts of the country, with different programs and processes, and see just how practical and useful the FSA really is. Our collaborating shelters will continue to make their outcome decisions for cats as they normally would. However, they will be helping us to improve the manual and training so that FSA becomes as effective and user-friendly as it can be!  We'll also have results from applying the FSA in the shelters. We have already begun to recruit our collaborating shelters—some are municipal and some are non-profits, some are large and some are small, and some are overrun with cats and some are not!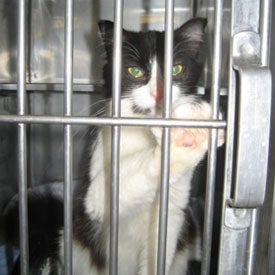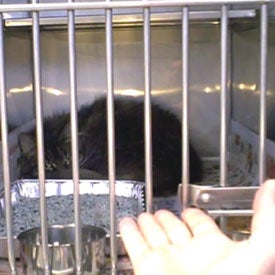 Friendly, left, and frightened, right.
We are planning to have at least one shelter that uses Meet Your Match Feline-ality. They will be doing the Feline-ality assessment on all of the "More Socialized" cats as identified by FSA, so that we can see if the connections we believe are there (between valiance and gregariousness and the cats' responses to the FSA) are real or not! I'm really excited about that part actually…if the cat's boldness and interest in interacting with people are at least somewhat related to what the cat does and when the cat does it during FSA, that will really shed some light, and some new data, on cat behavior.
For shelters to implement FSA in the future, staff will need training and cats may need up to 3 days to show if they are "More Socialized" or "Less Socialized." Some small bits of equipment and additional organization around when cats are cleaned and fed relative to the assessment will be needed. Depending on where the shelters are and what sort of cat population they accept, there could be many More Socialized cats found who were missed, or lots of Less Socialized cats. And then shelters will need to be able to determine what their needs might be for getting live releases for the cats. We anticipate that working with our initial collaborating shelters will provide some insights to share with shelters interested in trying FSA in the future.
What do you think about the possibility of using the Feline Spectrum Assessment in your own shelters once it is available?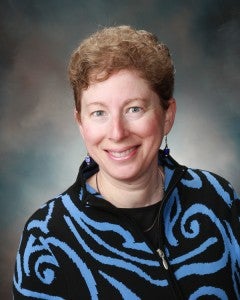 The ASPCA's Dr. Margaret Slater, DVM, PhD, Senior Director, Veterinary Epidemiology, focuses much of her work on free-roaming cats. Prior to joining the ASPCA in 2008, Dr. Slater taught epidemiology at Texas A & M's College of Veterinary Medicine and Biomedical Sciences, and today her emphasis is on research, including assessing fee-waived cat programs and the impact of spay/neuter on shelter intake.
 
Related links:
"Getting To Know Dr. Margaret Slater"
Blog: "Results Just Published: What DO Socialized Cats Do in Shelters?"
ASPCA Research: Is This Cat Feral?
Get ASPCApro delivered direct to you.
The latest news from experts and thought leaders right to your inbox.
Explore ASPCApro Tools & Tips by Topic: