To Protect or Be Protected?
Dr. Emily Weiss digs into shelter decisions surrounding kids and dogs.
Recently there has been a flurry in the news of dogs biting children. Some of my Facebook friends have shared some of them on their pages, and I have noticed the comments tend to fall into one of two camps: The blame-the-shelter camp for allowing the dog to be adopted to a family, and the blame-the-family camp – as we "should never allow a dog to be alone with children."
I get and agree we should not be leaving toddlers alone with most dogs, but is it correct that we want to be messaging that kids and dogs are not safe together? I understand pythons and children alone together are unsafe…but dogs and kids?  
My first dog was a West Highland white terrier named Muffin. Boy oh boy, did I love that dog! She slept by my head every night, and would endure being dressed up, endless attempts at training and more. She was not always happy with these events, and she would clearly communicate those times with a soft terrier growl. I heard her, and the session would end.  My parents loved me and (trust me!) had a low tolerance for any risk to my safety… and I was safe. Muffin was safe.  
Many, many dogs are great and wonderful companions for children – the bonds that develop are likely growing the next generation of animal welfare advocates. Can we acknowledge that most of us had dogs when we were kids and we likely spent time alone with them? There are many dogs in our shelters who are fantastic child companions – and some who are not. While I think it is very prudent to communicate the importance of taking the time to have the bond between dog and kid develop and to keep vigilant while the relationship develops, I also see great value in promoting the great opportunities for kids and dogs becoming best friends.  
Some pictures from a few of you with your dogs…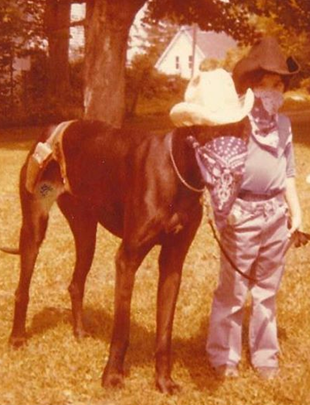 The ASPCA's B.J. Rogers with his uncle's dog, Duke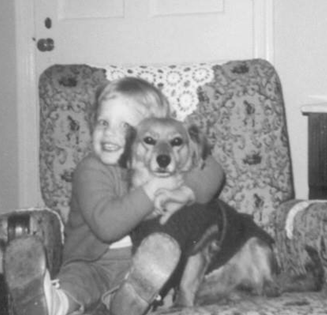 Ellen Taylor, ED at Humane Society of Washington County, with her dog, Sandy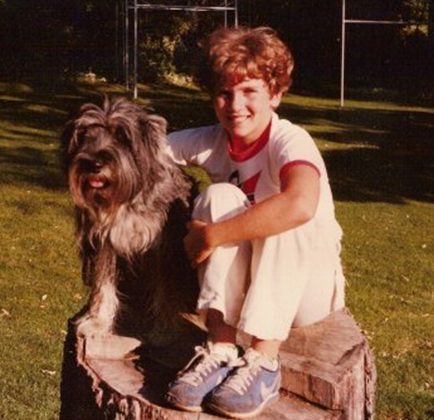 Lisa Pederson, CEO, Humane Society of Boulder Valley
I have found that some organizations restrict the best "kid dogs" from kids – the silly, rambunctious, soft, loose and overly wiggly dogs – as they are concerned that the dog will be too rough and may hurt the kids by knocking them over in play. My second dog as a child was a black Lab who knocked me down often as we played together – I suspect I may have scraped my knee at some point, but mostly we just had a good time. Watching the interaction between dog and kid and watching the expressions of the dogs, kids and parents during the interaction with the dog can be a great way to help assure a good match.
And then there is the other side of the equation. There are also incidents where adopted dogs have caused harm to a child. Some subset of these bites we could have never predicted.  The dog appeared safe in the shelter and the behavior just did not surface during our time with him or her. Some of the incidents we may have predicted were a possibility – a dog who was uncomfortable with touch, maybe…or the dog who was tall and stiff during interactions. And then there are the dogs where we have information from the previous guardian that there were incidents with children. The thing is, sometimes we can rehome those dogs and they will never bite; other times they may. Behavior is funny that way. One thing we do know, the best predictor of future behavior is past behavior – but even that is not a perfect predictor.
We have hard decisions to make in sheltering – balancing risk with lifesaving. We err too far on the side of avoidance of risk and we stop many animals from ever going home, we err too far on the side of taking a chance and we cause human harm and likely harm to our reputation and financial stability. It is not black and white for sure. I do not have the answers – but I do know I want to land in a place where kids bond and play with dogs, and lots of dogs get to go home.
Related links:
How-To: Saying 'Yes' To Kids and Dogs
Blog: "Must Love Dogs…But What About Kids?"
Program: ASPCA SAFER®
Comments
About the Author
Emily Weiss
ASPCA Vice President, Equine Welfare
Dr. Emily Weiss, PhD, CAAB, oversees strategic direction of the ASPCA Equine Welfare program, a part of the ASPCA's Anti-Cruelty Group. Weiss is a lifelong horse owner and trainer and has conducted research regarding adoption and rehoming of horses. Recently, she began leading the ASPCA's collaboration with The Right Horse Initiative, a collective of industry professionals and equine welfare advocates working to improve the lives of horses in transition by increasing training opportunities for horses and promoting adoption. Weiss leads efforts such as a pilot program with veterinarians and global animal health company Zoetis to provide access to vital veterinary care and increase the likelihood horses can remain in their homes. She also served as the ASPCA's VP of Research & Development, overseeing research related to the animal sheltering field and developing assessment tools for shelter animals, including the SAFER assessment and Meet Your Match Canine-ality, Puppy-ality and Feline-ality. Before that she created training programs to improve husbandry and decrease stress for many zoo animals. Weiss is co-editor of the Journal of Applied Animal Welfare Science and has published and lectured extensively in the field of applied animal behavior.
Get our Blog content delivered direct to you.
The latest posts from ASPCApro experts and thought leaders delivered directly to your inbox.
Explore ASPCApro Tools & Tips by Topic: