All In, All Out vs. Trickling in Communal Cat Rooms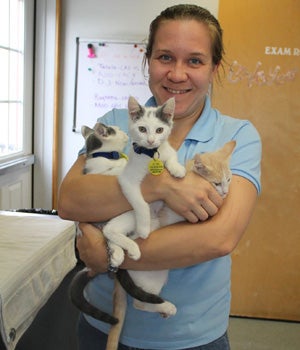 There is no question that adding new cats to an established group is stressful for both the newcomer and those already in the colony, and a potential infectious disease risk.
For that reason, Dr. Miranda Spindel, Senior Director of Shelter Medicine for the ASPCA, recommends "all in, all out" – that is, instead of immediately adding new cats to replace those adopted, wait until all cats in the room have been adopted (or all but one, since the last cat can then be moved to individual housing). After thoroughly cleaning and disinfecting the room, bring in an entirely new group of cats.
For some large facilities, those with multiple cat rooms and those with rapid turnover, the all in, all out method can work smoothly and efficiently. However, not all facilities enjoy this luxury. In such cases, new cats can be introduced to an existing group without undue stress or risk if done in a careful, sensitive and gradual fashion.
Steps to Introduction
A new cat should first be placed in the group in a moveable cat carrier, and accompanied for a time by a staff member familiar to the group who can monitor the reactions of all of the cats.
The carrier should be placed in such a way that the cat can see other hiding areas within the group room, and the carrier door should remain open. The new cat will emerge from the carrier when a sufficient comfort level has been achieved.
If the new cat is still hiding after a day or two, staff should consider whether the group environment is working against that particular cat being adopted in a timely fashion.
The transition period may be both eased and accelerated by the use of artificial pheromones, according to anecdotal evidence.
Another approach that has been used with reported success relies on the cats' own pheromones and can take place in the following way.
Before the cats ever see each other, try doing scent exchanges. Select a cat who gets along well with other cats in the group. Gently rub the cheek of this cat with a clean cloth and place it in the newcomer's cage, but not near important resources such as the cat's food, water, or hiding place.
Likewise, put a different cloth with the new cat's cheek scent in the middle of the group room – but not near important resources – so the other cats can become familiar with the new cat's scent. Once a day for a few days, refresh the scents. If the most popular cat isn't reacting negatively to the scented cloth, pet his cheek with the cloth and then return it to the new cat's cage.