Canine Body Language
Materials
Animal welfare professionals who understand canine body language may place dogs more appropriately, conduct more predictive assessments, avoid bites, and provide better quality of life for dogs in their care. By the end of this 60-minute webinar, attendees will be able to objectively identify the essentials of canine body language. Through photos and videos, body language is broken down by each body part and we then look at the body as a whole.
This free webinar is geared towards animal shelter staff/volunteers and veterinary staff. It is also useful for dog trainers, daycare owners and groomers.
CEUs:
If you are already a Certified Behavior Consultant-Canine (CBCC), you are eligible for 1 CEU credit from the Certification Council for Professional Dog Trainers (CCPDT) after you watch the recording in its entirety; to get your credit submitted to CCPDT, email your CCPDT number. We will submit CCPDT information once per month.
This webinar recording has been approved for 1 CEU by the International Association of Animal Behavior Consultants (IAABC). To receive credit after you watch the full live session, email us a request.
Top Tips from this Webinar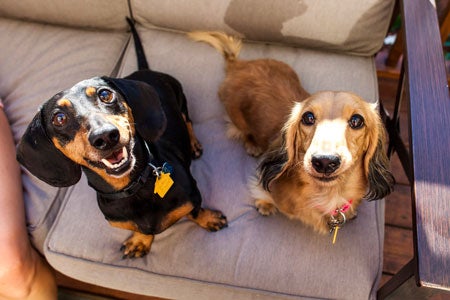 Observe Now, Interpret Later
When you're learning the basics of canine behavior, the most important skill to hone is properly and objectively labeling body language. For example, notice a dog's eyes are squinty and his mouth is open (rather than noting "this dog is happy").
Write, Write, Write
Putting your observations on paper is the best way to train your eye and build the proper vocabulary to observe canine communication. Check out this SAFER Video Glossary to help guide you.
Watch, Watch, Watch
Capturing lots of photographs and video footage of the dogs you encounter will help you practice identifying behaviors correctly. Mohan-Gibbons recommends watching your videos in slow motion by pausing a video and clicking through to watch frame by frame and catch behaviors you might have missed in real-time. And no fancy equipment needed — a smartphone camera does just fine.
All in the Eyes... (or Ears, Mouth, Tail...)
Choose just one area to focus on at a time. You might wish to study just a dog's shift in weight, for example, or look for eye tension/eye contact.
Watch Dogs Play
It's a tough job, but somebody's gotta do it. Watching dogs play with one another at the shelter, the dog park, or in your home provides plenty of great fodder for studying canine behaviors and interactions. Again, remember to write them down or record a short video to train your eyes to see!
Related Article
Read more tips on canine body language.