Video: Deep Cleaning Cat Cages
We've got the full how-to on cleaning your cat cages between residents and as daily maintenance. Watch the video, then download our step-by-step instructions to brush up on your technique or train your staff and volunteers on best practices. 
---
More Training Videos
---
Supplies and Step-by-Step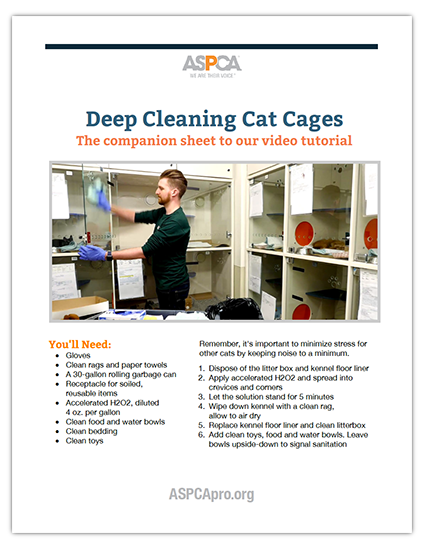 Gloves
Clean rags and paper towels
A 30-gallon rolling garbage can
Receptacle for soiled, reusable items
Accelerated H2O2, diluted 4 oz. per gallon
Clean food and water bowls
Clean bedding
Clean toys
Remember, it's important to minimize stress for other cats by keeping noise to a minimum.
Dispose of the litter box and kennel floor liner, carefully placing them into the garbage can
Apply accelerated H2O2 and spread into crevices
Let the solution stand for 5 minutes
Wipe down kennel with a clean rag, allow to air dry
Replace kennel floor liner and clean litterbox
Add clean toys, food and water bowls. Leave bowls upside-down