Animal Relocation and Transport
The Carroll Petrie Foundation Dog Rescue Project
Thank you for your interest in the Carroll Petrie Foundation Dog Rescue Project. The project is now closed.
Five months after it was launched in July 2012, the Carroll Petrie Foundation Dog Rescue Project had signed up 47 partner shelters from 22 states across the country, and together these dedicated groups moved 7,308 dogs from overcrowded shelters to places where they could more easily find homes.
Through a generous donation by the Carroll Petrie Foundation, 16,600 subsidies were made available to source shelters. That translated to $50 per dog or puppy for each animal transferred out (and not returned to the source shelter) through the following types of programs:
Transfer to rescue groups
Transfer to other shelters
Adoptions through foster Adoption Ambassadors
Adoptions from permanent off-site partner locations
How It Works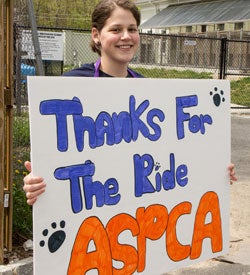 The subsidy applies to lives saved above and beyond last year's numbers, and can be used for anything from crates and gasoline purchases to make-ready veterinary services. The source shelter also has the option of giving all or part of the money to rescue groups or destination shelters that accept the dogs.
The project is helping thousands of homeless dogs as it builds and strengthens relationships between the ASPCA and shelters across the country. It also sparked interest in broadening transport services; several groups soon began working on grant applications for vehicles so that transports could keep on taking place. And some shelters and rescue groups began creating their own local partnerships after the project was introduced in their area.
See how one small Kentucky shelter dramatically increased its lives saved through the Petrie Grant.
What It Accomplished
"… Now, animal transfers have become a core program at our shelter and we have begun to get some outstanding public support. It is no longer a sad place to work because of what you have done for us!" 
Erik Tanner, Valencia County Animal Control, NM
"… This has been a banner year for us as we transferred 797 dogs as compared to 2011 with 568 transfers. Thank you for helping us start 2013 in such a positive way."
Mary Pat Boatfield, Central Missouri Humane Society
"… Your funding has also allowed us to place dogs into rescue groups which would otherwise not have been able to be placed. As part of the Rescue Department, it fills our hearts with hope and warmth to be able to see these animals in new homes through the help of rescue groups funding such as yours. "
Meghan Ramczyk, Animal Care Partners of Sacramento
"… As a small shelter in rural Kentucky, it has been a struggle to meet and find rescue groups to help us find loving homes and save more lives. Because of your generous donation to the ASPCA, we have been able to obtain vaccines, health certificates and help out with transportation to two rescue groups who are willing to help us to make lasting relationships with rescue groups for years to come!"
Deanna Myers, Knox-Whitley Animal Shelter
Related Links
National Federation of Humane Societies "Companion Animal Transport Programs – Best Practices"
The Association of Shelter Veterinarians 2010 "Guidelines for Standards of Care in Shelters"
National Alliance of State Animal and Agricultural Emergency Programs "Animal Evacuation and Transportation Best Practices"