7 Tips For Sending Your Golden Oldies Home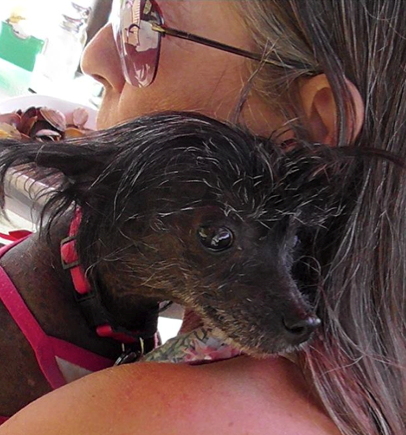 Puppies don't have to do much to get adopters' attention, but what about your older dogs? Take a look at what your colleagues in the field are doing to find homes for the canine senior citizens in their care. A special thank you to Laura Oliver, founder of Lionel's Legacy, for sharing the following tips for promoting seniors and supporting their adopters.
Get physical
Because Lionel's Legacy, a California-based organization dedicated to advocating for senior dogs, knows that taking on a senior dog can be a huge commitment for a family, they take care to ensure that dogs go home with an updated physical. "We like to give our senior doggies 'tune-ups' before finalizing adoptions," says Oliver. "This includes blood work, urinalysis, all vaccinations, heartworm test and dentals and/or mass removals if needed."
Make 'em free (or reduce the fee)
Many agencies have chosen to waive fees or offer discount adoptions on senior pets. McKaney Animal Care & Adoption Center in Chattanooga, TN, for example, offers a Seniors Adopting Seniors promo. Any animal 8 years or older has a half-off adoption fee, AND any adopter 65 years or older also gets half-off their adoption fee. And when a senior adopts a senior, such as Robert and Lila Belle, shown here, there is no adoption fee at all!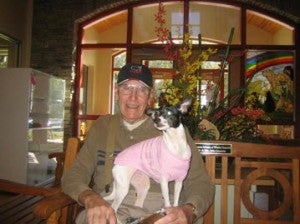 Tag-team with local businesses on senior sponsorships
Why seniors? Why not?! Sometimes folks just need a lil' extra incentive. Oliver suggests getting businesses or individuals to sponsor a senior, which could include 1-2 months' worth of any medications (they've even done some for life), food, bowls, a leash and collar, a dog bed and a free vet exam.
Have more pun with your promotions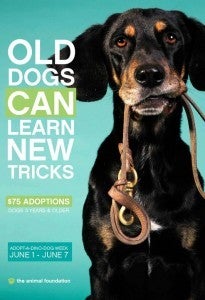 Las Vegas' Animal Foundation put their own spin on a past Dinosaur Day (June 1st, who knew?) by naming June 1-7 Adopt-A-Dino-Dog Week. All senior dogs (they considered that 3 years and up) were $75, reduced from their regular $105-$155 age/size-based fee. The response? "We adopted over 40 senior dogs, and the publicity brought so many people to our shelter that we had two consecutive days with another 50 total dog adoptions," the Nevada agency told us.
Make 'em look good
We always say all pets should be promoted with great photos, and this is especially true for seniors. Adopters may be uncertain about how a senior will fit into their lifestyle, so grab photos and videos of the dog interacting with other animals and people to offer insight about how the dog would be at home. Oliver suggests choosing a location where people can picture themselves hanging out or walking with their new senior dog. Oliver has a professional photographer on her team who grabs stellar shots of their dogs—with these photos, she says, they get more applications and typically more adoptions.
Tell it like it is
"Good bios are so important," Oliver urges. "Adopters appreciate when you share the medical and behavioral needs of the dog." Include notes from foster parents, vets and others who have experience with the dog's needs.
Be there for 'em
"We're in the business of saving the lives of senior dogs and giving them a second chance. Adopters are willing to do the same when we are there to support the dogs and their new families," says Oliver. Share low-cost resources on long-term medications, support adopters with pet insurance info and connect them with vets willing to provide quality care to adopters taking on senior dogs. 
Got a program of your own to share? No ideas are old hat, so tell us in the comment box!
Top photo courtesy Terran Bayer
Related Links
"Go Ahead, Try It: Open Adoptions"
Ten Ways to Work With Local Businesses
Get our Blog content delivered direct to you.
The latest posts from ASPCApro experts and thought leaders delivered directly to your inbox.
Explore ASPCApro Tools & Tips by Topic: