Spring Forward with Conferences and Training Opportunities
Guest blogger Claire Sterling gives you 3 good reasons to attend the next conference or workshop that comes your way.
As the air warms and daylight hours lengthen, a variety of creatures (including us humans) are emerging from their winter dens. This is the perfect time to reconnect with our communities–at the local, state and national levels–and to seed our gardens with new knowledge, skills and resources.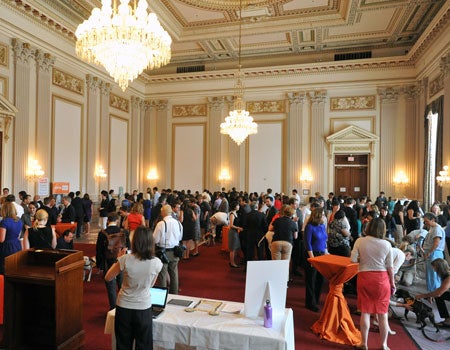 The field of animal welfare is rich with conferences and training opportunities covering topics ranging from harnessing social change in addressing complex animal welfare challenges and maximizing the success of offsite cat adoptions to managing stress as an equine rescuer.  In just the next three months alone, the statewide Texas Unites for Animals conference, regional New England Federation of Humane Societies conference, and national Animal Care Expo and Society of Animal Welfare Administrators management conference will be taking place. If you haven't yet taken advantage of these convenings, it's well worth the effort for several reasons:
The topics reflect current and emerging concerns in your area
Much of a conference's sustainability from one year to the next rides on organizers' ability to provide relevant, timely and trustworthy information that is well-matched to the interests and needs of particular geographically or programmatically defined communities. Given the resource-intensive nature of planning conferences and trainings, organizers rely heavily on feedback from previous years' attendees, as well as the input of experts who are themselves members of the conference audience, to help ensure the quality of current and future offerings. 
The networking opportunities are priceless
Another critical element of a conference's value is its ability to help forge connections–between individuals, organizations, and communities–that can lead to new partnerships, new insights and new solutions to save more lives. Regional, state and local federations of humane organizations are especially helpful in this regard, so we encourage you to explore their offerings, even if they are based outside your immediate vicinity. Countless times, we hear that some of the most pivotal moments for attendees at conferences and trainings are the ones that occur between sessions–over coffee, in the exhibit hall or at lunch–and that the conversations arising at these times could never have taken place otherwise.
The break from routine gives you a new perspective on your work
Often, the mere act of stepping away from your daily habits and familiar surroundings can lead to a fresher, more neutral perspective on your organization's work, strengths and challenges, and can sensitize you to areas of opportunity for positive change. Carving out time to reflect and plan is more easily accomplished in a setting designed to promote new approaches, free from the barrage of typical distractions.  
The ASPCA believes very strongly in the value of conferences and trainings. Each year, we make available significant funding for sponsorships and scholarships. In 2015 alone, we provided funding for approximately 500 scholarships and approximately 30 sponsorships for conferences and trainings. 
But don't just take our word for it. Organizations that were awarded our conference scholarships for last year's Animal Care Expo reported back to us:
"The entire event was a tremendous success...the amount of networking was one of the most valuable things that I was able to gain, and there were so many sessions I wanted to attend that there just wasn't enough of me to go around! "
"I took away many valuable insights and information from the various sessions… I have begun to implement some of my takeaways from the conference and plan to implement even more in the future… This was a great learning and networking opportunity for me." 
"The programing and information shared were phenomenal...The information has affected our management team and practices, while directly impacting the quality of life for the animals."
So go ahead…get reacquainted with your local colleagues, your state federations and your national peers, and cultivate new ideas that will help your efforts to blossom!

Guest blogger Claire Sterling is Senior Grants Manager at the ASPCA, and previously did foundation fundraising for six years at the Foundation Center.
Related links
Training Opportunities: Virtual and In-Person
More from Claire: "Collaborative Funding: The Next Big Thing in Grantmaking"