Get Ready to Say Thanks During Volunteer Week!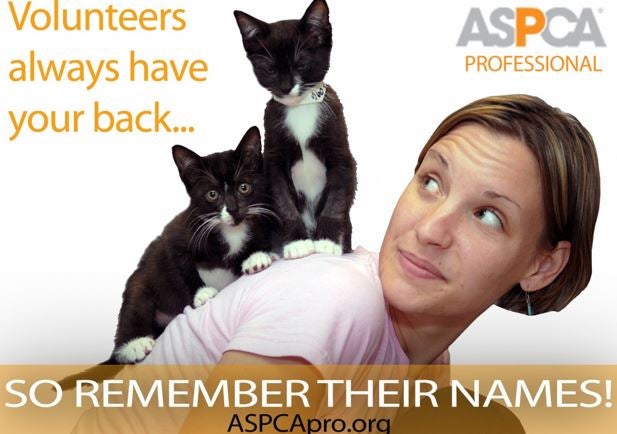 Shelters and rescues, we know volunteers make your world go 'round, and there's no better time than National Volunteer Appreciation Week—coming up April 10-16—to acknowledge how much they mean to you. Here are six resources to inspire new and creative ways to show your gratitude.
Have You Thanked a Volunteer Today? Great examples of shout-outs on social media, courtesy of your colleagues in the field.
Top 10 Tips For Keeping Volunteers Happy: Here are simple, powerful (and free!) things you should always do – plus five ways to increase your paid staff's appreciation of volunteers.
Recognition That Really Pays: Pay your volunteers a compliment… literally. Through this clever appreciation program, volunteers can cash in thank-you notes for prizes.
10 Ways to Acknowledge Great Work: Check out these ideas for staff recognition shared by your colleagues in the sheltering field during our webinar, Hiring, Firing and Supporting Your Staff, presented by the ASPCA's Kate Pullen.
Taking Names: Doing this one simple thing can make a big difference.
Rallying Your Team Beyond Pizza Parties: In order to really get your team to hop aboard the save-more-lives train, you want to get them connected to your mission, have faith in them to succeed—and motivate with a capital M.
Related Links
Top 3 Tips for Volunteer Success