Recent Comments
How sad that this has to be put in writing! It seems like common sense and common courtesy to acknowledge...
We love this rule. In fact, when the Marin Humane Society is invited to give other organizations...
I volunteer at a low-cost spay/neuter and vaccine clinic, and people pre-register their animals. It's...
Announcing the Top Toxins of 2015
National Poison Prevention Week kicks off on Sunday, and it's a perfect time to bone up on dog and cat poison dangers and share them with adopters and your community.
Here's an easy and engaging way to start—the Top Toxins of 2015 poster, hot off the presses from the ASPCA Animal Poison Control Center (APCC). Download it here and post in your break room and lobby for an easy way to share with staff and visitors.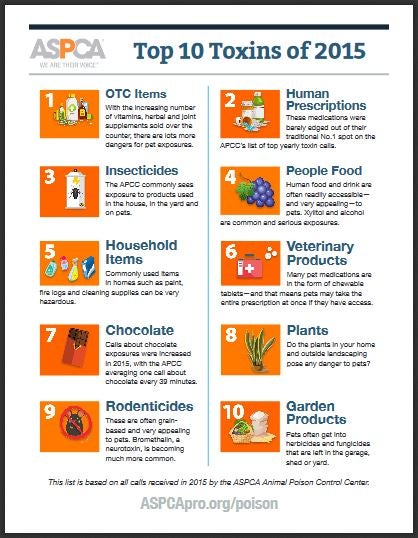 Plus: Don't forget to grab your free poster of Top Toxin Calls State by State (can you guess what's #1 in yours?) and peruse these freebies from APCC like magnets, brochures and chocolate wheels!
Related Links: